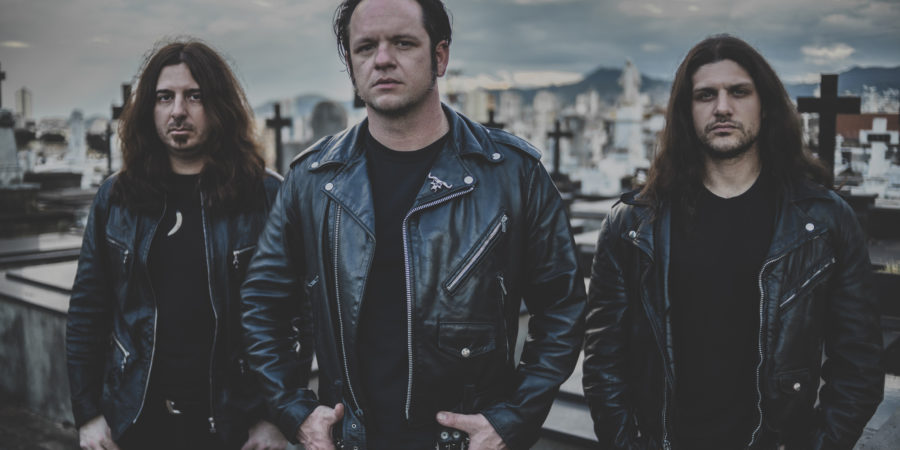 Night Demon
Band
Wenn man die Musik hört, kann man nur schwer glauben, dass es sich hierbei um ein Trio aus Kalifornien handeln soll. Zu britisch klingen die Songs und da könnte man doch die Hand dafür ins Feuer legen, dass dort ein zweiter Gitarrist mitspielt. Tut er dort aber eben nicht. Damit hinterließ der vielversprechende Newcomer viele offene Münder.
NIGHT DEMON nur ein One-Release-Stand?
Vorauszusehen war das 2011 aber noch nicht, als Brent Woodward (g.), Jarvis Leatherby (b.) und Pat Bailey (dr.) NIGHT DEMON gründeten, um NWoBHM-Songs zu schreiben. Eigentlich sollte John Armand Anthony (Name bitte merken.) als zweiter Gitarrist fungieren, doch dieser war zu sehr mit anderen Projekten beschäftigt. Das hielt die Band aber nicht auf, die aus der Not eine Tugend machte und innerhalb von nur vier Proben die vier Tracks komponierte, die schließlich auf der namenlosen EP landeten. Bei der fünften Probe marschierte das Trio ins Studio, wo man mit John Armand Anthony dann die erste Veröffentlichung aufnahm. Und nach den ursprünglichen Plänen des Trios sollte an dieser Stelle die Geschichte von NIGHT DEMON auch schon zu Ende sein. Pat zog weg, um an der Humboldt University zu studieren, während sich Brent und Jarvis um andere Projekte kümmerten.
Es kommt immer anders, als man denkt.
Es brauchte schließlich Woodwards Bandkollegen, den THE FUCKING WRATH-Drummer John Crerar, der die Saitenfraktion zu einem Comeback überreden konnte und gleich auch mitmachte. Im Metal-Underground wurde die EP mit viel Begeisterung aufgenommen, so dass es nicht lange dauerte, bis das Trio mit den NWoBHM-Veteranen RAVEN und DIAMOND HEAD auf Tour ging.  Doch es war zu dem Zeitpunkt nicht alles eitel Sonnenschein. Der Stil von John Cerna passte nicht so richtig zur Musik der Combo, weswegen man ihn aus der Band entfernte. So nahm man das Debütalbum mit Dusty Squires  (dr.) auf, der zu diesem Zeitpunkt bereits in einer Gruppe mit Armand spielte und deswegen eigentlich nur auf "Curse Of The Damned" spielen sollte. Doch mit Dusty funkte es, weswegen er fest bei NIGHT DEMON einstieg.
Full Speed Ahead
Da nun ein Drummer gefunden war, konnte man im Vorprogramm von Bands wie CARCASS oder CROWBAR den obligatorischen Tourmarathon zu dem Album absolvieren. Und auf Festivals wie dem Bang Your Head! stand man nicht mehr an unterster Stelle im Billing. Durch diese Shows konnte man viele Metaller auf sich aufmerksam machen, so dass es nun der ideale Zeitpunkt war, um ein zweites Studioalbum nachzulegen, doch Brent Woodward verließ die Band vor den Aufnahmen. Die Wahl für den Nachfolger fiel schließlich auf John Armand Anthony, der ja praktisch schon von Anfang an dabei war. So begab man sich ins Studio um das zweite Studioalbum "Darkness Remains" einzuspielen. Natürlich ist auch eine ausführliche Tour geplant, in dessen Rahmen man auch auf vielen großen deutschen Festivals, wie dem Keep It True, Rock Hard oder Party.San spielt. Ein Ende des Höhenflugs ist nicht abzusehen.
Diskografie:
Night Demon (EP, 2012)
Curse Of The Damned (2015)
Darkness Remains (2017)
Line-Up:
Jarvis Leatherby – Bass/Gesang
Armand John Antomy – Leadgitarre
Dusty Squires – Schlagzeug
Galerien zu Night Demon
Galerie mit 16 Bildern: Night Demon auf dem Summer Breeze Open Air 2017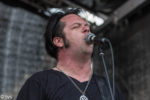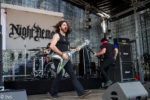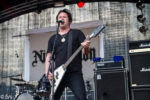 Interessante Alben finden
Auf der Suche nach neuer Mucke? Durchsuche unser Review-Archiv mit aktuell 29463 Reviews und lass Dich inspirieren!
Night Demon auf Tour
| | |
| --- | --- |
| 19.01.18 | metal.de präsentiertAccept - The Rise Of Chaos World Tour 2018Accept und Night DemonEventzentrum Strohofer, Geiselwind |
| 20.01.18 | metal.de präsentiertAccept - The Rise Of Chaos World Tour 2018Accept und Night DemonEuronicshala, Zlin |
| 21.01.18 | metal.de präsentiertAccept - The Rise Of Chaos World Tour 2018Accept und Night DemonBarba Negra, Budapest |
| 23.01.18 | metal.de präsentiertAccept - The Rise Of Chaos World Tour 2018Accept und Night DemonLive Club Milan, Trezzo s/Adda, Mailand |
| 24.01.18 | metal.de präsentiertAccept - The Rise Of Chaos World Tour 2018Accept und Night DemonKomplex 457, Zürich |
| 26.01.18 | metal.de präsentiertAccept - The Rise Of Chaos World Tour 2018Accept und Night DemonRazzmatazz 2, Barcelona |
| 27.01.18 | metal.de präsentiertAccept - The Rise Of Chaos World Tour 2018Accept und Night DemonSala La Riviera, Madrid |
| 28.01.18 | metal.de präsentiertAccept - The Rise Of Chaos World Tour 2018Accept und Night DemonSantana 27, Bilbao |
| 30.01.18 | metal.de präsentiertAccept - The Rise Of Chaos World Tour 2018Accept und Night DemonLe Fil, St. Étienne |
| 01.02.18 | metal.de präsentiertAccept - The Rise Of Chaos World Tour 2018Accept und Night DemonElysée Montmartre, Paris |
| 02.02.18 | metal.de präsentiertAccept - The Rise Of Chaos World Tour 2018Accept und Night DemonGarage, Saarbrücken |
| 03.02.18 | metal.de präsentiertAccept - The Rise Of Chaos World Tour 2018Accept und Night DemonLes Docks , Lausanne |
| 04.02.18 | metal.de präsentiertAccept - The Rise Of Chaos World Tour 2018Accept und Night DemonBatschkapp, Frankfurt/Main |
| 06.02.18 | metal.de präsentiertAccept - The Rise Of Chaos World Tour 2018Accept und Night DemonEffenaar, Eindhoven |
| 07.02.18 | metal.de präsentiertAccept - The Rise Of Chaos World Tour 2018Accept und Night DemonTrix, Antwerpen |
| 08.02.18 | metal.de präsentiertAccept - The Rise Of Chaos World Tour 2018Accept und Night DemonKoko, London |
| 09.02.18 | metal.de präsentiertAccept - The Rise Of Chaos World Tour 2018Accept und Night DemonTurbinenhalle, Oberhausen |
| 11.02.18 | metal.de präsentiertAccept - The Rise Of Chaos World Tour 2018Accept und Night DemonVega, Kopenhagen |
| 12.02.18 | metal.de präsentiertAccept - The Rise Of Chaos World Tour 2018Accept und Night DemonRockefeller, Oslo |
| 14.02.18 | metal.de präsentiertAccept - The Rise Of Chaos World Tour 2018Accept und Night DemonTrädgårn, Göteborg |
| 17.02.18 | metal.de präsentiertAccept - The Rise Of Chaos World Tour 2018Accept und Night DemonLogomo, Turku |
| 18.02.18 | metal.de präsentiertAccept - The Rise Of Chaos World Tour 2018Accept und Night DemonThe Circus, Helsinki |
Alben von Night Demon
Weitere Artikel zu Night Demon