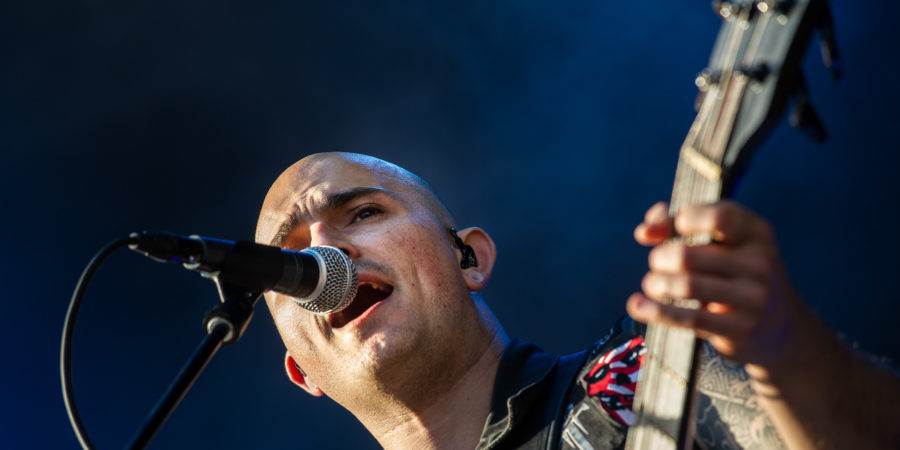 Trivium
"Härtere Gefilde sind ganz natürlich für uns"
Interview
It's been official now for some days that you will be releasing your new album "The Sin And The Sentence" on October 20. When did you start writing and recording the album?
The unofficial start of the record began after "Silence In The Snow". Before that record was out I started writing riffs. I just felt like I needed to start writing again. That was the beginning – for me at least. And then Corey (Beaulieu editor's note) obviously started writing probably a couple of months after that. We got together in November last year to start the pre-production then – and we continued after the tour in March. We split it up, six songs in the beginning and six songs after the tour. And we just really had the goal to get the record done by June. So we worked on a really excellerated time frame. It really came down to us practicing and preparing a lot to make it happen. And I think doing the record at the pace we did with the writing really helped us to stay focused. We wanted to make this record intense, we wanted to have the melody and the big songs and we knew that we had to really come together to make each song fit together. And I think we did it with this one.
From what I got from online and social media the reactions to your first single and title track "The Sin And The Sentence" have been really good. Although it's very different from "Silence In The Snow", way more progressive, more different instrumental parts, also harder – the screaming is back. So I was wondering if you deliberately took a look back at your older material to incorporate some of the older styles you had before "Silence In The Snow"?
We didn't really have to think hard because we made sure that this record, that Matt (Heafy editor's note), Corey and I were going to do, we made it in our smoke room. And we weren't going to let anyone else hear the record or our ideas until we were ready. We did not send demos to the label, we didn't let people know we were making music, we didn't give anyone hints on where we wanted to go. We wanted to make sure that it was TRIVIUM writing the music. That those were TRIVIUM's ideas at the core. So us naturally we go to heavier places. Writing on "Silence In The Snow" was in a way a departure from what we had done in the way that we really focused on the songwriting, we really made it more melodic. Some of the reasons for that were by necessity because Matt couldn't scream at that point. He had to relearn how to sing and scream pretty much and the screaming came later than the record.
Did he have some kind of injury or was he using a wrong technique?
Thankfully it wasn't a serious injury. It was sort of like a strain. But it was all coming from the same problem of wrong screaming, wrong singing, pushing to hard. And he had to relearn everything from the ground up. It took a while. The screaming technique that he does live took a while to get proper. And then everything kind of came back with the screaming. We were able to play a lot more old songs live. We were able to feel what it felt like to play the old songs again. And then we had Alex (Bent editor's note), which was sort of like the wild card that we didn't realize was going to come to us. And when we got all that together, when we started writing new music, when we started playing old songs again, when he had to learn old songs for the tour, it just all kind of mixed together.
We spent the last couple of years really refining our songwriting, our melodies, making hooks, making catchy things, making anthemic songs like "Silence In The Snow" and "Until The World Goes Cold" and "Strife". And we have the ability to write really heavy music, extreme stuff. And for us what became interesting was to see if we can mix this all together. Can we make this all work? Can we make it feel like we are the same band that wrote "Silence In The Snow"? Just with the heaviness that we had been known for in the past. It just felt like the right time. I mean, I want to play heavy music. I feel like I've got the outlet and the things that I really wanted to get out on the last record I think I got them out this time. I don't feel like I need to go home and write the next song yet. I feel like I am satisfied for the moment. Eventually that's going to return. But it feels good to make a record and feel like you nailed the goal.
But you don't regret "Silence In The Snow", do you?
I am a critic of the music that we write. I have to look at it objectively. And I like to be more harsh with it because that makes me a better songwriter. That's not to say that when I make a song I don't like that it didn't have its purpose and it's not enjoyable to listen to, especially for fans. But it's just like I am always trying to get better. You don't enjoy the music you write in the same way as people who don't write it. I know the backstory, I know all the struggles and the drama behind a song or an album. I know what it takes to get the song from A to B. It's a different experience and I think we did a great job with "Silence In The Snow" because we had to deal with the very serious issue of Matt nor being able to scream. And we had to make a choice of how we were going to deal with it. And I think we made the right choice to make a record like that at that time.
Also "Until The World Goes Cold" is a breakthrough song for us around the world. It really opened up our band to an audience in America that we didn't have access to before. And to be able to play that song at "Wacken Open Air" or "Rock On The Range" in America or somewhere overseas in like Japan is important to us. It really was a game changer. And now that we opened that door I want to make sure that we can keep that door open while pushing in a lot more heavy stuff for people to experience from our band.
Because you were mentioning Alex (Bent editor's note): I wanted to ask you when he officially joined TRIVIUM and also what his role in writing the new album was? Did he contribute a lot? Because he surely got a lot of praise for his drumming on the tracks you already released.
He joined up with us in November. We flew him in to Orlando three weeks after the last show we played in Orlando. He had to learn fifteen songs for a headlining set we were doing in March. But he also had to write with us. We had like six new songs together. So Alex' contributions were pretty massive. He was there from day one in pre-production. Alex played such a crucial part in it because he made writing so fast. Because he is a quick learner.
How did you get in contact with him in the first place?
Through Mark Lewis. He works as producer and he has worked with a lot of bands including BATTLECROSS. Alex had played on one of their records and that's how we knew him. He wasn't available the first time we were looking for someone over a year ago. But he was available this time. And we were just very, very fortunate to find a guy like Alex because our paths had no crossed in the past unfortunately but finally we found him. And I think Alex really made a statement with the whole record. And we knew that people who heard the first song were going to really resonate with his playing. I think he really captures an energy that people heard on the first couple of records. But he also brings something new that we never had. He has a really tasteful style of playing technical music, a very interesting and creative style of playing. I am excited for people to hear the rest. "The Sin And The Sentence" is a killer opening track but I think there is some even cooler stuff later on the record.
Galerie mit 19 Bildern: Trivium - Summer Breeze Open Air 2018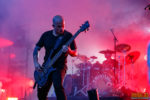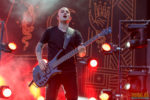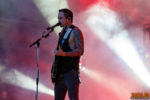 Interessante Alben finden
Auf der Suche nach neuer Mucke? Durchsuche unser Review-Archiv mit aktuell 33934 Reviews und lass Dich inspirieren!