1914
Band
1914 ist eine Death-Metal-Band aus Lwiw (Lemberg), Ukraine.
Geschichte
Die Band wurde im Jahre 2014 gegründet. Dies war das Jahr, in dem sich der Beginn des Ersten Weltkrieges zum 100. Mal jährte. Die Band orientiert sich in ihrem Auftreten und ihrer Musik am Thema Erster Weltkrieg. Im Jahre 2015 wurde das Debütalbum Eschatology of War über das ukrainische Label Archaic Sounds veröffentlicht. Im Jahre 2016 erschien die Kompilation Für Kaiser, Volk und Vaterland, welche auf 100 Musikkassetten limitiert war und unter anderem Demos und Coverversionen (u. a. von Nirvana) enthielt. Zum Jubiläum des Endes des Ersten Weltkrieges erschien am 11. November 2018 um 11:11 Uhr das zweite Album The Blind Leading the Blind. Zunächst wurde das Album wieder über Archaic Sound in der Ukraine veröffentlicht, mit steigender Bekanntheit der Band im restlichen Europa im Mai 2019 aber ebenfalls über das Label Napalm Records. Auf diesem Album fungiert David Ingram als Gastmusiker in dem Lied Passchenhell, außerdem beinhaltet es das Lied Beat the Bastards, eine Cover-Version von The Exploited. Pläne für eine Europa-Tour im Jahre 2020 mit diversen Festivals und Konzerten sind aktuell wegen der weltweiten COVID-19-Pandemie unterbrochen. Am 19. März 2020 gab die Band über Facebook bekannt, dass im Jahre 2021 ein Auftritt beim Inferno-Festival geplant sei.
Stil
Musik
Die Band spielte eine Mischung aus Death- und Doom Metal. Vereinzelt sind auch Einflüsse von Black Metal zu hören. Markant sind die tief gestimmten, dröhnenden Gitarren und der tiefe Bass. Daneben baut die Band auch viele melodische, oft bedrückende Gitarrenparts in die Lieder ein. Die typischen Blast Beats aus dem Death Metal kommen eher selten vor, stattdessen spielt die Band eher Lieder in mittlerem oder schleppendem Tempo. Viele Lieder sind durch Samples, wie etwa Reden oder Ansprachen aus dem Ersten Weltkrieg, Schlacht- oder Motorengeräusche untermalt. Typisch sind jeweils die Intros (War In) und Outros (War Out) auf den Alben, die jeweils Lieder aus der damaligen Zeit in authentischer Soundqualität darstellen.
Texte
Sämtliche Texte der Band drehen sich um die Thematik des Ersten Weltkriegs. In einigen Liedern werden markante Ereignisse direkt beschrieben, wie dem Weihnachtsfrieden vom Dezember 1914 (Frozen in Trenches (The Christmas Truce)), der Hunderttageoffensive (The Hundred Days Offense) oder die Schlacht von Gallipoli (Ottoman Rise). Andere Lieder widmen sich speziellen Truppengattungen (Arditi) oder Fahrzeugen (AV7 Mephisto). Die Band zeichnet in den Texten ein oftmals bedrückendes bis erschreckendes Bild von den Geschehnissen ohne viel Pathos und übt indirekte Kritik am Krieg und an der Ideologie in der damaligen Zeit.
Diskografie
Alben
2014: Eschatology of War
2018: The Blind Leading the Blind
Singles
2014: Frozen in Trenches (Christmas Truce)
2014: Caught in the Crossfire
2015: Zeppelin Raids
2017: Stoßtrupp 1917
1914 im Netz
Galerien zu 1914
Galerie mit 20 Bildern: 1914 - Night Fest Metal X 2019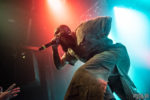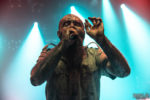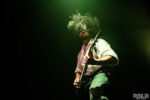 Interessante Alben finden
Auf der Suche nach neuer Mucke? Durchsuche unser Review-Archiv mit aktuell 32397 Reviews und lass Dich inspirieren!
1914 auf Tour
| | |
| --- | --- |
| 06.08. - 08.08.20 | Party.San Metal Open Air 2020 (Festival)Dismember, Carcass, Mayhem, Katatonia, Sacred Reich, Alcest, Asphyx, 1914, Anomalie, Benediction, Beyond Creation, Blood Incantation, Borknagar, Bound To Prevail, Bütcher, Carnation (BE), Caroozer, Crom Dubh, Fleshcrawl, Graceless, Heidevolk, High Spirits, Hirax, Idle Hands, Impaled Nazarene, Infernäl Mäjesty, Kadaverficker, Lunar Shadow, Månegarm, Malevolent Creation, Moonsorrow, Motorowl, Nocturnus AD, Nornír, Nyktophobia, Obscurity, Onslaught, Origin, Razor, Revel In Flesh, Saor, Scalpture, Shape Of Despair, Sinners Bleed, Space Chaser, Suffocation, Thron, Total Hate, Uada, Visigoth, Whoredome Rife, Wolves In The Throne Room und WormrotParty.San Open Air, Obermehler |
| 12.08. - 15.08.20 | metal.de präsentiertSummer Breeze 2020 (Festival)1914, Agrypnie, Alestorm, Amenra, Amon Amarth, Amorphis, Angelus Apatrida, Any Given Day, Architects, Avatarium, Belzebubs, Benediction, Benighted, Blasmusik Illenschwang, Bloodywood, Bodom After Midnight, Carbon Killer, Cattle Decapitation, Clutch, Combichrist, Conjurer, Cytotoxin, Dark Funeral, Dark Tranquillity, Dawn Of Disease, Debauchery, Despised Icon, Devin Townsend, Djerv, Dwaal, Eisregen, Emil Bulls, Ensiferum, Fiddler's Green, Fight The Fight, Finntroll, Fleshcrawl, Fleshgod Apocalypse, Frog Leap, Gatecreeper, Gloryhammer, God Is An Astronaut, Gost, Gutalax, Haggefugg, Hatebreed, Havok, Idle Hands, Implore, Insomnium, I Prevail, Igorrr, Infected Rain, Jinjer, Kadavar, Kraanium, Leaves' Eyes, Lüt, Mass Hysteria, Mr. Hurley & Die Pulveraffen, Myrkur, Neaera, Necrophobic, Nekrogoblikon, Nytt Land, Opeth, Paradise Lost, Pipes And Pints, Primal Fear, Resolve, Russkaja, Sacred Reich, Saltatio Mortis, Shadow of Intent, Shiraz Lane, Siamese, Sonata Arctica, Slope, Static-X, Stray From The Path, Striker, Suffocation, Svalbard, Swallow The Sun, tAKiDA, Terror, The New Roses, The Night Flight Orchestra, The Oklahoma Kid, The Prophecy 23, The Vintage Caravan, The Wildhearts, Thundermother, Tides From Nebula, Triddana, Uada, Vitriol, Vulture, Wardruna, Warkings, While She Sleeps, Within Temptation und Wolves In The Throne RoomFlugplatz Dinkelsbühl, Dinkelsbühl |
| 12.08. - 14.08.21 | metal.de präsentiertParty.San Metal Open Air 2021 (Festival)Dismember, Carcass, Mayhem, 1914, Alcest, Anomalie, Asphyx, Benediction, Beyond Creation, Blood Incantation, Borknagar, Bound To Prevail, Bütcher, Carnation (BE), Crom Dubh, Fleshcrawl, Graceless, Heidevolk, High Spirits, Impaled Nazarene, Kadaverficker, Katatonia, Lunar Shadow, Malevolent Creation, Månegarm, Motorowl, Nocturnus AD, Nornír, Nyktophobia, Obscurity, Onslaught, Origin, Razor, Revel In Flesh, Sacred Reich, Saor, Scalpture, Shape Of Despair, Sinners Bleed, Space Chaser, Thron, Total Hate, Uada, Visigoth, Whoredome Rife, Wolves In The Throne Room und WormrotParty.San Open Air, Obermehler |
Alben von 1914