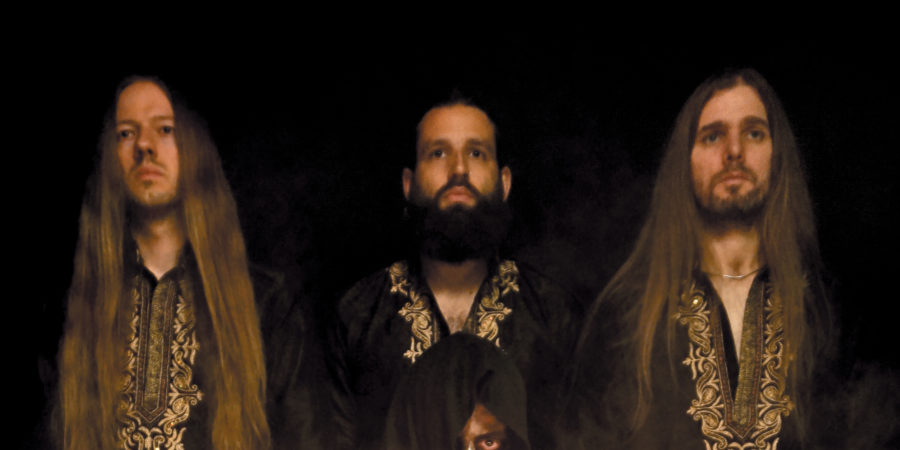 Schammasch
Band
Schammasch ist eine Schweizer Band aus Basel, die im Kern dem Black Metal zugeordnet wird. Der Name leitet sich vom babylonischen Sonnengott Schamasch bzw. Šamaš ab. Die Musiker selbst wollen so weit es geht im Hintergrund bleiben und geben nur ihre Initialen bekannt.
Geschichte
Gegründet wurde die Band Schammasch im Jahr 2009 als Trio "aus den Überbleibseln der Vorgängerband Totenwinter", so Initiator C.S.R. Der vakante Posten am Bass wurde mit einem Live-Musiker besetzt. Das Debütalbum Sic Lvceat Lvx wurde Ende 2010 via Black Tower Productions veröffentlicht. Vier Jahre später erschien das Zweitwerk Contradiction bei Prosthetic Records, das weitere zwei Jahre später auch für das dritte Album Triangle verantwortlich zeichnete. Es brachte es auf eine Spielzeit von 100 Minuten, führte zu einer Europatournee durch 16 Länder und bescherte der Band eine Nominierung beim Basler Pop-Preis, der am Ende Zeal & Ardor zugesprochen wurde. Schammasch erhielt jedoch den Publikumspreis. Entgegen der ursprünglichen Planung, das Album aufgrund des dritten Teils nicht in seiner Gesamtheit live aufführen zu wollen, sagte die Band einer entsprechenden Anfrage des Roadburn Festivals zu. Im Jahre 2017 folgte die EP The Maldoror Chants: Hermaphrodite, die sich auf "Les Chants de Maldoror" des französischen Dichters Lautréamont bezieht. Am 8. November 2019 erschien das vierte Album Hearts of No Light. Das Album konnte sich in den US-Billboard-Charts in verschiedenen Kategorieren platzieren.
Stil
Zur Zeit des Debütalbums spielte die Band "versierten Black/Death Metal irgendwo in der Schnittmenge zwischen neueren Behemoth und Secrets of the Moon zu 'Carved…' und 'Antithesis'-Zeiten". Mit den Nachfolgerwerken wurde der Stil experimenteller und vereinte die "Schnittmenge aller düsteren Musikstile", kombiniert mit "traditioneller, spiritueller wie auch ethnischer Musik". An anderer Stelle hieß es zum dritten Studioalbum Triangle, dass Schammasch "Post Metal" spiele, der sich aus den "schwarzen Bauteilen des Black Metal, Ambient, Doom, Avant und Death Metal" zusammensetze.
Diskografie
2010: Sic Lvceat Lux (Black Tower Productions)
2014: Contradiction (Prosthetic Records)
2016: Triangle (Prosthetic Records)
2017: The Maldoror Chants: Hermaphrodite (EP, Prosthetic Records)
2019: Hearts of No Light (Prosthetic Records)
Interessante Alben finden
Auf der Suche nach neuer Mucke? Durchsuche unser Review-Archiv mit aktuell 32984 Reviews und lass Dich inspirieren!
Schammasch auf Tour
| | |
| --- | --- |
| 28.01.21 | Harakiri For The Sky - Tour 2021Harakiri For The Sky, Schammasch und GaereaHydrozagadka, Warschau |
| 29.01.21 | Harakiri For The Sky - Tour 2021Harakiri For The Sky, Schammasch und GaereaNova Chmelnice, Prag |
| 30.01.21 | Harakiri For The Sky - Tour 2021Harakiri For The Sky, Schammasch und GaereaFrom Hell, Erfurt |
| 31.01.21 | Harakiri For The Sky - Tour 2021Harakiri For The Sky, Schammasch und GaereaChemiefabrik, Dresden |
| 01.02.21 | Harakiri For The Sky - Tour 2021Harakiri For The Sky, Schammasch und GaereaGoldgrube, Kassel |
| 02.02.21 | Harakiri For The Sky - Tour 2021Harakiri For The Sky, Schammasch und GaereaLive Music Hall Weiher, Mörlenbach |
| 03.02.21 | Harakiri For The Sky - Tour 2021Harakiri For The Sky, Schammasch und GaereaJunk Yard, Dortmund |
| 04.02.21 | Harakiri For The Sky - Tour 2021Harakiri For The Sky, Schammasch und GaereaDe Kreun, Kortrijk |
| 05.02.21 | Harakiri For The Sky - Tour 2021Harakiri For The Sky, Schammasch und GaereaWillemeen, Arnheim |
| 06.02.21 | Harakiri For The Sky - Tour 2021Harakiri For The Sky, Schammasch und GaereaGebr de Nobel: Poppodium Leiden, Leiden |
| 07.02.21 | Harakiri For The Sky - Tour 2021Harakiri For The Sky, Schammasch und GaereaMergener Hof, Trier |
| 08.02.21 | Harakiri For The Sky - Tour 2021Harakiri For The Sky, Schammasch und GaereaO'Sullivans Backstage By The Mill, Paris |
| 11.02.21 | Harakiri For The Sky - Tour 2021Harakiri For The Sky, Schammasch und GaereaLes Caves Du Manoir, Martigny |
| 12.02.21 | Harakiri For The Sky - Tour 2021Harakiri For The Sky, Schammasch und GaereaHall Of Fame Wetzikon, Wetzikon |
| 13.02.21 | Harakiri For The Sky - Tour 2021Harakiri For The Sky, Schammasch und GaereaAirport Obertraubling, Obertraubling |
| 14.02.21 | Harakiri For The Sky - Tour 2021Harakiri For The Sky, Schammasch und GaereaRockhouse Salzburg, Salzburg |
| 09.12. - 11.12.21 | metal.de präsentiertDe Mortem Et Diabolum Vol. VII – 2021 (Festival)Misþyrming, Schammasch, Whoredome Rife, Sulphur Aeon, Winterfylleth, Gaerea, Drottinn, Medico Peste, Regarde Les Hommes Tomber, Membaris, Chaos Invocation, Streams Of Blood, Cult Of Erinyes, Skōhsla, Theotoxin, Selvans, Horns Of Domination und Praise The PlagueORWOhaus, Berlin |
Weitere Artikel zu Schammasch
Konzertberichte mit Schammasch