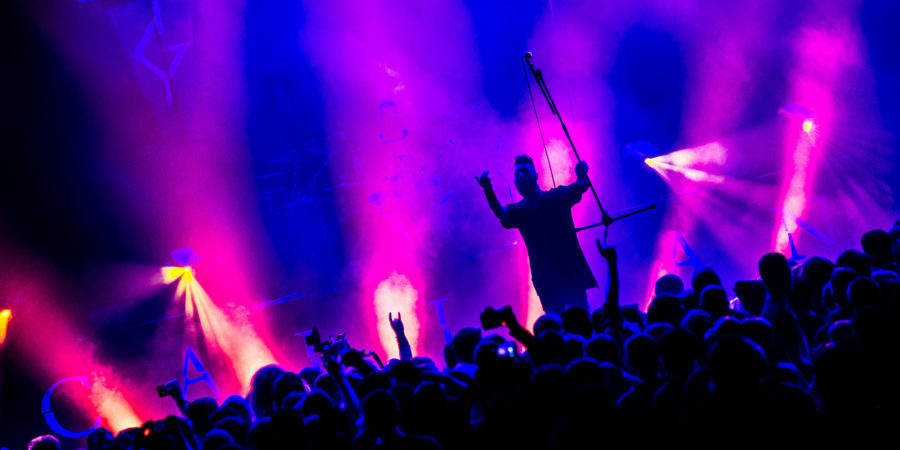 Knockdown Festival 2016
Caliban, Suicide Silence, Rise Of The Northstar u.a. live in Karlsruhe
Konzertbericht
Billing: Caliban, The Amity Affliction, Suicide Silence, Northlane, Stray From The Path, To The Rats And Wolves, Rise Of The Northstar, Desolated, Vitja und Desolace
Konzert vom 18.12.2016 | Schwarzwaldhalle, Karlsruhe
In der Karlsruher Schwarzwaldhalle findet zum zweiten Mal das Knockdown Festival statt. Wo das Knock Out auf klassischen Metal setzt, gibt es beim Knockdown Festival mit zwölf Core-Bands #vollemöhreaufdiemütze. Das Hashtag-Motto trifft es gut, denn hier sind nicht die Langhaarigen zugange, sondern die Mützenträger. Der Altersdurchschnitt liegt bei Anfang zwanzig, und jede Menge Teenies mischen unbekümmert Circlepit und Wall Of Death auf – akrobatische Einlagen inklusive.
Knockdown Festival: Schlag auf Schlag
Zwölf Bands in zwölf Stunden, alles auf einer Bühne, da geht es Schlag auf Schlag. Headliner sind CALIBAN. THE AMITY AFFLICTION  sind gerade auf "This Could Be Heartbreak"-Tour und haben ihre ganzen Vorbands mitgebracht (STRAY FROM THE PATH, NORTHLANE und WAGE WAR). Mit dabei sind auch noch SUICIDE SILENCE, TO THE RATS AND WOLVES, RISE OF THE NORTHSTAR, DESOLATED, VITJA, DESOLACE und AS WE ARISE.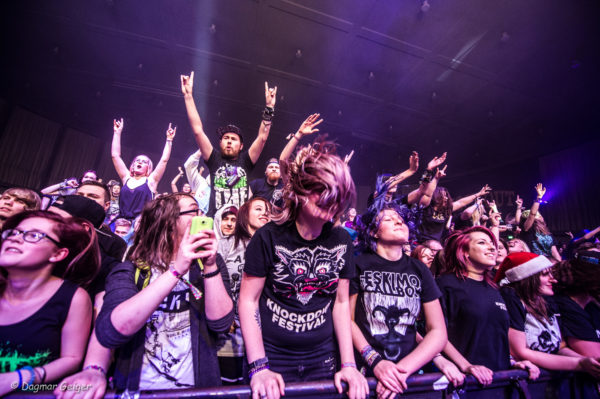 Außer Musik gibt es beim gut organisierten Knockdown Festival 2016 auch noch jede Menge Getränkestände und in der angrenzenden Gartenhalle eine große Food Area mit  Biertischgarnituren. Bei diesem Angebot wird auch der Vegetarier satt, und Unterhaltung gibt es in Form von Bullenreiten. Was beim Hardcore/Punk nicht fehlen darf, ist der gute Zweck, heute für die Hardcore Help Foundation, eine deutsche Non-Profit-Organisation.
Das Problem: das straffe Programm, da wird wohl nicht viel Zeit bleiben für außermusikalische Aktivitäten.
Der #vollemöhreaufdiemütze Hashtag hat übrigens gute Vorarbeit geleistet: Die Halle ist schon bei Veranstaltungsbeginn recht voll, und die Kids sind bereits auf Betriebstemperatur.
AS WE ARISE wurden vom Publikum vorab gevotet

Die Jungs von AS WE ARISE bedanken sich erst mal artig für das Voting und werfen immer mal wieder T-Shirts ins Publikum. Die Band weiß, was es für einen Newcomer bedeutet, auf so einem großen Winterfestival zu spielen, und nimmt ihre Chance wahr. Der melodische Metalcore mit fiesen Shouts und Cleanvocals kommt beim Publikum gut an, und auch die Bühnenperformance stimmt. Es bilden sich spontan schon die ersten kleinen Pits, bis hinten im Saal sind die Hände oben. Anspieltipp von AS WE ARISE ist "Part Of You", und ich bin mir sicher, dass man von den Kids (der Drummer ist erst 16) noch hören wird. Toller Opener!
Galerie mit 21 Bildern: As We Arise auf dem Knockdown Festival 2016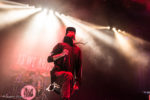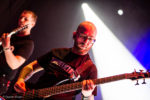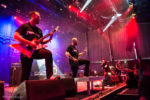 DESOLACE sind nichts für einfache Gemüter

Unverhofft kommt oft und heute in Gestalt von DESOLACE. Angekündigt wird die Band als Progressive Technical Metal, und so sind die Fans erst mal zurückhaltend. Aber Sänger Kriss Jakob ist ein Bühnentalent und nimmt mit seinem lockeren Mundwerk gleich alle für sich ein. So ebnet er den Weg zur zugegebenermaßen schwierigen Musik. Die Gitarrenarbeit ist sehr melodisch, aber auch sperrig und verschroben. Oder verschoben? Viele einzelne Stückchen Musik wirbeln scheinbar chaotisch durch den Saal und fallen dann wie durch ein Wunder wieder zusammen, sehr tight auf einen einzigen Punkt. Oft sind es die Vocals, die das Ganze zusammenbringen und die auch das Core-Publikum für sich einnehmen, vor allem, als noch ein zweiter Shouter dazukommt. Einzelne Passagen klingen djenty, andere nach Deathcore und es ist echt nix für einfache Gemüter, aber wir finden DESOLACE echt aufregend! ""Inner Circle" – total toll" schreiben wir in ins Notizbuch.
Galerie mit 20 Bildern: Desolace auf dem Knockdown Festival 2016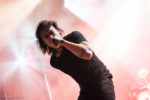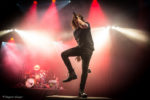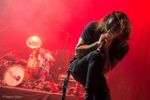 VITJA testen das Publikum

Auch VITJA sind eher progressiv und keine Haudrauf-und-Schluss-Core-Band. Sie experimentieren irgendwo zwischen Metalcore, Djent und Groove Metal. Sänger David Beule hat schlechte Laune und sagt, heute ginge es ihm nicht gut. Alle Plattenfirmen sind böse, behauptet er, und auch das Publikum hier wäre nicht tolerant, sondern täte bloß so. Das Publikum beweist aber genau das Gegenteil und führt dadurch die Anklage ad absurdum: es geht extrem gut ab, obwohl es beleidigt wurde. Wenn das mal nicht tolerant ist. Ihre vertrackten Songs bringen die Jungs von VITJA mit viel Energie rüber, und sie haben mit "Six Six Sick" sogar schon einen Song vom nächsten Album dabei, das im März erscheint.
Galerie mit 25 Bildern: Vitja auf dem Knockdown Festival 2016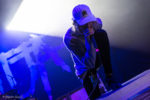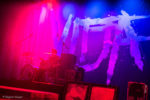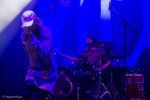 Auf der nächsten Seite geht es weiter mit WAGE WAR, DESOLATED und RISE OF THE NORTHSTAR
Interessante Alben finden
Auf der Suche nach neuer Mucke? Durchsuche unser Review-Archiv mit aktuell 31039 Reviews und lass Dich inspirieren!
Caliban, The Amity Affliction, Suicide Silence, Northlane, Stray From The Path, To The Rats And Wolves, Rise Of The Northstar und Vitja auf Tour
28.06. - 30.06.19
metal.de präsentiertFull Force Festival 2019 (Festival)Parkway Drive, Arch Enemy, Limp Bizkit, Behemoth, Flogging Molly, Lamb Of God, Amorphis, Beartooth, Cannibal Corpse, Kadavar, Knorkator, Our Last Night, Sick Of It All, Terror, The Amity Affliction, Zeal & Ardor, Alcest, Animals As Leaders, Annisokay, Any Given Day, At The Gates, Bad Omens, Batushka, Billybio, Black Peaks, Bleeding Through, Bury Tomorrow, Cane Hill, Carach Angren, Crystal Lake, Harakiri For The Sky, Harms Way, Ignite, Infected Rain, Jinjer, Landmvrks, Malevolence, Mambo Kurt, Mantar, Massendefekt, Municipal Waste, Orange Goblin, Polaris, Power Trip, Sondaschule, Tesseract, The Ocean, Turnstile, Walking Dead On Broadway, While She Sleeps, Whitechapel, Wolfheart, Amenra, To The Rats And Wolves, Ultha, Napalm Death, Gutalax, Crowbar, Perturbator, Smoke Blow und Drug ChurchFerropolis, Gräfenhainichen
03.07. - 06.07.19
metal.de präsentiertRockharz Open Air 2019 (Festival)Amon Amarth, Anvil, Apocalypse Orchestra, Bloodred Hourglass, BROTHERS OF METAL, Burning Witches, Caliban, Children Of Bodom, Combichrist, Coppelius, Cradle Of Filth, Dimmu Borgir, Dragonforce, Elvellon, Elvenking, Epica, Feuerschwanz, Follow The Cipher, Freedom Call, From North, Grand Magus, Grave, Hämatom, Hardline, Heidevolk, Hellboulevard, Hypocrisy, J.B.O., Kärbholz, Kissin' Dynamite, Korpiklaani, Lacrimas Profundere, Legion Of The Damned, Lordi, Milking The Goatmachine, Mono Inc., Mr. Irish Bastard, Nailed To Obscurity, Nervosa, Omnium Gatherum, Overkill, Russkaja, Saltatio Mortis, Soilwork, Stam1na, The Night Flight Orchestra, The O'Reillys & The Paddyhats, The Unguided, U.D.O., Vader, Van Canto, Visions Of Atlantis, Warkings, Wintersun und WittFlugplatz Ballenstedt, Ballenstedt
14.08. - 17.08.19
metal.de präsentiertSummer Breeze 2019 (Festival)Aborted, After The Burial, Ahab, Airbourne, Anaal Nathrakh, Avantasia, Avatar, Battle Beast, Beast In Black, Begging For Incest, Blasmusik Illenschwang, Brainstorm, Brymir, Bullet For My Valentine, Burning Witches, Bury Tomorrow, Carnal Decay, Caspian, Clawfinger, Code Orange, Cradle Of Filth, Crippled Black Phoenix, Cypecore, Death Angel, Decapitated, Décembre Noir, Deicide, Deluge, Deserted Fear, Dimmu Borgir, Dornenreich, Double Crush Syndrome, Downfall Of Gaia, Dragonforce, Dust Bolt, Dyscarnate, Eat The Gun, Eluveitie, Emperor, Endseeker, Enslaved, Equilibrium, Evergreen Terrace, Evil Invaders, Fear Of Domination, Final Breath, Frosttide, Gaahls Wyrd, Get The Shot, Grand Magus, Gutalax, Hämatom, Hamferð, Hammerfall, Harpyie, Higher Power, Hypocrisy, In Flames, INGESTED, Izegrim, Kambrium, King Apathy, King Diamond, Kissin' Dynamite, Knasterbart, Krisiun, Kvelertak, Legion Of The Damned, Letters From The Colony, Lik, Lionheart, Loathe, Lord Of The Lost, Meshuggah, Midnight, Morbid Alcoholica, Mr. Irish Bastard, Mustasch, Myrkur, Nailed To Obscurity, Napalm Death, Nasty, Oceans Of Slumber, Of Mice & Men, Orphalis, Parkway Drive, Pighead, Promethee, Queensrÿche, Randale, Rectal Smegma, Rise Of The Northstar, Rotting Christ, Skálmöld, Slaughter Messiah, Soilwork, Subway To Sally, Teethgrinder, Testament, The Contortionist, The Dogs, The Lazys, The New Death Cult, The Ocean, Thy Art Is Murder, Turbobier, Tragedy, Twilight Force, Une Misère, Unearth, Unleashed, Unprocessed, Van Canto, Versengold, Windhand, Winterstorm, Xenoblight und Zeal & ArdorSummer Breeze Open Air, Dinkelsbühl, Dinkelsbühl
Alle Konzerte von Caliban, The Amity Affliction, Suicide Silence, Northlane, Stray From The Path, To The Rats And Wolves, Rise Of The Northstar und Vitja anzeigen »