Monstrosity
"The Passage Of Existence" erscheint im September
News
Endlich gibt es ein neues Album der Florida-Death-Metaller MONSTROSITY (auf deren Debütalbum noch ein gewisser George "Corpsegrinder" Fisher die Vocals eingegrunzt hat): Am 7. September 2018 erscheint auf Metal Blade mit "The Passage Of Existence" das erste Studioalbum seit "Spiritual Apocalypse", das vor elf Jahren in die Läden kam. Bereits jetzt könnt Ihr als Vorgeschmack die erste Single "Cosmic Pandemia" streamen.
MONSTROSITYs Lee Harrison kommentiert das Album mit Begeisterung und vielleicht ein bisschen Großspurigkeit: "Zunächst einmal möchte ich euch das Meisterwerk aller Meisterwerke im MONSTROSITY-Universum präsentieren. Diese Album verlangt allerdings nach einer gewissen Gerechtigkeit und deshalb möchte ich euch, die Hörer, darum bitten, ihm diese Aufmerksamkeit zu schenken. Spielt diese Aufnahme nicht auf einem billigen Ghettoblaster oder über mickrige Kopfhörer ab, das Album wurde dafür geschaffen, laut auf einem Mördersystem abgespielt zu werden. Tut euch diesen Gefallen, zumindest bei den ersten paar Durchläufen. Ich weiß, es ist ein dämliches Klischee zu sagen, "spielt das Album laut ab", aber ich kann guten Gewissens sagen, dass es das wert ist. Hört es euch auch mehrfach an, diese Songs werden live sehr gut funktionieren und wir können es kaum erwarten, sie für euch zu performen. Ich freue mich schon auf die Reaktionen! Das Feedback der Fans auf den Teaserclip war hervorragend und jetzt freue ich mich auf eure Meinungen zu unserer ersten Single. Endlich bekommen wir etwas zurück für die Jahre harter Arbeit. Ich hoffe wir sehen uns bald on the road!"
Schlagzeuger Lee Harrison fand sich mit Produzent Jason Suecof in den Audiohammer Studios in Sanford in Florida ein, um im Laufe einer Woche seine Schlagzeugspuren aufzunehmen. Die Gitarren und der Bass wurden im Ascension Sound in Tampa eingespielt, die Vocals in OBITUARYs Redneck Studios in Gibsonton festgehalten. Produzent Mark Lewis (u.a. MEGADETH) mischte die Songs ab, die nun am 7. September unter dem Titel "The Passage Of Existence" erscheinen werden.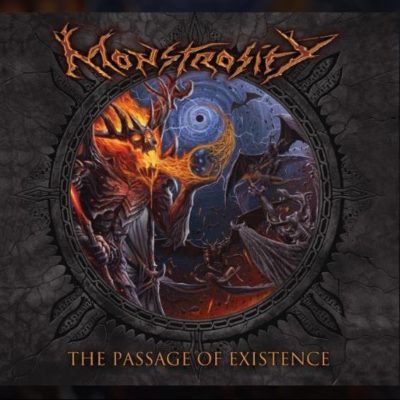 "The Passage Of Existence" Tracklisting:
1. Cosmic Pandemia
2. Kingdom Of Fire
3. Radiated
4. Solar Vacuum
5. The Proselygeist
6. Maelstrom
7. Eyes Upon The Abyss
8. Dark Matter Invocation (ltd. Digi-CD bonus)
9. The Hive
10. Eternal Void (ltd. Digi-CD bonus)
11. Century
12. Slaves To The Evermore
MONSTROSITY Line-up:
Mike Hrubovcak – vocals
Lee Harrison – drums
Mike Poggione – bass
Mark English – guitars
Matt Barnes – guitars
MONSTROSITY Diskographie:
Imperial Doom (1992)
Millennium (1996)
In Dark Purity (1999)
Enslaving The Masses (2001)
Rise To Power (2003)
Spiritual Apocalypse (2007)
Live Apocalypse DVD (2013)
The Passage Of Existence (2018)
Quelle: Metal Blade Records
28.06.2018
Interessante Alben finden
Auf der Suche nach neuer Mucke? Durchsuche unser Review-Archiv mit aktuell 30694 Reviews und lass Dich inspirieren!