Zonaria
Studiobericht
Special
Wir sind stolz darauf, euch hier exklusiv den Studiobericht von ZONARIA präsentieren zu dürfen. Die junge schwedische Band befindet sich derzeit im Fredman Studio, um ihr zweites Album aufzunehmen, welches über Century Media veröffentlicht wird. Um möglichst zügig über die Fortschritte zu berichten, haben wir ausnahmsweise den Bericht der Band in Englisch belassen. Selbstverständlich werden wir diesen Studiobericht immer wieder aktualisieren, um euch auf dem Laufenden zu halten. Das Wort hat Gitarrist Emil Nyström.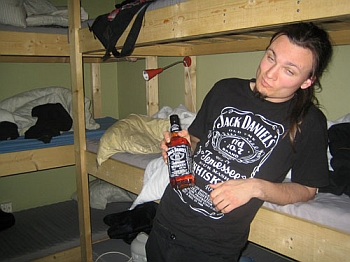 Day 1
Entering the studio.
We started travelling to the studio at 00.00 last night and arrived today around 14.00. It's quite a long journey in a 20 year old car, I must admit. But we're really getting used to all these travelling hours. I slept about 2,5 hours so I'm more tired then a panda high on eucalyptus.
Anyway, the beginning hasn't been all that great I must admit. It started off with us not having any video camera. Luckily, an hour before we left we got hold of one! After that we picked up the camera and headed off to our rehearsal space to pick out all the gear for the studio which went pretty well, until I remembered I forgot the sheets and my computer at home. So Cebbe (Emanuel "Cebbe" Isaksson, Drummer) and Maco (Markus Åkebo, Bass) had to finish the packing in to his old Volvo while me and Simon went back home to pick up the shit I forgot. We only made it halfway to my apartment when I remembered that I have the house keys in my jacket… which of course… is in Maco's car. So we had to get back to the rehearsal space once again before we could pick my stuff up.
After we picked up the stuff we started the driving south. The driving itself went pretty well, but Maco got lost and we had to call him and give him directions. FINALLY we got everything right (at least for now) and continued the journey down. 15 minutes late we got reminded that we forgot the controllers to BOTH video games we brought with us. How the hell can you forget both controllers? Apparently we are dumb enough to do it. But hey, we were on our way, so there was no reason to turn back. We are probably gonna buy new ones when we get the chance to visit the Center of Gothenburg.
In the studio, everything went great. We loaded in everything, went shopping for some food, played some games, met up with Sebastian who will be our assistant engineer during this whole recording and started rigging up the drums in the studio room. And as if we hadn't been unlucky enough today – someone put the wrong size of the drum heads in the right package. So where it said that Cebbe got a 22 inch head, he had gotten himself a 20 inch. So now we are without one of the drumheads. Yaaay! So that's where we are now. Apparently Fredrik Nordström is gonna help us get a 22 inch head and we'll tune it tomorrow when the recording starts. Now I'm tired to death, but before sleeping I'm gonna head out to take some air and maybe play some video games. (Fredman had one here so were gonna play on his until further notice).
That's all for day one. Maybe I won't be able to give you such detailed update each day. But I'll give it my best shot!
Emil Nyström / guitar
Day 2
Today was the first day of real studio work. We all woke up at 9 AM and started warming up by eating some cooked eggs and fil with cereals. Then we waited for Fredrik to arrive in the studio. At half past ten the hard working began with… more tuning of the drums! Fredrik brought the new drumheads Cebbe was missing and after that there was some more tuning which was followed by setting up drums, setting up mics and sound checking. During the drum checking Maco and I cooked some meatballs, broccoli and pasta. We are really getting in to this healthy thing; we are all eating a lot of bananas, pears and vegetables. Apparently Fredrik is a vegetarian, just like my girlfriend, so I'll probably have him give me some tips on good dishes I can surprise her with. His vegetarianism started out when his daughter wanted to become a vegetarian, but his ex-wife refused to cook vegetarian food at their place, so he told her that he would never meet again! Well, that's what happens when you marry the wrong person. Haha.
After the food Fredrik headed off to rehearsal with DREAM EVIL and we started recording the first drum tracks. We finished one whole song just in time for him to get back. Now was time to dial in a guitar sound. It took around 15 minutes to get the perfect tone. This album is going to sound sooo damn heavy and tight! Fredrik gave us some tips on modifications we could do on the guitar to make it keep the tuning better, and sure it worked. We recorded some sloppy guitars as scratch tracks and man did the guitar tone sound sweet.
After we decided on a final guitar sound we went back to recording the drums and finished another song. Only got some details left to finish, but after a 14 hours of working we let Cebbe go to sleep cause he started losing some focus. I still have to say, nailing two songs in only two hours of recording is really good if you ask me. All the sound checking and sound setting is so time consuming. 🙁
Tomorrow will be time to really get our hands dirty!
/Emil
Day 3
Yesterday we recorded more drums and more guitars, there was so much to do that the only free time we had was around midnight when Maco and I spent some time watching the movie Underworld. Great film- if you didn't see it, check it out immediately. Right now it's 00.20 and we have 5 drum tracks as well as 2 guitar tracks finished, so we are right on schedule as it is. Today we'll spend alot of time fixing any errors, so right now I'm really tired after all the problems that happened. Fortunately for now, we are right on track again and things are moving forward. It's a bit frustrating that drums take so much time, but we want it to be all perfect.
/Emil
Day 4
Yesterday we stayed up till 05.30 recording guitars and other haxx. Maco fell asleep on the couch so I tried waking him up by sticking my finger up his nose. That didn't work so I left him there and found him sleeping in his own bed this morning. So i guess he found his way back after all.
Now there is only a little be left on drums before we can continue with the guitars. Awh, catch you later.
Day 5
Damn the smell. Maco just unleashed the biggest monster ever sprung out from a human exit hole. Imagine someone doing the grossest fake fart with his mouth that sounds so wet. He just did that, but for real. Haha. Enough about Maco's farts; today things have been moving much more smoothly. They finished two songs on the drums 100% and they are sounding so amazing. Probably two of the four most technical songs we've ever written and recorded so we're really excited. After that Simon and I finished guitars for two songs and now the bass is being put down. They just started but are already halfway through one song.
Today we celebrated with a Pizza. Back home Maco and I started watching Ocean's 13. We didn't get more then half way before it was our turn to record again so that's where we are at now.
Day 6
Jerky dang darn the days are long. Today was pretty much like any other day in the studio: really hard work 19 hours per day. Cebbe finished three songs, leaving only two left, the two different bonus tracks we'll have on the Japanese and digipack releases. We are down to the last riff on the third song of the day. This one is probably our rawest track on the album with most blasts and grinding ever. It's sounding much heavier then any of our previous songs. In fact, this whole album in general is sounding heavier and more brutal than our past works. Don't worry though, there will still be plenty of gay melodies to go around!
The bad part of the day was when we were gonna good late dinner (at around 01.00) and we found that there was no real food left so we mixed different vegetables and shit together. Tasted pretty boring but at least we got something in our stomaches.
Damn, you get tired after long days, its 05.30 now and we just had a ball throwing break out in the fresh air. Im a bit more awake now, but ill probably fall asleep by the mixing table any minute.
Day 8
I must tell you it's not an easy thing sleeping in the same room with four other stinky men who snore all night. Neither Simon nor I got much of sleep last night. Not just that, but there's a lot on our minds after recording a whole day, it didn't get much better when Cebbe and Sebastian started banging the drums at full blast after we've been in bed for only 30 minutes. Even though the walls between us cancel out some of the noise, you still hear everything really cleary cause it's wall to wall with the engineering room.
Yesterday we had a visit from our great friend Jimmie from Dead By April (myspace.com/dbaswe). I actually never met the guy even though we've been in contact for 1½ years. He was really impressed by the drum work he heard that was done and had us listen to one of their new songs that was really good. He has this really sweet Meshuggah tattoo in his neck btw.
So Mr. Red Bull is recording drums at the moment whilst I'm writing this. He's doing a great job and I think he'll be finished any day now.
/Emil
Day 9
Yesterday Cebbe finished off the editing of the last couple of drum songs. Meaning all drums now are FINISHED! This also meant that we could start with the vocals! Oh glory days. The songs are actually starting to shape up. For example, one of the songs only need lead guitars and vocal dubs – then it's finished.
We've been working so latey and so hard and things are taking their toll. I'm pretty much tired all the time. But who cares, we're lucky enough being able to record an album here, its good enough for me.
So we fixed an Xbox controller the other day and now we can play games again. I just finished Army of Two on easy for the first time and just got started on The Darkness again, this time on medium. I'd give army of two a 7. I think I'm going to restart the game again on medium and see if I can do it.
Now its time for me to make some dinner – meatballs for the win.
/Emil
Day 11
So earlier I wrote that we were almost finished with the guitars… but… Fredrik came with the wonderful idea to put another two guitar tracks on every song. Meaning we're going to have double layers of both mine and Simon's guitar; ending up with four guitar tracks for each song, which is going to make the guitars sound heavy as elephant poo poo. We got a lot of stuffs finished though, and we can actually get a really good idea of how the songs will sound in the end now. I can't wait to have you listen to it.
During the days when Simon and I sleep Maco is recording all his bass lines. He's doing a really good job and the bass is sounding dick heavy and huge with the guitars and drums. He's got a lot of it finished already and will probably be all done really soon.
As the day passes we're loosing the healthiness more and more. Today we at our fourth Pizza since Friday. It was Hawaii pizza day and it was ten times as good as the two first Pizzas I ate. Nothing compared to the pizzas in Umeå thou. The Hawaii was a 7/10, so it's getting better.
Also, I finished The Darkness for the second time now. Kind of wasn't as difficult this time as it was the first, took me probably half as much time as the first time. For those who haven't tried it yet, go buy it now – still such an amazing game!
/Emil
Day 13
So today we got a visit from mine and Maco's girlfriends. They will stay here over the weekend and give us company whilst we work as hard as we do. We still haven't had a day off since we got here, and now it's really starting to make it self known in our bodies. We've now come far way on the songs and in two last days we made a huge process on all the songs.
Soon Fredrik will start mixing on the days we record during the nights. We almost have the two songs completely finish and most of them are shaping up to be completely finished. But there was a lot more left to do then we it would be thought a week ago. But hey, the more time we spend on them – the better they sound.
So I started to play Army of Two on medium again, since I only got three games with me I need to replay them all. Haha.
/Emil
Day 15
Today Fredrik and Henke Rövkuk started mixing the album. They are pretty much done with the sound of the album and it blew me from my seat. It's like looking at a dump you took a few days later and watching it blossom into a beautiful woman. Who would have thought that would happen?
Yesterday Sebastian our engineer and the girls took a visit to the Metal Town festival in Gothenburg. We really wanted to go since a lot of our friends Marionette, Dead By April, Sonic Syndicate, Avatar were playing alongside some of our good big favorites Dimmu Borgir, In Flames, Opeth, Job For A Cowboy, Killswitch Engage, Sabaton, and Cavalera Conspiracy. Unfortunately we didn't have any time to spare for the festival so we kept on recording these extra comp guitar tracks Fredrik ordered us to do.
Apparently all bands put on a great show, but also a lot of the good bands had to cancel cause of illness. I really wanted to go anyway. But this album needs all our precious time, so I guess I'll have to save the festivals for another time. The girls (including Cebbe) are now on the way back home to Umeå and the studio is once again consisting of men only.
As I'm writing this we are completely 100% finished with three tracks. I can't describe how satisfied we are. We're going to continue record guitars and vocals now.
Wish us all the best.
/Emil
Day 16
About 5 minutes ago my stomach turned and I couldn't move so I had to run for the toilet and unleash the fury over Studio Fredman. Must have been the damn Schnitzel and potatoes I ate just an hour ago. Damn it was good. http://en.wikipedia.org/wiki/Wiener_Schnitzel
I'm starting to feel better now so hopefully the pain will be gone in time for my work to start. Maco and Simon are doing some vocals now and if we're lucky enough we'll be able to finish off the last bass tracks Marcus put down. Even more songs are starting to get finished, except for details we are finished with six tracks.
Today we also watched the movie Gladiator. A strong 9/10. I love the Queer Giraffes haha.
/Emil
Day 18
We worked our selves to death yesterday. The good news though, is that we only got finishing touches to put down today!! Wihoooooooo!!! No more guitars, drums or bass to put down; only small vocal details and finishing touches. You have no idea what the feeling is like when you "finish" the album after almost three complete weeks with no days off in a small studio with nothing but hairy buts and smelly armpits.
The mix is sounding really really good and all the tracks are stronger then anything we've ever done. It's the beginning of something that in the future hopefully will leave its mark. I really believe and hope we can manage it.
Now I'm back to recording Simon and his vocals again. Oooh I'm so excited. We're gonna celebrate later by watching Gladiator again. A good movie in reprise is never shabby.
/Emil
Day 19
This morning we finished everything at around lunch time… and guess what – we didn't sleep one minute. So except for eating and watching Gladiator we recorded something like 17 hours.
Then Henke Rövkuk came to mix the last 10% of the album. We took a 2 hour nap and then Fredrik was back, did some extra editing and mixing and then finally we bounced the tracks. I can't describe how good the feeling is and how really really tired I am.
We celebrated the completion of the album with yet another Pizza, my fifth one and the other guys' seventh. We are healthiness incarnated hahaha. The great thing about this pizza was that it was the best one on the whole visit. I took another Hawaii but it tasted mumma – 8,5/10.
Soon we're going to go to sleep again because we haven't slept the last couple of days. We're going to get around 3 hours of sleep before we start driving home to Umeå.
So…. We're done! This beast of an album will soon be unleashed upon you worldwide through Century Media Records this fall. Titles on the songs cover artwork and album title will be announced shortly. Await some great stuff coming along and feel free to write us anything on Myspace if you have any questions or just want to wish us a good day or anything.
Signing out from the end of recording our 2nd album,
/Emil
Interessante Alben finden
Auf der Suche nach neuer Mucke? Durchsuche unser Review-Archiv mit aktuell 35015 Reviews und lass Dich inspirieren!