Master
"Long-haired-freaks and punk-rockers" - Interview with Paul Speckmann
Interview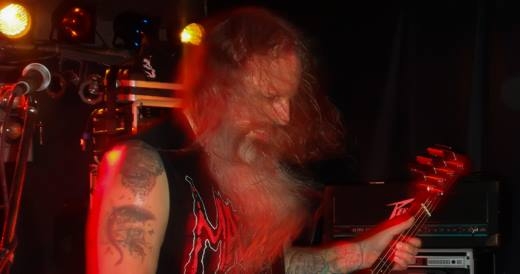 If somebody has earned the status of an icon, then it's Paul Speckmann, as a descendant of Prussian emigrants, the U.S. singer and bassist is considered as co-founder of Death Metal (mainly due to the merits with his band MASTER). Even after 31 years of MASTER the band plays gigs all around the world. On a concert before the tour of the 2013 released album "The Witchhunt" I took the chance to interview the bearded frontman.
Hey Paul, how are you today?
I'm fine today, yesterday in Jena was a really good show and I'm looking forward to another one today.
If you have some knowledge, or if you just google the name "Paul Speckmann", you will find many projects: WAR CRY, DEATH STRIKE, of course MASTER, FUNERAL BITCH, ABOMINATION, KRABATHOR or the SPECKMANN PROJECT. Some of them are already split-up; others are kind of "inactive"…
Except MASTER all of them have been split-up. A few years ago we did 7 Shows with ABOMINATION but actually just MASTER is left.
Are there any "new" things the fans can look forward to?
We just did a 7inch with the guys from…wait…I can't remember, had a rough night.
Looking back, MASTER released many great records, "On The Seventh Day God Created…Master", "Master" and of course one year ago "The Witchhunt". What is your favourite album from MASTER?
That's a hard question, because I put the same effort in every album. Just some albums have a bigger budget, a better producer, some are done faster, and some are taking more time. I can't say what my favourite is, but my favourite at the moment of course is the new one. You know, you always look for the future, I know some people their favourite albums are the first two MASTER records and of course these are great albums, but "The Witchhunt" is great as well. So you ever live for the future, you can't keep living of the first two records, if you just listen to these two then you really missing out something, "The Human Machine" was a good record, "Slaves To Society"…
… And of course "Four More Years Of Terror".
Yeah, and maybe the people never listened to these records, but that's unfortunate for them…
Ahhh … the band is called CADAVERIC POISON, sorry it took me a minute, but that's really brand new we just recorded it may be three weeks ago, it took me a while to remember that name but that's ok. Witchburner, Seegel and I were talking about recording a full-length next year. Going back to what you were saying', I'm also working on the second album from the JOHANNSON & SPECKMANN PROJECT, Rogga just send me nine finished songs, I'm waiting for the guys to record. When I come back from the America tour I'll sit down and get the final recording from Rogga and the guys so I can work on the vocals, it will be a good album too. The first one was really good, but the new one will be even better. So I'm sure the vocals will be better too, because they are pushing me, it's like "if the music is better, the vocals are better too".
From the beginning MASTER has been dealing with political and social critical lyrics… What are the reasons for you to write about that?
Because social justice is a problem we all are faced, it's like today's world the governments have too much control over your life. It's like they want to tell you what to do, they want to tell you what to eat, and they don't want people to think for themselves anymore. I always sung about social justice because it's a real thing in life. I realized that bands singing about Satan or something else sell more records than me, but for me Satan is nothing more than Jesus, just ideologies of humanity.  I believe in myself, if I want fiction, then I'll be reading books. I'm writing about this in hopes of change, doesn't mean that anything will happen, but maybe some young guy organize and start a revolution and if I could help with that in inspiring this person that would be great. All I can do is try.
I think MASTER has always been an inspiration for many other bands, but only a few actually mentioned the band like that. So MASTER was always something more undergrounded, wasn't it?
MASTER always was in the underground, that's the problem [Right now Paul starts laughing]. It pays the bills, I can live from it but it always was undergrounded and so it always will be. Let's say we sell 2000 records, other bands of this genre sell 15.000 or maybe 20.000 units. We're the underground.
[Just now somebody is giving Paul a bottle of Whiskey, he promised not to drink of it until the end of the show]
Which bands mark your first contact with heavy music or inspired you?
BLACK SABBATH, MOTÖRHEAD and SLAYER. I was in the stuff like GBH, MINOR THREAT, DISCHARGE, all these heavy and old "Punk-Metal-Bands". These were the inspiration of the early days. Of course VENOM, but I stopped after the first two records of them.
How far has the whole scene changed since your beginnings as a metalhead back in the 80's?
It was bigger scene; it's still good today, but not that big. The problem of today's world is that most youth confirm the opinions of their parents and the government. Back in my youth we were "fighting" against it, it was like "Yeah, we're long-haired-freaks and punk-rockers! – Fuck off everybody!!!" it was a better attitude. Today you got the guys with the ponytail in the back and under the base cap. You're not sure who they are; I got into the office today and the ponytail is in the back, when I was growing up the hair was out, the Mohawk was out, and the head was shaved. Today it looks like they can't decide what they want to be because society is pushing them into roles. When I grew up it seemed like everyone was crazy, when I was at school there were stoners, punks and greasers. I didn't like the greaser, but at least they were themselves; they had their own identity. I like the freedom of expression, and today this freedom isn't so prevalent anymore.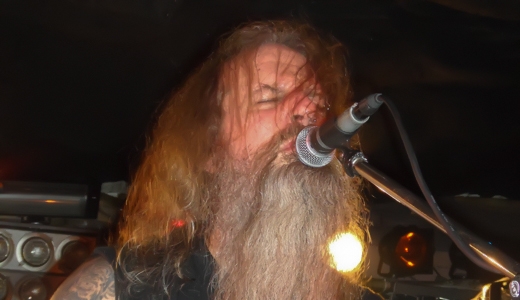 In 1999 you left the USA to go to Europe. What were reasons for this huge step?
I came into the Czech Republic to record an album which was called "Murder X: The End Of The Game" from MARTYR. It's still a great record. Anyway; so the guys of KRABATHOR wrote five songs, I wrote five songs and we did an album and shortly after this their bass player left the band and so the position offered itself to me. So they asked if I'm interested and so I went to the Czech Republic to give it a try. And I've been there ever since, for almost 15 years now.
So it was the right decision?
Absolutely, it changed my life. It got me into a position where I play concerts every time. Before I joined KRABATHOR I wasn't playing this often and now I'm playing around 120 shows the year. I'm busy. Before I joined them I joined them I couldn't live from the music, but I'm still working my ass off. But also I'm driving around in a van or the tour bus to play shows nearly all around the world. That's what I always wanted to do.
In April and May you will do a tour across the USA. Do you enjoy going back to your "old home"?
Not continuously, for some days I'll leave for rehearsals in Miami. But if I'm honest: I only go there for the money and of course to see my three brothers and some old friends. My real home is the Czech Republic, there is more freedom in Europe and that's why I live here. Some people are think there is something like an American dream, but there's now American dream. Listen to the Song of "The Witchhunt", it's anti-American, it's American nightmare. I only go there to make money and come home.
5 months ago I spoke to Gerry Meskil from PRO-PAIN, he shared the opinion that Germany is the "metal capitol of the world"- How do you evaluate this statement?
I would agree it 100%. We play at least 15 shows and some festivals included in Germany every year. Since the early days there's a total support for MASTER. I had Nuclear Blast, with FDA Rekotz I'm on a German label again, you know the German labels support the underground and that's why I'm here.
Some time ago I read something about a Paul Speckmann autobiography, but it wasn't published up to the present day?
The thing with the autobiography unfortunately it was cancelled and since last year they are working on a pictorial. It's called "SPECKMANN, Underground Survivor", but what happened was, one guy was in the hospital and so the layouter was out for three months, then the boss of the company was in the hospital for four months and then Enni from Skullcrusher (It's his project) had a heart attack few months ago, but again the work stopped. I spoke with the president of the company and he said within the next three months the book will be ready. About one month ago they send me a 120 page test-pressing and it's fantastic. So unfortunately it's taking longer then it's supposed to, but it will be coming out in less than three months… I hope.
All in all there are 31 years of MASTER (founded in 1983) and 51 years of Paul Speckmann (1963): Did you ever think about an end of this musical era?
Yeah, I'm and old bastard, almost 51 years. But I'll continue playing concerts and writing albums until I can't anymore. Look at Lemmy, wait he's sick, look at BLACK SABBATH, still going, releasing nice records, that's the plan.
What are your plans for the future?
In 2015, next year we'll do another MASTER album. I don't want to rush it. We put out two records in the last three years. As always we'll be busy.
You are taking care of MASTER's presence in the social networks, above all in Facebook. Blessing and curse at the same time, sometimes it's a bit annoying, isn't it?
It can be, but I make a lot of money from that, I sell a lot of merchandise every month. Some people get annoyed by all the posts, but if you keep posting someone will see it, which didn't saw it one day ago. I know what I'm doing.
Is there any chance that you'll play this awesome version of "Ring of Fire" at a concert some day?
In 2004 we had everything ready, but the police officers that were supposed to play the trumpets didn't learn the song. It's ridiculous, because everybody except them were ready. That was a chance, but the two officers fucked it up – Bastards! Maybe someday, but without the trumpet it will not be the same.
I think in all these years some funny things happened, maybe there is one short story you want to share with the fans?
My whole life is funny, it's a fucking circus, every tour you have 17-20 performers, every day is fucking insanity. It`s always something going on, when you got on the row with 20 different people, then you have 20 different circus clowns me included. We have a lot of fun.
That was the interview. I wish you all the best for the concert tonight and the America tour. And may the crowd always be awesome! The last words are up to you:
Thank you man! Support the underground, go out and buy cd's from bands, not just from MASTER, it's easy to download it somewhere, at least the underground bands have to eat, everybody have. If MOTÖRHEAD or SLAYER is releasing an album everybody buy it anyway, but if you like it, support the bands and keep the scene alive! Thank you again!
Galerie mit 11 Bildern: Master - Vallenfyre - Tour 2014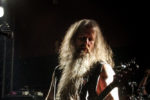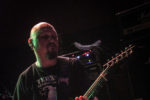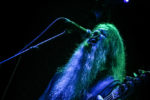 Interessante Alben finden
Auf der Suche nach neuer Mucke? Durchsuche unser Review-Archiv mit aktuell 35495 Reviews und lass Dich inspirieren!