Rock Of Ages
Der große Festivalbericht 2013
Konzertbericht
Billing: Avantasia, Doro, Krokus, Leningrad Cowboys, Maiden United, Mother's Finest, Pink Cream 69, Razzmattazz, Subsignal, Subway To Sally, Tri State Corner und Victory
Konzert vom 26.07.2013 | Festplatz, Rottenburg-Seebronn
Wo schon das "Bang Your Head!!!" eher die ältere Headbanger-Generation anspricht, gilt dies umso mehr für das Schwesterfestival "Rock Of Ages", das in diesem Jahr bereits zum neunten Mal stattfindet. Doch die Metal-Papas und -Mamas sollen nicht alleine ins schwäbische Rottenburg-Seebronn pilgern, sondern am besten gleich die gesamte Familie mitbringen, weshalb es sogar eine gut organisierte Kinderbetreuung gibt. Der Plan von Veranstalter Horst Franz geht auf und so kann man hier tatsächlich sowohl mehr ältere Semester als auch mehr Nachwuchs-Headbanger erblicken als auf nahezu jedem anderen Festival.

Dazu passt auch die Bandauswahl, die eben nicht bloß auf die üblichen Vertreter der Hartwurst-Szene setzt, sondern bewusst einen hohen Anteil an härteren, aber auch softeren Rock-Bands präsentiert. So hat man in diesem Jahr mit AVANTASIA und dem ALAN PARSONS LIVE PROJECT zwei gleichermaßen fantastische, dabei aber stilistisch vollkommen unterschiedliche Headliner verpflichtet. Und auch bei den übrigen Bands reicht das Spektrum von altmodischem Hard-, Funk- und Blues-Rock über progressive Klänge bis hin zu klassischem Heavy Metal und sogar Mittelalter-Rock.
Galerie mit 26 Bildern: Impressionen - Rock Of Ages 2013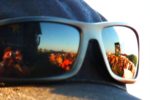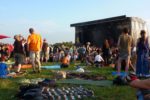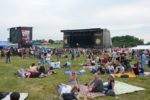 Organisatorisch kann Horst Franz alle Erfahrung ausspielen, die er mit dem "Bang Your Head!!!" über die Jahre gesammelt hat, so dass hier alles rund läuft. Das Preisniveau ist eher gehoben und auch das lästige Bon-System entspricht jenem der Balinger Schwesterveranstaltung. Angesichts dessen, dass die Infrastruktur des kleinen Seebronns nicht für mehrere Tausend Festivalbesucher ausgelegt ist, kann man auch die kleineren Tücken verzeihen. So gesellt sich zu einer für Außenstehende schwer zu durchschauenden Verkehrsführung in den umliegenden Dörfern noch eine Beschilderung aus der Hölle. Da kann man auf dem Heimweg gut und gerne eine Dreiviertelstunde im Kreis fahren, bis man schließlich doch wieder auf die Autobahnausfahrt wenige Kilometer vom Festivalgelände entfernt gelangt – Tagesgästen sei die Benutzung eines Navigationssystems dringend angeraten!
Interessante Alben finden
Auf der Suche nach neuer Mucke? Durchsuche unser Review-Archiv mit aktuell 31194 Reviews und lass Dich inspirieren!
Avantasia, Doro, Pink Cream 69, Subsignal, Subway To Sally und Tri State Corner auf Tour
14.08. - 17.08.19
metal.de präsentiertSummer Breeze 2019 (Festival)Aborted, After The Burial, Ahab, Airbourne, All Hail The Yeti, Anaal Nathrakh, Anomalie, Avantasia, Avatar, Battle Beast, Beast In Black, Begging For Incest, Blasmusik Illenschwang, Brainstorm, Brymir, Bullet For My Valentine, Burning Witches, Bury Tomorrow, Carnal Decay, Caspian, Clawfinger, Code Orange, Cradle Of Filth, Crippled Black Phoenix, Cypecore, Death Angel, Decapitated, Décembre Noir, Deicide, Deluge, Deserted Fear, Dimmu Borgir, Dornenreich, Double Crush Syndrome, Downfall Of Gaia, Dragonforce, Dust Bolt, Dyscarnate, Eat The Gun, Eluveitie, Emperor, Endseeker, Enslaved, Equilibrium, Evergreen Terrace, Evil Invaders, Eyes Set To Kill, Fear Of Domination, Final Breath, Frosttide, Gaahls Wyrd, Get The Shot, Gost, Grand Magus, Gutalax, Hämatom, Hamferð, Hammerfall, Harpyie, Hate Squad, Higher Power, Hypocrisy, In Flames, INGESTED, Izegrim, Kambrium, King Apathy, King Diamond, Kissin' Dynamite, Knasterbart, Krisiun, Kvelertak, Legion Of The Damned, Letters From The Colony, Lik, Lionheart, Loathe, Lord Of The Lost, Meshuggah, Midnight, Morbid Alcoholica, Mr. Irish Bastard, Mustasch, Myrkur, Nailed To Obscurity, Napalm Death, Nasty, Oceans Of Slumber, Of Mice & Men, Orphalis, Parkway Drive, Pighead, Promethee, Queensrÿche, Randale, Rectal Smegma, Rise Of The Northstar, Rotting Christ, Skálmöld, Slaughter Messiah, Soilwork, Subway To Sally, Teethgrinder, Testament, The Contortionist, The Dogs, The Lazys, The New Death Cult, The Ocean, Thron, Thy Art Is Murder, Turbobier, Tragedy, Twilight Force, Une Misère, Unearth, Unleashed, Unprocessed, Van Canto, Versengold, Windhand, Winterstorm, Xenoblight und Zeal & ArdorSummer Breeze Open Air, Dinkelsbühl, Dinkelsbühl
11.11.19
Doro - Forever Warriors - Forever United Tour 2019DoroDen Atelier, Luxemburg
12.11.19
Doro - Forever Warriors - Forever United Tour 2019DoroKomplex 457, Zürich
Alle Konzerte von Avantasia, Doro, Pink Cream 69, Subsignal, Subway To Sally und Tri State Corner anzeigen »