Napalm Death
...jetzt Dortmunder!
News
Century Media Records ist stolz, offiziell verkünden zu können, dass die britische Extreme Metal Legende NAPALM DEATH einen weltweiten Vertrag (ausgenommen ist Japan) unterzeichnet hat. Das erste Release des neuen Bündnisses wird der Nachfolger zur "Leaders Not Followers"-EP sein, das lang erwartete Coveralbum namens "Leaders Not Followers 2". Auf zwei Songs des Albums wird Jim Whiteley mitwirken, d.h. jener Originalbassist, der auf der B-Seite des legendären "Scum"-Albums zu hören ist. Bassist Shane Embury erklärt Whitley's überraschenden Gastauftritt: "Jim und ich sind über die Jahre hinweg Freunde geblieben und haben uns zusammen viele Nächte in Birmingham um die Ohren geschlagen. Ich dachte, es wäre eine gute Idee, ihn bei einigen Songs spielen zu lassen. Nur so zum Spaß, aber auch aus persönlichen Gründen, weil ich glaube, dass sein Input für die Band völlig übersehen wurde. Seine Texte auf der B-Seite von "Scum" sind einzigartig für mich…" Mark "Barney" Greenway kommentiert das neue Zuhause seiner Band folgendermaßen: "Ich bin sehr glücklich zu verkünden, dass NAPALM DEATH einen Plattenvertrag bei Century Media unterschrieben haben. Wir hatten wirklich darüber nachgedacht unsere Alben selbst zu veröffentlichen, aber momentan wäre das für jeden für uns zu viel gewesen. Es war uns wichtig einem Label vertrauen zu können und zwar einem, das nicht nur Tantiemen bezahlt, sondern auch über ein umfassendes Netzwerk verfügt, bei dem wir nicht ständig nur auf uns selbst angewiesen sind, um die Band nach vorne zu bringen. In der Vergangenheit habe ich oft die schmerzhafte Erfahrung machen müssen, dass sich mein Vertrauen in Labels nicht ausgezahlt hat, aber es sieht so aus, dass uns die aktuelle Century Media Belegschaft versichert hat in allen Bereichen ihr Bestes zu geben! Das gibt Hoffnung, dass dieser Spirit weiterlebt!" "Leaders Not Followers 2" wird folgende Coversongs enthalten: 1) Cryptic Slaughter "Lowlife" 2) The Offenders "Face Down In The Dirt" 3) Devastation "Devastation" 4) Hellhammer "Messiah" 5) Anti-Cimex "Victims of a Bomb Raid" 6) Wehrmacht "Fright Night" 7) Discharge "War's No Fairytale" 6) Siege "Conform" 10) Master "Master" 11) Insanity "Fire Death Fate" 12) Kreator "Riot of Violence" 13) Anti Cimex "Game of the Arseholes" 14) Massacre "Clangor Of War" 15) Attitude Adjustment "Dope Fiend" 16) Die Kreuzen "I'm Tired" 17) Sepultura "Troops of Doom" 18) The Dayglo Abortions "Bedtime Story" 19) Agnostic Front "Blind Justice" 20) Hirax "Hate, Fear and Power". "Leaders Not Followers 2" erscheint noch in diesem Sommer.
Galerie mit 12 Bildern: Napalm Death - Summer Breeze Open Air 2019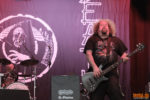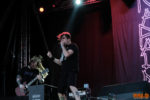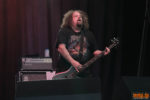 Quelle: Century Media
24.05.2004
Interessante Alben finden
Auf der Suche nach neuer Mucke? Durchsuche unser Review-Archiv mit aktuell 33752 Reviews und lass Dich inspirieren!