Speedfest
Speedfest 2015: Danko Jones, Carcass, Obituary, Refused u.a. live in Eindhoven
Konzertbericht
Billing: Avatarium, Backyard Babies, Carcass, Danko Jones, High On Fire, Honeymoon Disease, Napalm Death, Obituary, Peter Pan Speedrock, Pro-Pain, Refused und Scorpion Child
Konzert vom 21.11.2015 | Klokgebouw, Eindhoven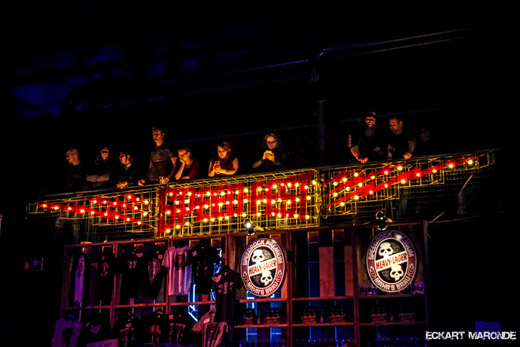 Zunächst einmal heißt es, sich im Klokgebouw zurecht zu finden – es gibt nicht weniger als vier miteinander verbundene Hallen mit drei Bühnen und einem Foodcourt mit Disco, wo ein DJ von Rock- und Metalklassikern bis hin zu Achtzigerjahrepop alles spielt, was irgendwie der Stimmung förderlich sein könnte – MOTÖRHEAD, THE BANGLES, egal. Auf der Hauptbühne, der Demolition Stage spielen derweil die BACKYARD BABIES auf.
Backyard Babies
Und die legen erstmal mit Vollgas los – Einstieg mit dem flotten Rocker "Th1rte3n Or Nothing" und einer Vorstellung, die nur einen Schluss zulässt: Die Jungs haben heute richtig Bock, und das ist schon die halbe Miete für ein gelungenes Konzert. In der Mitte Nicke Borg, der sich die Bezeichnung 'Frontmann' als Auszeichnung verdient, rechts Gitarrist Dregen, dessen Idol offenkundig Keith Richards ist und dem er in seiner Performance nacheifert. Aber der Mann bringt auch dasselbe Feeling mit: Während sich die Fans noch fragen, was er da zu Beginn des zweiten Stücks auf der Klampfe spielt, hat sich daraus schon ein mitreißender Groove entwickelt. Coole Sache! Die Band lässt heute nichts anbrennen und bringt den Gig sicher nach Hause!
Galerie mit 23 Bildern: Backyard Babies - Speedfest 2015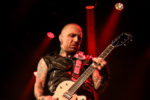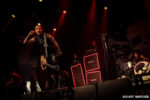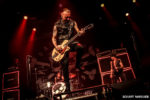 Setlist:
Th1rte3n Or Nothing
Highlights
The Clash
Made Me Madman
UFO Romeo
Brand New Hate
Dysfunctional Professional
Bloody Tears
Minus Celsius
Look At You
Pro-Pain
Anschließend heißt es dann "Anschnallen", denn mit PRO-PAIN hält der Hardcore Einzug in Eindhoven. Die Truppe um Tausendsassa Gary Meskil existiert gefühlt schon seit Ewigkeiten und mit den beiden Gitarristen Adam Phillipy und Marshall Stephens sowie Schlagzeuger Jonas Sanders scheint eine feste Besetzung gefunden zu sein, die immerhin schon seit knapp vier Jahren Bestand hat. Dies spiegelt sich auch im Auftritt der Kult-Kapelle wider. Neue Nummern wie der Titeltrack des aktuellen Albums "Voice Of Rebellion" wechseln sich mit Altbewährtem ab (z.B. "In For The Kill" oder "Make War (Not Love)"), und die Mischung geht auf. Die Spielfreude der Band schlägt selbst auf das Bühnenpersonal über, welches im Hintergrund voll mitgeht – wie auch die überraschend große Menge vor der Bühne. Amtlich!
Galerie mit 13 Bildern: Pro-Pain - Speedfest 2015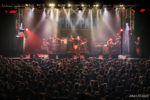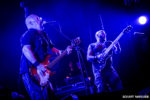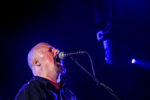 Obituary
Im Rahmen der "Deathcrusher Tour", welche mit dem kompletten Bandpaket für's Speedfest gebucht wurde, stöpseln auch OBITUARY ihre Instrumente im Klokgebouw ein. Was folgt, ist eine Lehrstunde in Sachen Florida Death Metal. Angefangen bei "Redneck Stomp" liefern die ursprünglich unter dem Namen EXECUTIONER gegründeten Amis ein gewohnt starkes Brett ab. Sänger John Tardy lässt sein beachtliches Haupthaar wehen und versorgt die Menge mit einem Oldschool-Hitfeuerwerk, welches mit "'Til Death", "Intoxicated" und "Slowly We Rot" gleich mehrere Stücke vom Debüt beinhaltet. Eindhoven scheint darauf gewartet zu haben: Der Pit tobt – feinstes Menschengulasch. Der Sound ist zwar, ähnlich wie bei allen anderen Bands des Tages, enorm laut, bei OBITUARY allerdings erstaunlich differenziert, so dass der Auftritt von vorne bis hinten Spaß macht.
Galerie mit 14 Bildern: Obituary - Speedfest 2015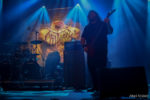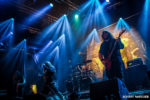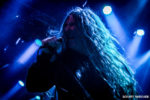 Interessante Alben finden
Auf der Suche nach neuer Mucke? Durchsuche unser Review-Archiv mit aktuell 31191 Reviews und lass Dich inspirieren!
Avatarium, Backyard Babies, Carcass, Danko Jones, High On Fire, Honeymoon Disease, Napalm Death, Obituary und Refused auf Tour
27.06. - 29.06.19
Tons Of Rock 2019 (Festival)Kiss, Volbeat, Def Leppard, Slayer, In Flames, Dropkick Murphys, Dream Theater, Behemoth, Gluecifer, Testament, Mayhem, Oslo Ess, Powerwolf, Amaranthe, Tesseract, Carcass, Bury Tomorrow, Djerv und Ulver
28.06. - 30.06.19
metal.de präsentiertFull Force Festival 2019 (Festival)Parkway Drive, Arch Enemy, Limp Bizkit, Behemoth, Flogging Molly, Lamb Of God, Amorphis, Beartooth, Cannibal Corpse, Kadavar, Knorkator, Our Last Night, Sick Of It All, Terror, The Amity Affliction, Zeal & Ardor, Alcest, Animals As Leaders, Annisokay, Any Given Day, At The Gates, Bad Omens, Batushka, Billybio, Black Peaks, Bleeding Through, Bury Tomorrow, Cane Hill, Carach Angren, Crystal Lake, Harakiri For The Sky, Harms Way, Ignite, Infected Rain, Jinjer, Landmvrks, Malevolence, Mambo Kurt, Mantar, Massendefekt, Municipal Waste, Orange Goblin, Polaris, Power Trip, Sondaschule, Tesseract, The Ocean, Turnstile, Walking Dead On Broadway, While She Sleeps, Whitechapel, Wolfheart, Amenra, To The Rats And Wolves, Ultha, Napalm Death, Gutalax, Crowbar, Perturbator, Smoke Blow und Drug ChurchFerropolis, Gräfenhainichen
14.08. - 17.08.19
metal.de präsentiertSummer Breeze 2019 (Festival)Aborted, After The Burial, Ahab, Airbourne, All Hail The Yeti, Anaal Nathrakh, Anomalie, Avantasia, Avatar, Battle Beast, Beast In Black, Begging For Incest, Blasmusik Illenschwang, Brainstorm, Brymir, Bullet For My Valentine, Burning Witches, Bury Tomorrow, Carnal Decay, Caspian, Clawfinger, Code Orange, Cradle Of Filth, Crippled Black Phoenix, Cypecore, Death Angel, Decapitated, Décembre Noir, Deicide, Deluge, Deserted Fear, Dimmu Borgir, Dornenreich, Double Crush Syndrome, Downfall Of Gaia, Dragonforce, Dust Bolt, Dyscarnate, Eat The Gun, Eluveitie, Emperor, Endseeker, Enslaved, Equilibrium, Evergreen Terrace, Evil Invaders, Eyes Set To Kill, Fear Of Domination, Final Breath, Frosttide, Gaahls Wyrd, Get The Shot, Gost, Grand Magus, Gutalax, Hämatom, Hamferð, Hammerfall, Harpyie, Hate Squad, Higher Power, Hypocrisy, In Flames, INGESTED, Izegrim, Kambrium, King Apathy, King Diamond, Kissin' Dynamite, Knasterbart, Krisiun, Kvelertak, Legion Of The Damned, Letters From The Colony, Lik, Lionheart, Loathe, Lord Of The Lost, Meshuggah, Midnight, Morbid Alcoholica, Mr. Irish Bastard, Mustasch, Myrkur, Nailed To Obscurity, Napalm Death, Nasty, Oceans Of Slumber, Of Mice & Men, Orphalis, Parkway Drive, Pighead, Promethee, Queensrÿche, Randale, Rectal Smegma, Rise Of The Northstar, Rotting Christ, Skálmöld, Slaughter Messiah, Soilwork, Subway To Sally, Teethgrinder, Testament, The Contortionist, The Dogs, The Lazys, The New Death Cult, The Ocean, Thron, Thy Art Is Murder, Turbobier, Tragedy, Twilight Force, Une Misère, Unearth, Unleashed, Unprocessed, Van Canto, Versengold, Windhand, Winterstorm, Xenoblight und Zeal & ArdorSummer Breeze Open Air, Dinkelsbühl, Dinkelsbühl
Alle Konzerte von Avatarium, Backyard Babies, Carcass, Danko Jones, High On Fire, Honeymoon Disease, Napalm Death, Obituary und Refused anzeigen »