Under The Black Sun 2017
Der große Festivalbericht
Konzertbericht
Billing: The Ruins Of Beverast, In The Woods..., Hetroertzen, Darkened Nocturn Slaughtercult, Nocturnal Depression, Cryfemal, Angantyr, Make A Change... Kill Yourself, Corpus Christii, Infinity, Monarque, Crimson Moon, Kult, Besatt, Darkmoon Warrior, Inferno, Arkona (PL), Balmog, Streams Of Blood, Chotzä, Evil Spirit, Panychida, Satan Worship und Engulfed
Konzert vom 29.06.2017 | Freilichtbühne, Friesack
Under The Black Sun 2017 – Der große Festivalbericht auf metal.de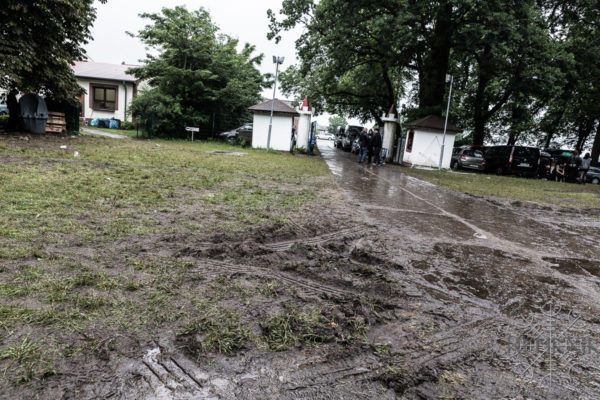 Erinnert ihr euch, wie vor ein paar Wochen durch die Nachrichten ging, dass Berlin absäuft? Ja? Samt der ganzen Bilder von überschwemmten Kellern und Wasserfällen in U-Bahn-Stationen?
Nun … an jenem Wochenende zog metal.de (in Kooperation mit dem Legacy) nach knapp außerhalb von Berlin: Das Under The Black Sun jährt sich zum 20. Mal, und zum ersten Mal findet es in Friesack statt, der Stadt des Teufels. Und tatsächlich ist die Location super, bietet zwar nicht mehr so viel Wald-Flair wie die in Helenenau, dafür aber ein übersichtlicheres Gelände. Doof nur, dass es am ganzen UTBS-2017-Wochenende maximal ganze dreimal aufhört zu regnen.
Und so sind die Klamotten nass, die Füße sind nass, die Kameras müssen mühsam verborgen und geschützt werden, um sie vor dem Regen zu schützen. Kollege Møller triumphiert: Er hat morgens noch aus einer spontanen Idee heraus seine Regenjacke eingepackt, könnte ja regnen. Die Kollegen Gabriel und Wischkowski waren nicht so schlau, trinken dafür aber mehr Bier. Ausgleichende Gerechtigkeit.
Genug gelabert: Unser Bericht vom Under The Black Sun 2017 mit u.a. IN THE WOODS…, THE RUINS OF BEVERAST, HETROERTZEN und CORPUS CHRISTII.
Text:
Hannes Fuchs, André Gabriel, Stephan Möller, Endrew Stepan, Jan Wischkowski
Bilder:
Hannes Fuchs, Endrew Stepan
Interessante Alben finden
Auf der Suche nach neuer Mucke? Durchsuche unser Review-Archiv mit aktuell 36108 Reviews und lass Dich inspirieren!
In The Woods... und Darkened Nocturn Slaughtercult auf Tour
13.10.23
In The Woods, Saturnus, The Foreshadowing Tour 2023In The Woods..., Saturnus und The ForeshadowingGladhouse, Cottbus
15.10.23
In The Woods, Saturnus, The Foreshadowing Tour 2023In The Woods..., Saturnus und The ForeshadowingHellraiser, Leipzig
16.10.23
In The Woods, Saturnus, The Foreshadowing Tour 2023In The Woods..., Saturnus und The ForeshadowingORWOhaus, Berlin
Alle Konzerte von In The Woods... und Darkened Nocturn Slaughtercult anzeigen »