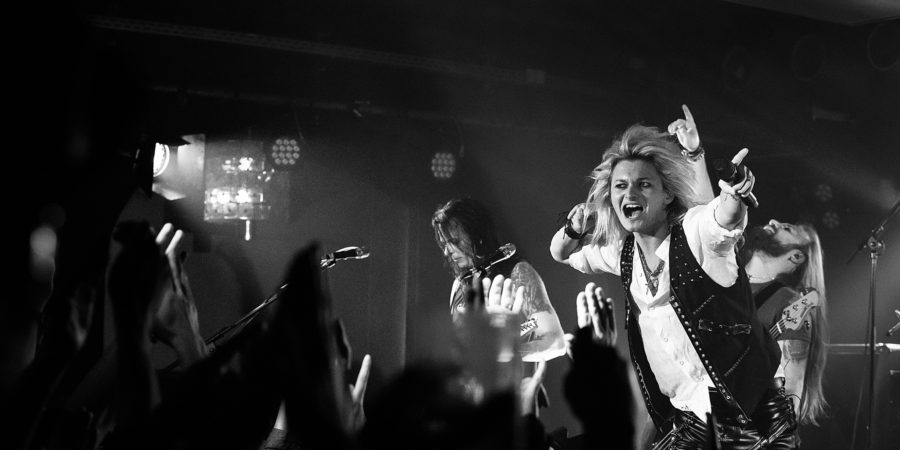 Kissin' Dynamite
Bring back stadium rock!
Konzertbericht
Billing: Kissin' Dynamite und John Diva & The Rockets Of Love
Konzert vom 05.04.2019 | Die Kantine, Köln
"Bring back stadium rock" lautet das Motto von KISSIN' DYNAMITE. So ganz will das noch nicht klappen. Doch immerhin: Die Kölner Kantine ist an diesem Freitagabend ausverkauft. Bereits beim Support-Act JOHN DIVA & THE ROCKETS OF LOVE ist die Stimmung dementsprechend aufgeheizt. Von der ersten Sekunde an frisst das Publikum dem Quintett aus der Hand.
Galerie mit 25 Bildern: John Diva & The Rockets Of Love - Europe In Ecstasy Tour 2019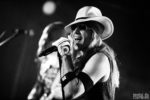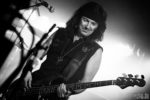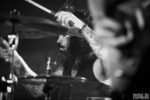 JOHN DIVA & THE ROCKETS OF LOVE – eine Baukastenband?
Dabei merkt man der Band ihre Vergangenheit als reine Cover-Truppe zu jeder Sekunde an. Das hat gute wie schlechte Seiten. Zum einen treten JOHN DIVA & THE ROCKETS OF LOVE durch und durch professionell auf. Da sitzt jeder Ton. Das Stage-Acting ist ebenso perfektioniert. Das Einmaleins der Rockstarposen kennen die Musiker auswendig.
Doch genau da liegt dann auch das größte Problem begraben. Authentisch wirkt die Band nämlich zu keiner Sekunde. Stattdessen gibt es ein bisschen MÖTLEY CRÜE hier, ein bisschen BON JOVI da und natürlich zahllose GUNS N' ROSES-Querverweise. Ein Song erinnert mit seinem Mitklatsch-Beat frappierend an QUEENs "We Will Rock You". An anderer Stelle zitieren JOHN DIVA & THE ROCKETS OF LOVE mehr als offensichtlich den ALICE COOPER-Klassiker "Poison".
So rocken sich die Liebesraketen durch 40 Minuten glatt geleckter Songs ohne jede Eigenständigkeit. Handwerklich gibt es nichts zu beanstanden, denn hier sind nun mal ausschließlich Vollprofis am Werk. Doch wirkt es eben so, als hätten diese Profis einfach einen Baukasten für Glam- und Hard-Rock-Bands bemüht, um ein möglichst großes Publikum anzusprechen. Den Fans gefällt's trotzdem.
KISSIN' DYNAMITE setzen einen drauf
Mit wie viel mehr Elan eine Band im Jahr 2019 noch 80er-Rock auf die Bühne bringen kann, zeigen KISSIN' DYNAMITE. Auf ihrer aktuellen Platte "Ecstasy" transportieren die Schwaben den Sound des Sunset Strips erfolgreich ins hier und jetzt, ohne zur bloßen Kopie zu verkommen. Auf der Bühne klappt das gleich noch besser.
Vom ersten Song an sorgen Pyros für das Gefühl einer Stadionshow im Club. Die aufwendigen Choreographien setzen noch einen drauf. Glücklicherweise wirken sie nie aufgesetzt oder erzwungen. Platz für Spontanität lassen KISSIN' DYNAMITE nämlich trotz ihrer durchgeplanten Show.
Absolute Sympathie
Da ist zum Beispiel Gitarrist Jim Müller, der mit einem Roadie rumalbert, während dieser sein Mikrofon zu reparieren versucht. Frontmann Hannes Braun verschlägt es an anderer Stelle sogar die Sprache. "Jetzt möchte ich eure Lichter sehen. Ihr könnt das ganz old school – oh, damit hab ich jetzt echt nicht gerechnet", zeigt er sich überrascht, als die Fans in erster Linie knallige Knicklichter zücken. "Eigentlich hab ich mir ja eine Art Sternenhimmel vorgestellt. Aber so geht's auch!"
Dass es ihm trotz seiner jahrelangen Bühnenerfahrung gelegentlich die Sprache verschlägt, bringt einige Sympathiepunkte ein. Zudem lässt es Aussagen wie "Ihr seid das bislang beste Publikum der Tour" tatsächlich glaubwürdig erscheinen. Diese frenetischen Reaktionen der Crowd verdienen sich KISSIN' DYNAMITE mit einer tadellosen Rockshow, die hoffentlich bald auf noch größeren Bühnen stattfindet.
KISSIN' DYNAMITE lassen sich was einfallen
Da die aktuelle Tour bereits seit einigen Wochen läuft, ist ein Highlight keine Überraschung mehr. Trotzdem ist es sehr erfreulich, dass KISSIN' DYNAMITE "Ecstasy"-Gastsängerin Anne Brunner für alle Konzerte verpflichten konnte. Dadurch macht Titelsong der Platte gleich doppelt Spaß und weil "Anna nicht gerade billig ist" bleibt sie auch noch für "Sleaze Deluxe".
Am Ende des Abends feiern KISSIN' DYNAMITE mit ihren Fans zum obligatorischen Abschlusssong "Flying Colours". Überall sprechen glückliche Gesichter dafür, dass hier gerade eine fantastische Show in ihren letzten Zügen liegt. In einer gerechten Welt, wird der Stadionrock sein Comeback feiern. Und dann sind KISSIN' DYNAMITE ganz vorne mit dabei.
Galerie mit 28 Bildern: Kissin' Dynamite - Europe In Ecstasy Tour 2019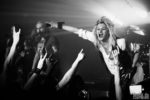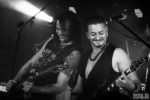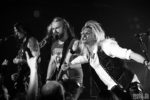 Setlist KISSIN' DYNAMITE:
01. I've Got the Fire
02. Somebody's Gotta Do It
03. Money, Sex & Power
04. Love Me, Hate Me
05. She Came She Saw
06. DNA
07. Sex Is War
08. Ecstasy (mit Anna Brunner)
09. Sleaze Deluxe (mit Anna Brunner)
10. Breaking the Silence
11. Heart of Stone
12. Waging War
13. Steel of Swabia
14. Six Feet Under
15. I Will Be King
16. Still Around (Zugabe)
17. You're Not Alone (Zugabe)
18. Flying Colours (mit Anna Brunner) (Zugabe)
Bericht aus Köln: Dominik Rothe
Fotos aus Berlin: Andrea Friedrich
Interessante Alben finden
Auf der Suche nach neuer Mucke? Durchsuche unser Review-Archiv mit aktuell 31271 Reviews und lass Dich inspirieren!
Kissin' Dynamite und John Diva & The Rockets Of Love auf Tour
| | |
| --- | --- |
| 14.08. - 17.08.19 | metal.de präsentiertSummer Breeze 2019 (Festival)Aborted, After The Burial, Ahab, Airbourne, All Hail The Yeti, Anaal Nathrakh, Anomalie, Avantasia, Avatar, Battle Beast, Beast In Black, Begging For Incest, Blasmusik Illenschwang, Brainstorm, Brymir, Bullet For My Valentine, Burning Witches, Bury Tomorrow, Carnal Decay, Caspian, Clawfinger, Cradle Of Filth, Crippled Black Phoenix, Cypecore, Death Angel, Decapitated, Décembre Noir, Deicide, Deluge, Deserted Fear, Dimmu Borgir, Dornenreich, Double Crush Syndrome, Downfall Of Gaia, Dragonforce, Dust Bolt, Dyscarnate, Eat The Gun, Eluveitie, Emperor, Endseeker, Enslaved, Equilibrium, Evergreen Terrace, Evil Invaders, Eyes Set To Kill, Fear Of Domination, Final Breath, Frosttide, Gaahls Wyrd, Get The Shot, Gost, Grand Magus, Gutalax, Hämatom, Hamferð, Hammerfall, Harpyie, Hate Squad, Higher Power, Hypocrisy, In Flames, INGESTED, Iron Reagan, Izegrim, Kambrium, King Apathy, King Diamond, Kissin' Dynamite, Knasterbart, Krisiun, Kvelertak, Legion Of The Damned, Letters From The Colony, Lik, Lionheart, Loathe, Lord Of The Lost, Meshuggah, Midnight, Morbid Alcoholica, Mr. Irish Bastard, Mustasch, Nailed To Obscurity, Napalm Death, Nasty, Oceans Of Slumber, Of Mice & Men, Orphalis, Parkway Drive, Pighead, Promethee, Queensrÿche, Randale, Rectal Smegma, Rise Of The Northstar, Rotting Christ, Skálmöld, Slaughter Messiah, Soilwork, Subway To Sally, Teethgrinder, Testament, The Contortionist, The Dogs, The Lazys, The New Death Cult, The Ocean, Thron, Thy Art Is Murder, Tragedy, Turbobier, Twilight Force, Une Misère, Unearth, Unleashed, Unprocessed, Van Canto, Versengold, Windhand, Winterstorm, Xenoblight, Zeal & Ardor, Bembers, Heavysaurus, Leprous, Lordi, Ost+Front, Skindred und SoenSummer Breeze Open Air, Dinkelsbühl, Dinkelsbühl |
| 06.12. - 07.12.19 | metal.de präsentiertRuhrpott Metal Meeting 2019 (Festival)Debauchery, Kissin' Dynamite, Queensrÿche, Kataklysm, Battle Beast, Whitechapel, The Black Dahlia Murder, Fleshgod Apocalypse, Entombed A.D., Necrophobic, Dyscarnate und Okilly DokillyTurbinenhalle, Oberhausen |