Unleash The Archers
[Update Teil 6: Letzter Teil] Das Tourtagebuch der Brittney Slayes
Special
UNLEASH THE ARCHERS befinden sich gerade auf der Gunmen Tour mit RHAPSODY OF FIRE und natürlich den Gastgebern ORDEN OGAN. Wir freuen uns nicht nur darüber, die Tour zu präsentieren, sondern haben als besonderes Schmankerl in freundlicher Kooperation mit Napalm Records und natürlich UNLEASH THE ARCHERS auch noch das offizielle Tourtagebuch von Sängerin Brittney Slayes im Programm!
Wie es die Zeit ihr erlaubt, wird sie uns über die nächsten Wochen über die alltäglichen und vielleicht auch weniger alltäglichen Geschichten des Tourdaseins auf dem Laufenden halten. Aktuelle Fotos findet ihr immer auf dem UNLEASH THE ARCHERS Instagram Account
Wir übergeben das Wort dann aber auch mal direkt an Brittney selbst. Wer übrigens lieber das englische Original lesen will, findet das am Ende der jeweiligen Einträge.
Teil 6: Letzter Teil. UNLEASH THE ARCHERS in Geiselwind, Italien und London
Was für ein trauriger Tag! Die Gunmen Tour ist vorbei und wir sind wieder ganz alleine unterwegs. Wir haben fast vier Wochen mit den Jungs in einem Nightliner gewohnt, und es fühlt sich echt komisch an, dass sie jetzt weg sind. Ich vermisse die Stimme von Udo, unserem Tourmanager. Und Robys anzügliche Kommentare. Und Giacomos Einsingen, das immer durch den ganzen Laden geschallt hat, egal, wo er es gemacht hat 😉
Der letzte Eintrag war Samstag in Geiselwind, und wir waren kurz davor, auf eine der größten Bühnen der Tour zu gehen. Es war absolut genial! Wir sind immer am besten, wenn wir Bewegungsfreiraum haben – und ohmann, den hatten wir wirklich. Was für ein cooler Laden! Und weil es eine ORDEN OGAN-Show in Deutschland war, war es natürlich randvoll 🙂 Für mich war es ein ganz besonderer Abend, weil eine meiner besten Freundinnen auf der Welt zum Konzert gekommen ist. Wir kennen uns schon 25 Jahre und sie ist vor ein paar Jahren nach Australien gezogen, also kriege ich sie jetzt nie zu sehen. Es war pures Glück, dass sie und ihr Mann in der Woche des Tourstarts nach Luxemburg gezogen sind! Wir haben im Raststätten-Restaurant gegenüber des Clubs zu Abend gegessen (was für ein prächtiges Date 😉 hahaha). Aber das Schnitzel war gut. Hätte der Abend nur ewig dauern können! Leider hatten wir eine lange Fahrt vor uns und mussten den Club so früh wie möglich verlassen, um loszufahren.
Am Sonntag haben wir in einem kleinen aber brandneuen Laden in einer kleinen Stadt namens Voghera in Italien gespielt. Wir sind also von der größten Bühne auf die kleinste gewechselt 😉 Aber wie ich schonmal gesagt habe, Qualität, nicht Quantität – und das Publikum hatte wirklich Heißhunger! Die erste Reihe war voll von UNLEASH THE ARCHERS Shirts und alle haben jedes Wort mitgesungen. Ein besonders motivierter Fan hat sogar lauter gesungen als ich – also wirklich, es war unglaublich, er hat die Soundanlage und meinen In-Ear-Monitor übertönt! Das Meet & Greet danach hat natürlich mega Spaß gemacht, und wir haben mit unserem Superfan bis zu dem Moment getrunken, als der Bus abgefahren ist. Die Betreiberin des italienischen UNLEASH THE ARCHERS Fanclubs war auch da, und sie ist einfach eine supersüße Person. Wir freuen uns immer, wenn wir sie treffen und davon schwärmen können, wir sehr wir all die harte Arbeit und Unterstützung in Italien zu schätzen wissen. Ich garantiere euch, dass jeder Fan dort nur wegen ihr da war. Danke für alles, was du tust, Jennifer!!!
Nach einem letzten freien Tag und ganzen 24 Stunden im Bus (was ich liebe, weil ich dann stundenlang Zelda im Bett spielen kann – der Traum eines jeden Gamers!) sind wir in London angekommen, um die letzte Show der Gunmen Tour zu spielen. Wir haben auf unserer Europatour letztes Jahr mit SIRENIA und TYR schon in der O2 Academy Islington gespielt, also waren uns die Halle und die Umgebung schon sehr vertraut. Wir konnten es kaum erwarten, unsere Verzehrgutscheine zu kriegen, damit wir bei beim Phõ-Laden um die Ecke essen gehen konnten. UNLEASH THE ARCHERS sind große Fans von Phõ, was eine vietnamesische Suppe mit beliebiger Einlage aus Fleisch, Meeresfrüchten, Gemüse und Tofu ist. Es hat draußen auch in Strömen geregnet, und wer isst an einem regnerischen Tag nicht gerne eine heiße Suppe?! Es war lecker und sättigend, und genau das, was wir nötig hatten, bevor wir vor einem wieder mal vollen Laden auf die Bühne gegangen sind.
Das Publikum war von Anfang an gut drauf, also hatten wir eine geniale Zeit auf der Bühne und wurden beim Meet & Greet komplett überrannt. Es hat so lange gedauert, dass die Security uns rausgeschmissen hat. Es haben noch so viele Fans gewartet, die wir nicht enttäuschen konnten, also haben wir auf dem Gehweg vor der Halle weitergemacht! Dann kam die Security und hat uns auch da rausgeschmissen! Anscheinend haben wir "rumgelungert" (hahaha) 😉 Nein, ich scherze, die Security hat uns erlaubt, zu Ende zu machen, und hat dann alle weggescheucht, damit sie den Laden dichtmachen und draußen aufräumen konnten. Obwohl alles sehr eilig war, war es ein fantastisches Ende einer fantastischen Tour, und wir können es kaum erwarten, wiederzukommen und mit unseren europäischen Fans Party zu machen! Wir kommen auf jeden Fall wieder!
Jetzt machen wir alleine noch eine Woche in Großbritannien, in der wir sechs Headline-Shows spielen und uns gen Norden nach Schottland vorarbeiten. Wir freuen uns darauf, mehr von der Landschaft zu sehen und unseren langjährigen Fans hier einen Besuch abzustatten. Außer Kanada haben uns seit unserer Gründung vor zehn Jahren vor allem zwei weitere Länder enorm unterstützt, und zwar Deutschland und Großbritannien. Es muss also nicht erwähnt werden, wie froh wir sind, endlich etwas weiter in dieses Land vordringen zu können und Fans zu treffen, an die ich schon sehr lange Merch verschicke 😉
Und damit ist mein Tourtagebuch zu Ende! Vielen Dank, dass ihr es über die letzten Wochen gelesen habt und mein Gelaber über das Tourleben verfolgt habt. Wenn ihr noch mehr sehen wollt, könnt ihr uns auf Instagram (@unleashthearchers) oder Facebook (facebook.com/unleashthearchers) folgen und alle pikanten Details vom letzten Teil der Tour kriegen! Danach machen wir eine dringend benötigte Pause über die Feiertage, bevor wir im Frühjahr wieder in Nord- Mittel- und Südamerika unterwegs sind. Dann, wenn alles nach Plan läuft, werden wir für die Festivalsaison wieder in Europa sein. Ich hoffe, wir sehen uns alle da!!!
<3 Brittney
Ein letztes Mal auch hier das Original
What a sad day! The Gunmen Tour is finished and we are all alone on the road once more. We lived for almost four weeks on a nightliner with those boys and it sure does feel strange to be without them! I miss Udo (our tour manager's) voice! And Roby's lewd comments… And Giacomo's warm-up that would reverberate through the whole venue no matter where he did it 😉

Last I left you it was a Saturday night in Geiselwind and we were about to hit one of the biggest stages of the tour. We had an absolute blast! We always play our best when we have room to move and boy did we have room. What a cool venue! And of course it being an Orden Ogan show in Germany the place was packed to the brim 🙂 It was a particularly special night for me however because one of my best friends in the whole world came out to see us play. We have known each other for 25 years and she moved to Australia some years ago so I never get to see her anymore. It was just my luck though that she and her husband had moved to Luxembourg the same week we started tour! We had dinner together in the truck stop restaurant across the street from the venue (such a glorious date 😉 hahaha) but the schnitzel was good. If only the night could have gone on forever! Unfortunately, we had a big drive ahead of us and had to rush out of the venue as fast as we could to hit the road.

On Sunday we played in a small but brand new venue in a little town called Voghera, Italy. Here we went from playing the largest stage on tour to the smallest 😉 But as I had said before, quality not quantity, and the crowd was absolutely ravenous! The front row was filled with Unleash The Archers t-shirts and every voice could be heard singing all the words. There was a particularly enthusiastic fan that was even singing louder than I was, I mean really it was incredible, I could hear him over the PA and my in-ear monitors! Needless to say, the meet and greet afterwards was so much fun, and we drank with our super-fan until the very moment the bus pulled away from the venue. We also had the operator of the Italian Unleash The Archers fanclub there and she is just the sweetest thing on the planet. We always love getting to see her in person so we can gush about how much we appreciate all her hard work and the support she provides for is in Italy. I guarantee every fan there for us was there because of her… Thank you for all you do, Jennifer!!!

After one last day off and a full twenty-four hours on the bus (which I love, because I get to play Zelda in bed for hours, every gamers dream!) we arrived in London to play our last show of the Gunmen Tour. We had played at O2 Academy Islington on our Europe tour last year with Sirenia and Tyr, so we were very familiar with the venue and surrounding area. We couldn't wait to get our buy-out so we could go eat at the Phõ place around the corner. Unleash The Archers is a very big fan of Phõ, which is a Vietnamese-style soup filled with your choice or meat, seafood, or veggies and tofu. It was pouring rain outside as well, and who doesn't love a hot bowl of soup on a rainy day?! It was tasty and filling and just what we needed before hitting the stage to a once again packed venue. Right from the start the crowd was riled up and ready to rock, so we had a killer time up there and were absolutely mobbed at the meet and greet after. It took so long the security kicked us out, but there were still so many fans waiting and we couldn't disappoint them, so we finished up on the sidewalk outside the venue! Then the security came and kicked us out of there as well! Hahaha apparently we were 'loitering' hahaha 😉 No I'm joking, the security allowed us to finish up then firmly shooed everyone away so they could close up the venue and clean up the surrounding area. Despite being rushed it was a fantastic end to a fantastic tour and we can not wait to return to once again party with our fans in Europe! We will definitely be back!

Now, we are doing one more week by ourselves through the UK, playing six headline shows heading northwards into Scotland. We are so excited to see more of the UK countryside and to visit with our longtime fans here. Aside from Canada, two other countries have been supporting us immensely since our inception ten years ago, one being Germany, and the other being the UK. Needless to say, we are so happy to finally travel a little deeper into this country and meet some fans that I have been shipping merch to for a very long time 😉

With that, my tour diary is finished! Thank you so much for reading over these past weeks and for listening to me ramble on about life on the road! If you would like to hear more you can follow us on instagram (@unleashthearchers) or facebook (facebook.com/unleashthearchers) and get all the juicy details from the last leg of our tour! After this we will be taking a much needed break for the holidays, then we'll be back on the road next spring through North, Central and South America, then if all goes as planned, we'll be back in Europe for festival season! Hope to see you all there!!!

<3 Brittney
Galerie mit 15 Bildern: Unleash the Archers - Gunmen Tour 2017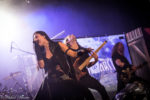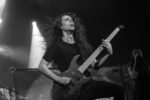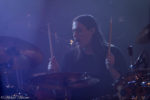 Quelle: Brittney Slayes, Unleash The Archers
02.11.2017
Mehr zu Unleash The Archers
Interessante Alben finden
Auf der Suche nach neuer Mucke? Durchsuche unser Review-Archiv mit aktuell 33608 Reviews und lass Dich inspirieren!
Unleash The Archers auf Tour
07.07. - 10.07.21
metal.de präsentiertRockharz 2021 (Festival)Accept, Asenblut, ASP, Attic, At The Gates, Beast In Black, Betontod, Burden Of Grief, Dark Funeral, Dark Tranquillity, Deserted Fear, Eluveitie, Ektomorf, Ensiferum, Evil Invaders, Gernotshagen, Goitzsche Front, Grave Digger, In Extremo, Insomnium, Jinjer, Kambrium, Kataklysm, Knasterbart, Knorkator, Lord Of The Lost, Lucifer, Moonsorrow, Mutz & The Blackeyed Banditz, Nothnegal, Obscurity, Oomph!, Ost+Front, Paddy And The Rats, Powerwolf, Running Wild, Sepultura, Sibiir, Steel Panther, Storm Seeker, Subway To Sally, Suicidal Tendencies, Tankard, Tarja, Testament, The 69 Eyes, Thomsen, Thundermother, Turisas, Twilight Force, Uncured, Unleashed, Unzucht und Unleash The ArchersFlugplatz Ballenstedt, Ballenstedt
18.08. - 21.08.21
metal.de präsentiertSummer Breeze 2021 (Festival)Alestorm, Amon Amarth, Any Given Day, Benighted, Blind Guardian, Brothers Of Metal, Bury Tomorrow, Dark Tranquillity, Debauchery, Eisbrecher, Eisregen, Ensiferum, Fiddler's Green, Finntroll, Frog Leap, Gloryhammer, Gutalax, Haggefugg, I Prevail, Insomnium, Jinjer, Lord Of The Lost, Mr. Hurley & Die Pulveraffen, Nekrogoblikon, Nytt Land, Saltatio Mortis, Shadow of Intent, Thundermother, Unleash The Archers, Wardruna, Warkings, While She Sleeps und Within TemptationSummer Breeze Open Air, Dinkelsbühl, Dinkelsbühl
24.11.21
metal.de präsentiertUnleash The Archers - Soul-Bounding Across Europe 2021Unleash The Archers, Striker und NorthTaleColumbia Theater (C-Club), Berlin
Alle Konzerte von Unleash The Archers anzeigen »