Unleash The Archers
[Update Teil 6: Letzter Teil] Das Tourtagebuch der Brittney Slayes
Special
Teil 4: UNLEASH THE ARCHERS in Italien und Spanien
Es tut mir leid, dass der letzte Eintrag schon etwas her ist, aber ich hatte die letzten paar Tage ziemlichen Spaß! Wir haben gerade zum ersten Mal in Italien und Spanien gespielt und die Shows haben unsere Erwartungen sowas von übertroffen, es war der Wahnsinn!
Am Dienstag, 24.10., haben wir in Treviso gespielt. Obwohl der Club ziemlich am Arsch der Welt ist, hat er sich echt schnell gefüllt! Bei unserem Set war es schon super voll, was wir echt zu schätzen wissen. Es waren aber definitiv viele RHAPSODY OF FIRE-Fans, denn als die auf die Bühne kamen, war der Laden echt randvoll 😉 Ich muss mich beim Veranstalter des Abends bedanken, denn das Essen, das da für uns zubereitet wurde, ist auf dieser Tour bisher unübertroffen geblieben. Einfach unglaublich! Und es gab viele vegetarische Alternativen für mich, statt nur einem kleinen Happen, der irgendwo an der Seite rumsteht (hahaha)! Nach Treviso komme ich auf jeden Fall nochmal (hahaha) 😉
Am Mittwoch haben wir in Bologna gespielt, und es war wieder echt außerhalb der Stadt. Das war schade, denn ich habe viel Gutes über die Sehenswürdigkeiten gehört! Es wäre cool gewesen, ein bisschen rumlaufen zu können, aber naja, manchmal wird der Heavy Metal ins Industriegebiet abgeschoben 😉 Da es mitten in der Woche war, war die Menge kleiner, aber es hat nicht an Enthusiasmus gefehlt, soviel kann ich sagen! Reichlich Stimmen, die sich im Chor mit uns erhoben haben. Es geht um die Qualität, nicht die Quantität, wie ich immer sage!
Nach den Konzerten in Italien hatten wir eine sehr lange Fahrt durch Südfrankreich bis nach Spanien. Es ist echt komisch, den ganzen Tag im Bus zu verbringen. Wir haben diese bestimmte Routine, in die wir verfallen sind, und wenn die plötzlich durcheinandergeworfen wird, ist das ein merkwürdiges Gefühl. Wir haben echt viel Zeit an Raststätten entlang der Autobahn verbracht (hahaha), vielleicht hätten wir eine Acoustic Show aufziehen sollen, einfach, um wieder klarzukommen!
Obwohl wir frei hatten, habe ich es einfach nicht fertiggebracht, was zu trinken. Das ist einfach kein Teil der Person, die ich auf Tour bin. Ich habs versucht, aber kaum ein Bier leer bekommen (hahaha). Dass meine Kater teuflisch sind – das meine ich wirklich so – hilft auch nicht sonderlich. Auch wenn ich nur drei Bier oder so trinke, kann ich mich am nächsten Tag nicht bewegen, bin ans Bett gefesselt und zu nichts zu gebrauchen (hahaha)! Das ist echt schade, aber naja!
Am Freitag, 27.10., sind wir endlich in Barcelona angekommen. Wir haben die Zeit genutzt, um ein wenig Sightseeing im Schloss / Museum für moderne Kunst zu machen und uns die Stadt anzusehen. Die Show war auch Wahnsinn, und damit meine ich total überraschend unglaublich. Das Publikum konnte ALLE Texte. Ich wusste, dass wir da Fans haben, weil ich schon lange Merch nach Spanien verschicke, aber ich hatte echt keine Ahnung, dass es so viele sind! In Madrid war es genauso! Total fantastische Show! Und die Stadt, meine Güte… so voller Leute und Sachen, die man machen kann. Wir sind zum Palacio Real und zur Gran Via gegangen, was eine große Einkaufsmeile und im Grunde der Times Square von Madrid ist. Ich fand die Stadt wirklich toll und könnte mir gut vorstellen, da zu leben 😉
Zu guter Letzt waren wir Sonntagabend in Bilbao, und die Stadt war wieder sowas von schön! Spanien war definitiv der Geheimtipp der Tour, denn wir hatten keine Ahnung, was wir zu erwarten hatten, und hatten dann in jeder Stadt echt viel Spaß. In Bilbao gab es ein Guggenheim Museum, das absolut atemberaubend war, und die Architektur war überwältigend. Während wir rumgelaufen sind, habe ich Spuren von fast jedem architektonischen Stil gefunden, der je existiert hat! Neoklassisch, postmodern, Art déco, industriell, barock, gotisch… und es war so gut gemacht, dass sie nahtlos miteinander verschmolzen sind und kein Gebäude deplatziert gewirkt hat! Als wir in der Stadt angekommen sind, hat sich unser Bus auf der Suche nach dem Club verfahren, aber das hat mir überhaupt nichts ausgemacht, weil wir so durch die Stadt fahren und so ziemlich jede Ecke der Innenstadt sehen konnten! Quasi unsere eigene Bustour (hahaha)! Ich habe mit unserem Mercher Tom oben gesessen und bei allem nur "Ooooh" und "Aaaah" gesagt 🙂
Jetzt, am Montag, dem Tag vor Halloween, haben wir wieder eine 24-Stunden-Fahrt von Spanien nach Belgien, für unsere einzige belgische Show in Vosselaar. Als wir das letzte Mal in Belgien waren, war die Show ausverkauft, also ist das hoffentlich wieder so! Ich nehme mir den Tag zum Entspannen und Erholen, denn ich kriege dieses verräterische Kitzeln im Rachen, mit dem mir mein Körper sagt, dass er sich gegen das Krankwerden wehrt. Hoffentlich kann ich das bis zum Ende der Tour abwehren! Wünscht mir Glück! \m/
Und hier das Original:
I am sorry it has been some time since my last entry, but I have been enjoying myself quite a bit these last few days! We just played our first ever shows in Italy and Spain and they were so far beyond our expectations, it was amazing!

On Tuesday October 24th we played in Treviso, and despite being quite out in the middle of nowhere the venue filled up rather quickly! Once again it was packed in time for our set so we really appreciated that. It was most definitely a Rhapsody Of Fire crowd though as it was absolutely filled to the brim when they took the stage 😉 I do have to say thanks to the promoter of the show that night, because the dinner that was prepared for us was unmatched on this tour so far. Just incredible! And lot's of vegetarian options for me instead of one small dish hidden off to the side hahaha! Definitely coming back to Treviso one day hahaha 😉

On the Wednesday we played Bologna, and it was once again quite far outside the city, which was unfortunate, as I had heard great things about the sights to see! Would have been nice to walk around I think but alas, sometimes heavy metal gets relegated to the industrial district 😉 Being the middle of the week the crowd was smaller but there was no lack of enthusiasm, I will say that! Plenty of voices raised in chorus with us; as I always say it's about quality not quantity!

After the Italian dates we had a very long drive along the south of France into Spain. It is very strange spending an entire day on the bus; we have this certain routine that we have fallen into and to suddenly shake that up was a funny feeling. We spent quite a lot of time at stops along the highway hahaha maybe we should have set up an acoustic show just to get that part out of our system!

Despite having this time off I just could not bring myself to drink. It is just not a part of who I am on tour and though I tried I barely finished one beer hahaha. It doesn't help that my hangovers are diabolical… I mean that, really. If I drink even three or so beers I can not move the next day, I am bedridden and completely useless hahahaha! Which is most unfortunate really… But alas!

Finally on Friday the 27th we arrived in Barcelona! We took the time to do some sightseeing at the Palace/Modern Art Museum and walked around town a little bit. The show was amazing as well, I mean that, just out-of-the-blue incredible. The crowd knew ALL the words. I knew we had fans there because I have been shipping our merch to Spain for a long time but really I had no idea there were this many! It was the same in Madrid! Crazy fantastic show! And the city, my goodness… So alive with people and things to do. We went to the Madrid Palace and to the Gran Via which was the big shopping district and visited what was basically the Times Square of Madrid. I really loved that city, could definitely see myself living there 😉

Lastly on Sunday night was Bilbao – again the city was so beautiful! Spain was definitely the sleeper hit of the tour for us because we had no idea what to expect and ended up really enjoying ourselves in every town we visited. Bilbao had a Guggenheim museum that was absolutely stunning, and the architecture was riveting. We walked around and I saw hints of almost every type of architectural style that has ever existed! Neo-classical, post-modern, art deco, industrial, baroque, gothic… And yet they were so well done they all flowed seamlessly into one another and not a single building looked out of place! Upon arriving in the city the bus actually got lost trying to find the venue, but I didn't mind at all as we got to drive all throughout the city and see pretty much every corner of the downtown district! Like our own personal bus tour hahaha! I sat in the upper lounge with Tom our merch guy and ooo-ed and aww-ed at everything 🙂

Now, Monday, the day before Halloween, we once again have a 24 hour drive on the bus as we travel from Spain to Belgium for our only Belgian date in Vosselaar. The last time we came to Belgium the show sold out so hopefully we can do it again! I will be taking this day off to relax and recuperate as I am getting that tell-tale tickle in the back of my throat… my body telling me that I am fighting off sickness. Hopefully I can fend it off until after the tour! Wish me luck! \m/
Galerie mit 15 Bildern: Unleash the Archers - Gunmen Tour 2017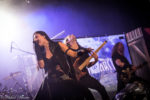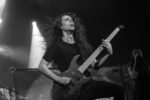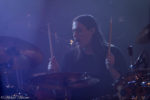 Quelle: Brittney Slayes, Unleash The Archers
02.11.2017
Mehr zu Unleash The Archers
Interessante Alben finden
Auf der Suche nach neuer Mucke? Durchsuche unser Review-Archiv mit aktuell 33778 Reviews und lass Dich inspirieren!
Unleash The Archers auf Tour
18.08. - 21.08.21
metal.de präsentiertSummer Breeze 2021 (Festival)Alestorm, Amon Amarth, Any Given Day, Benighted, Blind Guardian, Brothers Of Metal, Bury Tomorrow, Dark Tranquillity, Debauchery, Eisbrecher, Eisregen, Ensiferum, Fiddler's Green, Finntroll, Frog Leap, Gloryhammer, Gutalax, Haggefugg, I Prevail, Insomnium, Jinjer, Lord Of The Lost, Mr. Hurley & Die Pulveraffen, Nekrogoblikon, Nytt Land, Saltatio Mortis, Shadow of Intent, Thundermother, Unleash The Archers, Wardruna, Warkings, While She Sleeps und Within TemptationSummer Breeze Open Air, Dinkelsbühl, Dinkelsbühl
24.11.21
metal.de präsentiertUnleash The Archers - Soul-Bounding Across Europe 2021Unleash The Archers, Striker und NorthTaleColumbia Theater (C-Club), Berlin
25.11.21
metal.de präsentiertUnleash The Archers - Soul-Bounding Across Europe 2021Unleash The Archers, Striker und NorthTaleKronensaal, Hamburg
Alle Konzerte von Unleash The Archers anzeigen »