Roadburn Festival
Roadburn Festival 2015 – der große Festivalbericht
Konzertbericht
Billing: Der Weg Einer Freiheit, Downfall Of Gaia, Enslaved, Eyehategod, Fields Of The Nephilim, Goatwhore, Junius, King Dude, Mortals, Profetus, Russian Circles, Sólstafir, Tombs, Virus, Wardruna, Wovenhand und Zoltan
Konzert vom 09.04.2015 | Venue 013, Tilburg
Roadburn 2015
Ein Bericht von Alex Klug, Anton Kostudis und Sven Lattemann.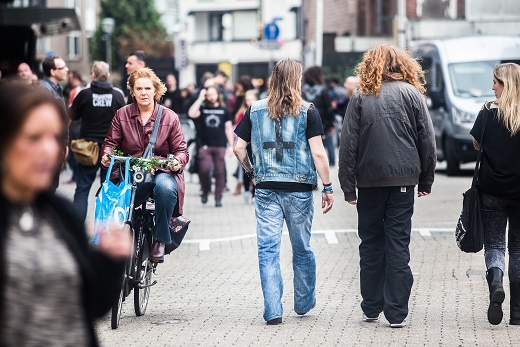 Der Mythos. Es gibt etwas, das Musikliebhaber ehrfürchtig die "Roadburn Experience" nennen. Wer von ihr spricht, wird dies meist mit leuchtenden Augen und einem leidenschaftlichen Unterton in der Stimme tun, wird schwelgen und schwärmen von jenen Tagen im April, jener seelischen und körperlichen Erfahrung der besonderen Art. Was diese Menschen ausdrücken wollen: Das Roadburn im niederländischen Tilburg ist kein gewöhnliches Festival – es ist ein transzendentales Event – Abenteuer, Schauspiel und nachdrückliches, persönliches Erlebnis zugleich. Folglich pilgern jedes Jahr aufs Neue unzählige Krautrocker, Vinyl-Junkies, Tagträumer, Bierkenner, Retrofetischisten, Hobbyphilosophen, Sonnenanbeter, Kuttenträger und eingefleischte Undergroundler aus allen Ecken der Welt in den Süden der Niederlande, um in tiefen Zügen Roadburn-Luft zu atmen.
Den Nährboden für die einzigartige Atmosphäre des Festivals bietet das Städtchen selbst: Die legendäre "Venue 013" sowie die übrigen Locations liegen inmitten Tilburgs, die Gäste leben und bewegen sich frei in der Stadt und werden nicht – wie bei "herkömmlichen" Veranstaltungen dieser Art – im ruralen Nirgendwo auf Ackern und zwischen Bauzäunen zusammengepfercht. Auf diese Weise verschmelzen Besucher, Macher, Bands und Standort zu einer Einheit – das Roadburn wird damit zum "gemeinsamen Erlebnis". Dass das Festival jedes Jahr aufs Neue ausverkauft ist – müßig zu erwähnen.
Der Hauptanziehungsfaktor ist und bleibt aber natürlich das Programm. Auf keinem anderen Festival in Europa wird den Besuchern ein derart exquisites, abwechslungsreiches und durchaus auch bizarres Line-up geboten: Stilprägende Bands aus den Bereichen Doom, Prog, Psychedelic, Avantgarde und Experimental geben sich auf der gewaltigen Bühne des "Jupiler Zaals" die Klinke in die Hand – in diesem Jahr unter anderem die Viking-Urväter ENSLAVED, die isländischen Emotionskünstler SÓLSTAFIR, Großmeister Claudio Simonetti mit seiner Reinkarnation der Prog-Rock-Legenden GOBLIN sowie die Düsterklang-Wegbereiter FIELDS OF THE NEPHILIM.
Eine ausgesprochen angenehme Begleiterscheinung eines Festivals mit so vielen Liebhaber-Bands ist nicht zuletzt, dass der Fokus des Publikums ausschließlich auf der Musik und ihrer Darbietung liegt: Keine Moshpits, kein nerviges Stagediving (von Seiten des Veranstalters ohnehin verboten), kein flackerndes Meer aus Smartphones, keine Selfie-Jäger, keine pubertären Lärmtrupps – lediglich ein genussorientiertes Publikum und exquisite Bands, die in familiärem Ambiente zusammenfinden.
Alle Fotorechte liegen bei Alex Klug, Anton Kostudis, Erik Luyten, Susanne Maathuis, Kris T. Therrian und Niels Vinck. Bericht von Alex Klug, Anton Kostudis und Sven Lattemann.
Interessante Alben finden
Auf der Suche nach neuer Mucke? Durchsuche unser Review-Archiv mit aktuell 31286 Reviews und lass Dich inspirieren!
Der Weg Einer Freiheit, Downfall Of Gaia, Enslaved, Goatwhore, King Dude, Russian Circles, Sólstafir und Wardruna auf Tour
14.08. - 17.08.19
metal.de präsentiertSummer Breeze 2019 (Festival)Aborted, After The Burial, Ahab, Airbourne, All Hail The Yeti, Anaal Nathrakh, Anomalie, Avantasia, Avatar, Battle Beast, Beast In Black, Begging For Incest, Blasmusik Illenschwang, Brainstorm, Brymir, Bullet For My Valentine, Burning Witches, Bury Tomorrow, Carnal Decay, Caspian, Clawfinger, Cradle Of Filth, Crippled Black Phoenix, Cypecore, Death Angel, Decapitated, Décembre Noir, Deicide, Deluge, Deserted Fear, Dimmu Borgir, Dornenreich, Double Crush Syndrome, Downfall Of Gaia, Dragonforce, Dust Bolt, Dyscarnate, Eat The Gun, Eluveitie, Emperor, Endseeker, Enslaved, Equilibrium, Evergreen Terrace, Evil Invaders, Eyes Set To Kill, Fear Of Domination, Final Breath, Frosttide, Gaahls Wyrd, Get The Shot, Gost, Grand Magus, Gutalax, Hämatom, Hamferð, Hammerfall, Harpyie, Hate Squad, Higher Power, Hypocrisy, In Flames, INGESTED, Iron Reagan, Izegrim, Kambrium, King Apathy, King Diamond, Kissin' Dynamite, Knasterbart, Krisiun, Kvelertak, Legion Of The Damned, Letters From The Colony, Lik, Lionheart, Loathe, Lord Of The Lost, Meshuggah, Midnight, Morbid Alcoholica, Mr. Irish Bastard, Mustasch, Nailed To Obscurity, Napalm Death, Nasty, Oceans Of Slumber, Of Mice & Men, Orphalis, Parkway Drive, Pighead, Promethee, Queensrÿche, Randale, Rectal Smegma, Rise Of The Northstar, Rotting Christ, Skálmöld, Slaughter Messiah, Soilwork, Subway To Sally, Teethgrinder, Testament, The Contortionist, The Dogs, The Lazys, The New Death Cult, The Ocean, Thron, Thy Art Is Murder, Tragedy, Turbobier, Twilight Force, Une Misère, Unearth, Unleashed, Unprocessed, Van Canto, Versengold, Windhand, Winterstorm, Xenoblight, Zeal & Ardor, Bembers, Heavysaurus, Leprous, Lordi, Ost+Front, Skindred und SoenSummer Breeze Open Air, Dinkelsbühl, Dinkelsbühl
25.11.19
Wardruna - European Winter Tour 2019WardrunaLöwensaal, Nürnberg
28.11.19
Wardruna - European Winter Tour 2019WardrunaHistorische Stadthalle, Wuppertal
Alle Konzerte von Der Weg Einer Freiheit, Downfall Of Gaia, Enslaved, Goatwhore, King Dude, Russian Circles, Sólstafir und Wardruna anzeigen »