Vainstream Rockfest
Bericht vom Vainstream Rockfest 2007 in Münster
Konzertbericht
Billing: Against Me!, As I Lay Dying, Born From Pain, Broilers, Chimaira, Converge, Dropkick Murphys, Hatebreed, Heaven Shall Burn, Misery Speaks, Parkway Drive, Smoke Blow, The Bones und Unearth
Konzert vom 2007-06-30 | Am Hawerkamp, Münster
Dann geht es auf der Mainstage mit der Band los, auf die wohl die meisten Leute heute gewartet haben: CHIMAIRA. Das Sextett aus Cleveland, Ohio, bringt das Publikum zum ausrasten, auch wenn Sänger Mark Hunter nicht ganz so agil wirkt, wie sonst. Insgesamt aber ein klasse Auftritt, und wer Granaten der Marke "Resurrection" oder "I Hate Everyone" im Programm hat, kann eh nicht allzu viel falsch machen.
Nachdem die Ami-Punks von AGAINST ME! die Jolt Stage gerockt haben, ist die Band an der Reihe, die ohne Zweifel zusammen mit CALIBAN die Speerspitze des deutschen Metalcores darstellt: HEAVEN SHALL BURN. Und wieder gelingt einer Band eine Steigerung: Egal, was hier und heute schon für gute Auftritte hingelegt wurden, die fünf Thüringer toppen alles nochmal. Die Crowdsurfer fliegen tief, das Publikum kocht und als Sänger Marcus Bischoff einen Circle Pit fordert, bekommt er gleich drei davon – kein Wunder, wenn man Songs wie "Counterweight" vom aktuellen Album oder älteres Material wie "Voice Of The Voiceless" spielt. Generell gilt hier und heute: Alle Alben werden abgedeckt, wobei die Waage aber eher ein Stückchen in Richtung der letzten beiden Werke "Deaf To Our Prayers" und "Antigone" schwingt.
Lustige Geschichte: Während alle anderen Bands mit dicken Bannern im Hintergrund rumprotzen, genügen sich HEAVEN SHALL BURN mit einem T-Shirt, das sie auf die Traverse hängen (lassen). Die Erklärung folgt druch Sänger Marcus: "Wir haben gestern eine Show gespielt und die Fans dort haben das mit 'Heaven Shall Burn' ein bisschen falsch verstanden und uns die ganze Bude angezündet." Aha …
Auf Thüringen folgt Massachussetts: Nur (sehr) kurz nachdem die letzten Töne von HEAVEN SHALL BURN verklungen sind, fangen UNEARTH schon an und auch hier gilt die Devise "Maximum Publikumsbewegung". Ähnlich wie die Bands zuvor, kann auch der Fünfer aus den USA die Fans begeistern, allerdings geht dann doch nicht ganz so viel, was aber auch an der Tatsache liegen könnte, dass UNEARTH sich mit der kleineren Bühne begnügen müssen.
Für mich endet der Festivalbesuch hier nun, da die Kumpels drängen, der Rücken sich beschwert, weil er bei HEAVEN SHALL BURN einen ziemlich üblen Schlag abbekommen hat, und auch immerhin noch zweieinhalb bis drei Stunden Autobahn vor mir liegen. Schade, zumindest HATEBREED hätte ich mir gerne gegeben, aber auch so war das VAINSTREAM-Festival 2007 ein von der Bandseite her sehr gelungenes Event. An der Organisation muss allerdings nochmal gefeilt werden. Nichtsdestotrotz: Wenn im nächsten Jahr wieder so viele Hochkaräter aus dem Punk-, Hard- und Metalcorebereich auftreten, sollte man definitiv wieder dabei sein.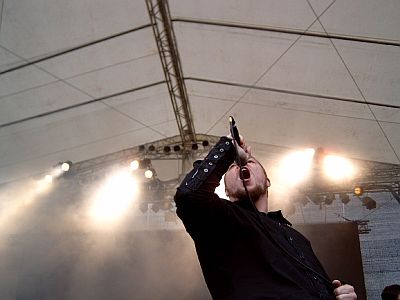 Interessante Alben finden
Auf der Suche nach neuer Mucke? Durchsuche unser Review-Archiv mit aktuell 32401 Reviews und lass Dich inspirieren!
Against Me!, As I Lay Dying, Born From Pain, Broilers, Converge, Dropkick Murphys, Hatebreed, Heaven Shall Burn, Parkway Drive, Smoke Blow, The Bones und Unearth auf Tour
30.07. - 01.08.20
Wacken Open Air 2020 (Festival)Slipknot, Amon Amarth, Judas Priest, Mercyful Fate, Avantasia, In Extremo, Dropkick Murphys, Tribulation, Evergrey, Kadavar, Van Canto, Mad Max und Wolves In The Throne RoomWacken Open Air, Wacken
12.08. - 15.08.20
metal.de präsentiertSummer Breeze 2020 (Festival)1914, Agrypnie, Alestorm, Amenra, Amon Amarth, Amorphis, Angelus Apatrida, Any Given Day, Architects, Avatarium, Belzebubs, Benediction, Benighted, Blasmusik Illenschwang, Bloodywood, Bodom After Midnight, Carbon Killer, Cattle Decapitation, Clutch, Combichrist, Conjurer, Cytotoxin, Dark Funeral, Dark Tranquillity, Dawn Of Disease, Debauchery, Despised Icon, Devin Townsend, Djerv, Dwaal, Eisregen, Emil Bulls, Ensiferum, Fiddler's Green, Fight The Fight, Finntroll, Fleshcrawl, Fleshgod Apocalypse, Frog Leap, Gatecreeper, Gloryhammer, God Is An Astronaut, Gost, Gutalax, Haggefugg, Hatebreed, Havok, Idle Hands, Implore, Insomnium, I Prevail, Igorrr, Infected Rain, Jinjer, Kadavar, Kraanium, Leaves' Eyes, Lüt, Mass Hysteria, Mr. Hurley & Die Pulveraffen, Myrkur, Neaera, Necrophobic, Nekrogoblikon, Nytt Land, Opeth, Paradise Lost, Pipes And Pints, Primal Fear, Resolve, Russkaja, Sacred Reich, Saltatio Mortis, Shadow of Intent, Shiraz Lane, Siamese, Sonata Arctica, Slope, Static-X, Stray From The Path, Striker, Suffocation, Svalbard, Swallow The Sun, tAKiDA, Terror, The New Roses, The Night Flight Orchestra, The Oklahoma Kid, The Prophecy 23, The Vintage Caravan, The Wildhearts, Thundermother, Tides From Nebula, Triddana, Uada, Vitriol, Vulture, Wardruna, Warkings, While She Sleeps, Within Temptation und Wolves In The Throne RoomFlugplatz Dinkelsbühl, Dinkelsbühl
05.09.20
Impericon Festivals 2020 - 10th Anniversary TourAs I Lay Dying, Eskimo Callboy, Bury Tomorrow, Neaera, Lionheart, Your Demise, Jinjer, The Plot in You, Annisokay, Our Hollow Our Home, Kaiba, Landmvrks, Watch Out Stampede, Une Misère, Thousand Below und Orbit CultureTurbinenhalle, Oberhausen
Alle Konzerte von Against Me!, As I Lay Dying, Born From Pain, Broilers, Converge, Dropkick Murphys, Hatebreed, Heaven Shall Burn, Parkway Drive, Smoke Blow, The Bones und Unearth anzeigen »