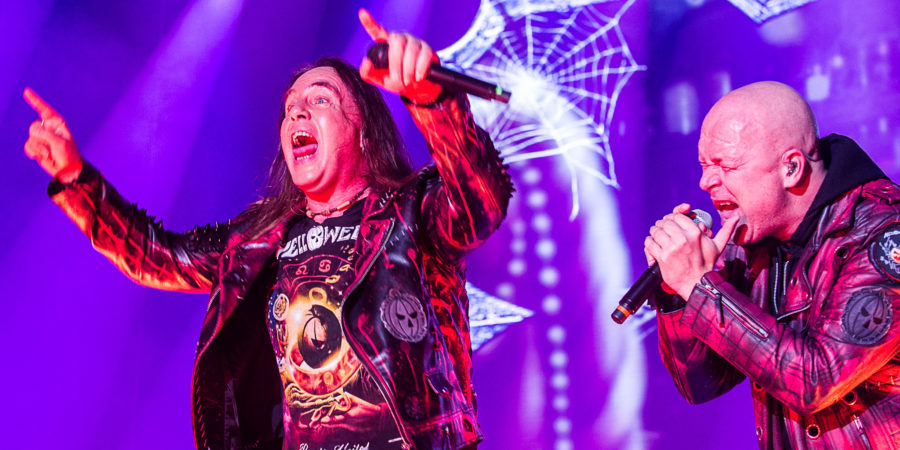 Helloween
Einfach magisch
Konzertbericht
Billing: Helloween
Konzert vom 22.12.2018 | Sporthalle, Hamburg
Satte 14 Monate waren HELLOWEEN bereits im Rahmen der "Pumpkins United"-Tour unterwegs, als sie zum Tourabschluss in ihrer Heimatstadt Hamburg aufschlagen. Die 7.000 Zuschauer umfassende Sporthalle ist nahezu ausverkauft.
Eine Vorband gibt es nicht und somit legen die Hanseaten pünktlich um 20:00 Uhr los. Einen ausufernden Song wie "Halloween" an den Anfang eines Konzerts zu stellen ist mehr als mutig. Damit zeigen HELLOWEEN aber auch augenblicklich ihr neu gewonnenes Selbstbewusstsein seit der Rückkehr von Kai Hansen und Michael Kiske.
Galerie mit 33 Bildern: Helloween - Pumpkins United Worldtour 2017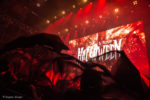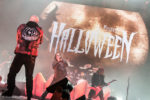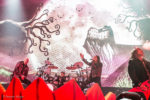 Letzteren bezeichnet Sänger Andi Deris als "verlorenen Sohn", während Kiske ihm zu Gut hält, dass er "die Fackel weitergetragen" hat. Von Egoproblemen keine Spur, stattdessen steht eine Feier von über 30 Jahren Metal-Geschichte an. Deris verspricht ein dreistündiges Programm, das keine Wünsche offenlässt.
Eine kurze Unterbrechung
Nach "Dr. Stein" wird die Show aber erst mal durch ein Video mit "Seth & Doc" unterbrochen. Die beiden Kürbisse sind leider nur leidlich spaßig. Trotzdem setzt die Band solche Einspieler im Laufe der Show regelmäßig ein, um Wechsel in der Besetzung zu überbrücken. Das nimmt immer ein wenig Fahrt raus.
Doch abseits dieser zugegebenermaßen kleinkarierten Kritik, liefert das Sextett heute eine perfekte Show ab. Kiske und Deris wechseln sich regelmäßig ab, wobei sie manche Songs auch im Duett darbieten, wie etwa "Perfect Gentlemen".  Jeder singt dabei Stücke, die seine Ära in der Band geprägt haben. Doch so gut Deris auch in Form ist, bei den Kiske-Songs der beiden "Keeper"-Alben erreicht die Stimmung stets ihren Höhepunkt.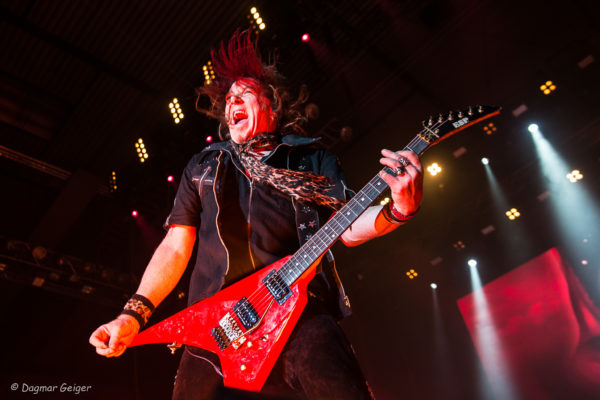 Einzig der gefühlt viel zu kurze Abstecher in die Zeit von "Walls Of Jericho" und der Debüt-EP kann da mithalten. Hier ergreift logischerweise Kai Hansen das Mikro und beweist, dass er seine markerschütternden Schreie aus "Ride The Sky" nicht verlernt hat.
Einfach magisch
Zudem geizt die Band nicht mit Effekten. Während der Songs laufen stets passende Animationen über die Leinwände. Gegen Ende regnet es nahezu endlos Konfetti und dazu werden riesige Bälle ins Publikum geschleudert. Außerdem nutzen alle Musiker ausgiebig den Laufsteg, um Kontakt zu den Fans zu suchen.
Ein wenig Platz für Sentimentalität lassen HELLOWEEN trotz aller Feierlaune. Etwa in der Mitte des Sets zeigt die Leinwand ein Video von Ingo Schwichtenbergs Schlagzeugsolo, welches Daniel Loeble synchron dazu live spielt. Ein schöner Moment, mit die Band ihrem verlorenen Mitstreiter auf respektvolle Art gedenkt.
Knapp drei Stunden lang bekommen Fans heute jeden Wunsch erfüllt. Die Kürbisse waren schon lange nicht mehr so gut aufgelegt. Dementsprechend ist das Publikum von der ersten bis zur letzten Sekunde Feuer und Flamme. Bleibt nur zu hoffen, dass die Band ihre Energie ebenso gut auf das neue Studioalbum übertragen kann.
Setlist HELLOWEEN:
01. Halloween (Michael Kiske & Andi Deris)
02. Dr. Stein (Michael Kiske & Andi Deris)
03. I'm Alive (Michael Kiske)
04. If I Could Fly (Andi Deris)
05. Are You Metal? (Andi Deris)
06. March of Time (Michael Kiske)
07. Perfect Gentleman (Michael Kiske & Andi Deris)
08. Medley (Starlight/Ride the Sky/Judas) (Kai Hansen)
09. Heavy Metal (Is The Law) (Kai Hansen)
10. A Tale That Wasn't Right (Michael Kiske & Andi Deris)
11. Pumpkins United (Andi Deris, Michael Kiske & Kai Hansen)
12. Schlagzeugsolo
13. Livin' Ain't No Crime (Michael Kiske)
14. A Little Time (Michael Kiske)
15. Waiting for the Thunder (Andi Deris)
16. Sole Survivor (Andi Deris)
17. Power (Andi Deris)
18. How Many Tears (Andi Deris, Michael Kiske & Kai Hansen)
19. Eagle Fly Free (Michael Kiske)
20. Keeper of the Seven Keys (Michael Kiske & Andi Deris)
21. Gitarrensolo (In the Hall of the Mountain King)
22. Future World (Michael Kiske)
23. I Want Out (Michael Kiske & Andi Deris)
Interessante Alben finden
Auf der Suche nach neuer Mucke? Durchsuche unser Review-Archiv mit aktuell 31890 Reviews und lass Dich inspirieren!