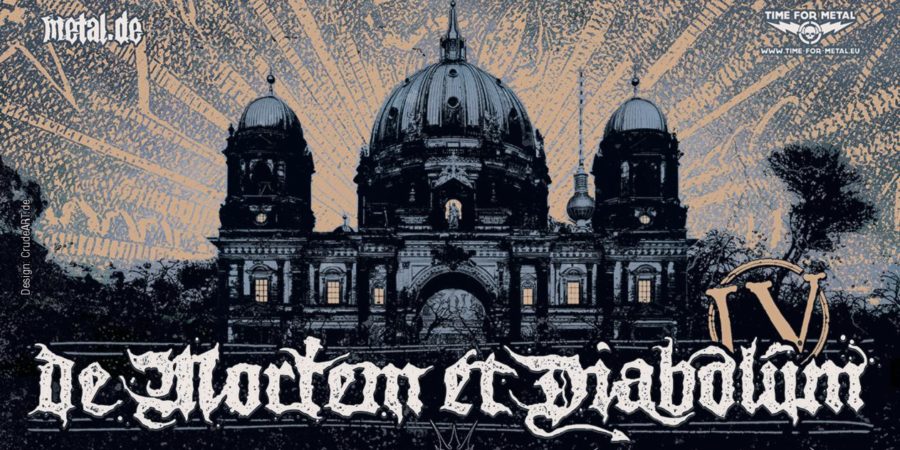 De Mortem et Diabolum 2018
Der ausführliche Festivalbericht
Konzertbericht
Billing: Darkened Nocturn Slaughtercult, Necros Christos, Svartidauði, Misþyrming, Endezzma, Blaze Of Perdition, Darvaza, Ophis, Zhrine, Naðra, Streams Of Blood, Gaerea, Kult, Ulsect und In Twilight's Embrace
Konzert vom 14.12.2018 | Columbia Theater, Berlin
De Mortem et Diabolum 2018 – Der große metal.de-Festivalbericht
Im Dezember fand das De Mortem et Diabolum 2018 statt, ein Festival, das sich dieses Jahr bereits zum vierten Mal ganz der finsteren Seite der Metalszene zuwendet: Das Hauptaugenmerk liegt eindeutig auf finsterem Black Metal, aber auch Death- und/oder Doom-Metal-Bands kommen jedes Jahr zur Sprache. So auch in diesem: Neben vielen Black-Metal-Acts gibt es für Deather und Doomster eines der letzten NECROS CHRISTOS-Konzerte zu bestaunen, und auch die Hamburger Funeral Doom Metaller OPHIS sind am Start.
Viel interessanter für das Kernpublikum des Festivals ist aber der Isländer-Viererpack bestehend aus SVARTIDAUÐI, MISÞYRMING, ZHRINE und NAÐRA. Dazu gesellen sich Teile der Speerspitze der polnischen (BLAZE OF PERDITION), der deutschen (DARKENED NOCTURN SLAUGHTERCULT, STREAMS OF BLOOD) und der norwegischen (ENDEZZMA) Black-Metal-Szene. Die Sache ist also klar: Das De Mortem Et Diabolum 2018 sollte für jeden was zu bieten haben. Gründe, wegzubleiben, gibt es keine. Auf ins Getümmel!
Text:
Stephan Möller
Bilder:
Andrea Friedrich, Endrew Stepan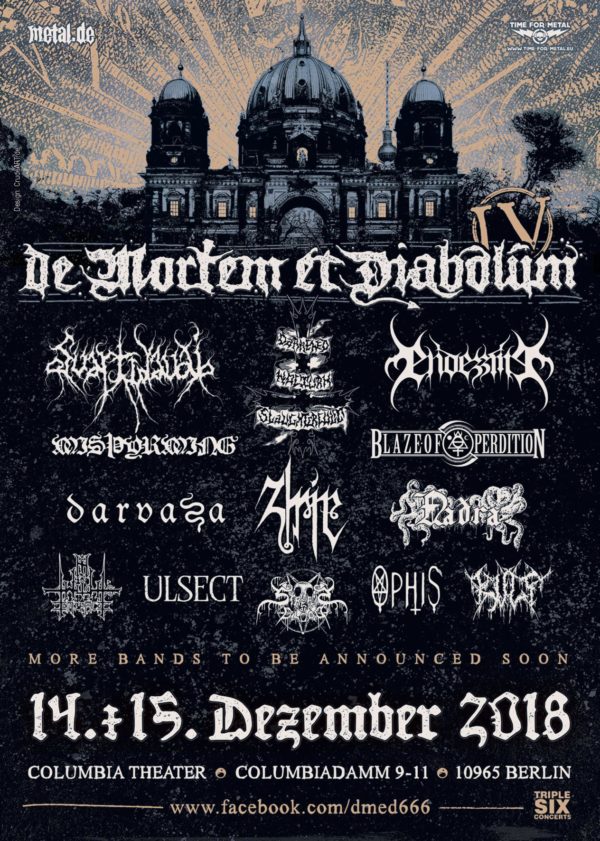 Interessante Alben finden
Auf der Suche nach neuer Mucke? Durchsuche unser Review-Archiv mit aktuell 34159 Reviews und lass Dich inspirieren!
Svartidauði, Misþyrming, Blaze Of Perdition, Darvaza, Ophis, Streams Of Blood und Gaerea auf Tour
09.12. - 11.12.21
metal.de präsentiertDe Mortem Et Diabolum Vol. VII – 2021 (Festival)Misþyrming, Schammasch, Whoredom Rife, Sulphur Aeon, Winterfylleth, Gaerea, Drottinn, Medico Peste, Regarde Les Hommes Tomber, Membaris, Chaos Invocation, Streams Of Blood, Cult Of Erinyes, Skōhsla, Theotoxin, Selvans, Horns Of Domination und Praise The PlagueORWOhaus, Berlin
10.12. - 11.12.21
Eindhoven Metal Meeting 2021 (Festival)My Dying Bride, Suffocation, Rotting Christ, Unleashed, Mgla, Borknagar, Benediction, Gaahls Wyrd, Legion Of The Damned, God Dethroned, Chapel Of Disease, Schirenc Plays Pungent Stench, Misþyrming, Gutalax, Suicidal Angels, Carnation (BE), Djerv, Wolvennest, Ultha, Stallion, Thanatos, Antropomorphia, The Monolith Deathcult, Alfahanne, Valborg, Beaten To Death, Gutslit, Final Breath, Klaw und BloodphemyEffenaar, Eindhoven
17.12.21
Ophis, Calliophis & UrzaOphis, Calliophis und UrzaComma, Gera
Alle Konzerte von Svartidauði, Misþyrming, Blaze Of Perdition, Darvaza, Ophis, Streams Of Blood und Gaerea anzeigen »