Soilwork
Live im Münchner Backstage
Konzertbericht
Billing: Hatesphere und Soilwork
Konzert vom 02.12.2016 | Backstage, München
Anfang Dezember in München. Die "Weihnachtsstimmung" ist angesichts der Wetterlage in etwa so ausgeprägt wie die Freude, wenn am Montagmorgen der Wecker klingelt. Aber gut, manchmal musst du dich eben einfach zwingen. Zum Beispiel dazu, dem recht formlosen Modern-Melodic-Gebolze der Franzosen T.A.N.K. etwas abzugewinnen. Denn ihrem Bandnamen, der für die spektakulär anmutende Phrase "Think Of A New Kind" steht, werden die Franzosen nur bedingt gerecht. Klar, ein paar rhythmische Riffs mit knackig-synchroner Doublebass, eingängige Refrains, zeitgemäßer Sound – das geht schon locker rein. Ist aber nicht unbedingt a new kind, of das der geneigte Konzertkritiker während der Show des Fünfers thinkt.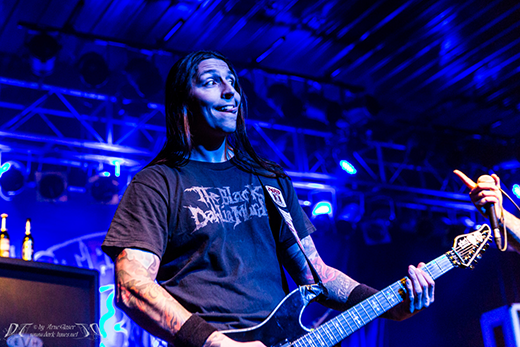 Das Publikum nimmt das gedrosselte Tempo äußerst gelassen und feiert die Band auch so angemessen ab, kein Wunder, denn der Sound ist nun gut und der Fünfer hämmert mit viel Druck von der Bühne. Dass die Dänen eine ausgesprochen spielfreudige und grundsympathische Truppe sind, macht sich dabei nicht nur im Laufe der reichlichen Viertelstunde, sondern auch lange nach Konzertende am Merchstand, den die Band komplett in Beschlag nimmt, mehr als bemerkbar – diverse High Fives mit Gästen inklusive.
Setlist:
Reaper of Life
500 Dead People
Floating
Resurrect With A Vengeance
Hate
Lines Crossed Lives Lost
Iconoclast
Drinking With The King Of The Dead
To The Nines
Sickness Within
Galerie mit 17 Bildern: Hatesphere live im Münchner Backstage - Soilwork, Hatesphere und T.A.N.K live in München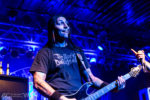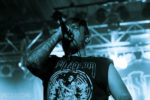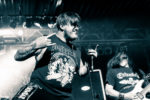 Es folgt der Umbau, und das mächtige Banner am hinteren Bühnenrand lässt den meisten Anwesenden das Wasser im Munde zusammenlaufen. Denn dort prangt in großen Lettern der Name einer Band, die nicht nur musikalisch über die meisten Zweifel erhaben ist (eine gewisse Affinität vorausgesetzt), sondern sich auch live in der jüngeren Vergangenheit zu einer Macht entwickelt hat. Im Gegensatz zu ihren Kollegen starten Björn "Speed" Strid und Kollegen dann auch mit dem Titeltrack ihrer aktuellen Platte, später feuern die Schweden auch weitere neue Songs in die Menge ("Death In General", "Alight In The Aftermath", "Petrichor By Sulphur").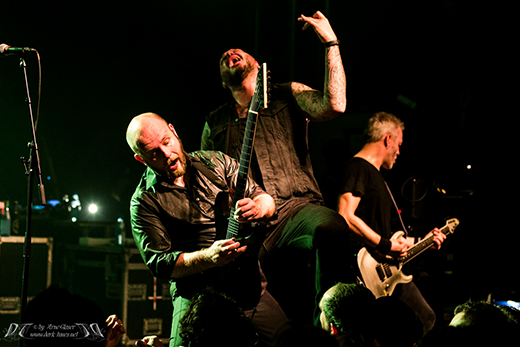 Es fällt auf: Das jüngste Material funktioniert bestens. Der Rest übrigens auch. Strid und seine Mannen bieten knappe anderthalb Stunden beste Unterhaltung und manövrieren souverän durch eine erstklassig zusammengestellte Setlist. Und natürlich dürfen Gassenhauer wie "Nerve", "Follow The Hollow" oder das immer wieder überragende "Bastard Chain" dabei nicht fehlen.
Galerie mit 13 Bildern: Soilwork live im Münchner Backstage - Soilwork, Hatesphere und T.A.N.K live in München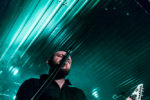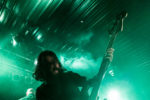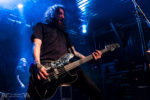 Die Klampfer David Andersson und Sylvain Coudret treiben derweil allerlei Schabernack miteinander und haben sichtlich Spaß an der Sache, Neu-Basser Markus Wiborn hält sich eher im Hintergrund, verrichtet seine Arbeit aber punktgenau und zuverlässig. Ebenso wie Dirk Verbeuren hinter den Kesseln, dessen Live-Performances unabhängig von seinen Bands ja immer ein Erlebnis sind. Und dann ist da noch der Stiernacken Strid, der heute gesanglich vielleicht nicht seinen allerbesten Tag erwischt hat, aber dennoch den unumstrittenen Anführer und Entertainer gibt. Das rappelvolle Backstage veranstaltet dazu vor der Bühne ein mittleres Spektakel und vergießt Unmengen an Schweiß. Und es wird schnell klar: Für die Schweden ist es heute ein Triumphmarsch.
Setlist:

The Ride Majestic
Nerve
Bastard Chain
The Crestfallen
Death in General
Alight in the Aftermath
Tongue
Follow the Hollow
Petrichor by Sulphur
This Momentary Bliss
Stabbing the Drama
Let This River Flow
Late for the Kill, Early for the Slaughter
Rejection Role
Rise Above the Sentiment
Spectrum of Eternity

Kurzum: Wer an diesem Abend nicht glücklich und zufrieden nach Hause gegangen ist, ist entweder ein notorischer Nörgler oder aber hat sich aufs falsche Konzert verlaufen. Was die beiden Hauptacts angeht: Hut ab, die Herren! Und bis zum nächsten Mal.
Fotos: Arne Glaser
Interessante Alben finden
Auf der Suche nach neuer Mucke? Durchsuche unser Review-Archiv mit aktuell 31127 Reviews und lass Dich inspirieren!
Hatesphere und Soilwork auf Tour
| | |
| --- | --- |
| 03.07. - 06.07.19 | metal.de präsentiertRockharz Open Air 2019 (Festival)Amon Amarth, Anvil, Apocalypse Orchestra, Bloodred Hourglass, BROTHERS OF METAL, Burning Witches, Caliban, Children Of Bodom, Combichrist, Coppelius, Cradle Of Filth, Dimmu Borgir, Dragonforce, Elvellon, Elvenking, Epica, Feuerschwanz, Follow The Cipher, Freedom Call, From North, Grand Magus, Grave, Hämatom, Hardline, Heidevolk, Hellboulevard, Hypocrisy, J.B.O., Kärbholz, Kissin' Dynamite, Korpiklaani, Lacrimas Profundere, Legion Of The Damned, Lordi, Milking The Goatmachine, Mono Inc., Mr. Irish Bastard, Nailed To Obscurity, Nervosa, Omnium Gatherum, Overkill, Russkaja, Saltatio Mortis, Soilwork, Stam1na, The Night Flight Orchestra, The O'Reillys & The Paddyhats, The Unguided, U.D.O., Vader, Van Canto, Visions Of Atlantis, Warkings, Wintersun und WittFlugplatz Ballenstedt, Ballenstedt |
| 14.08. - 17.08.19 | metal.de präsentiertSummer Breeze 2019 (Festival)Aborted, After The Burial, Ahab, Airbourne, All Hail The Yeti, Anaal Nathrakh, Anomalie, Avantasia, Avatar, Battle Beast, Beast In Black, Begging For Incest, Blasmusik Illenschwang, Brainstorm, Brymir, Bullet For My Valentine, Burning Witches, Bury Tomorrow, Carnal Decay, Caspian, Clawfinger, Code Orange, Cradle Of Filth, Crippled Black Phoenix, Cypecore, Death Angel, Decapitated, Décembre Noir, Deicide, Deluge, Deserted Fear, Dimmu Borgir, Dornenreich, Double Crush Syndrome, Downfall Of Gaia, Dragonforce, Dust Bolt, Dyscarnate, Eat The Gun, Eluveitie, Emperor, Endseeker, Enslaved, Equilibrium, Evergreen Terrace, Evil Invaders, Eyes Set To Kill, Fear Of Domination, Final Breath, Frosttide, Gaahls Wyrd, Get The Shot, Gost, Grand Magus, Gutalax, Hämatom, Hamferð, Hammerfall, Harpyie, Hate Squad, Higher Power, Hypocrisy, In Flames, INGESTED, Izegrim, Kambrium, King Apathy, King Diamond, Kissin' Dynamite, Knasterbart, Krisiun, Kvelertak, Legion Of The Damned, Letters From The Colony, Lik, Lionheart, Loathe, Lord Of The Lost, Meshuggah, Midnight, Morbid Alcoholica, Mr. Irish Bastard, Mustasch, Myrkur, Nailed To Obscurity, Napalm Death, Nasty, Oceans Of Slumber, Of Mice & Men, Orphalis, Parkway Drive, Pighead, Promethee, Queensrÿche, Randale, Rectal Smegma, Rise Of The Northstar, Rotting Christ, Skálmöld, Slaughter Messiah, Soilwork, Subway To Sally, Teethgrinder, Testament, The Contortionist, The Dogs, The Lazys, The New Death Cult, The Ocean, Thron, Thy Art Is Murder, Turbobier, Tragedy, Twilight Force, Une Misère, Unearth, Unleashed, Unprocessed, Van Canto, Versengold, Windhand, Winterstorm, Xenoblight und Zeal & ArdorSummer Breeze Open Air, Dinkelsbühl, Dinkelsbühl |