Van Canto
Tour Of The Brave 2014
Konzertbericht
Billing: Arven, Van Canto und Winterstorm
Konzert vom 09.03.2014 | Rockfabrik, Ludwigsburg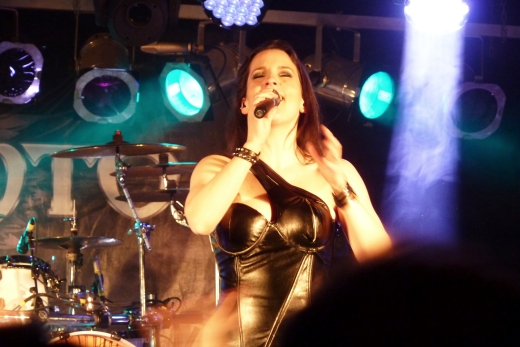 Mag die Trveness-Polizei auch noch so sehr fluchen, VAN CANTO haben sich in der Metal-Szene längst etabliert und können eine treue Fangemeinde vorweisen. Kein Wunder also, dass es heute Abend in der Ludwigsburger Rockfabrik angenehm voll wird und man nicht unter Klaustrophobie leiden sollte, wenn man einen Platz mit halbwegs brauchbarer Sicht auf die Bühne erobern möchte.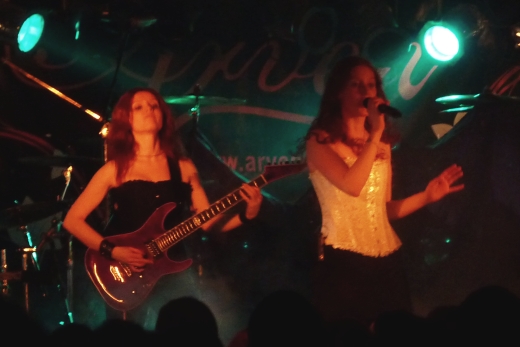 Als ich mit leichter Verspätung die RoFa betrete, geben ARVEN auf der Bühne bereits Vollgas. Natürlich ist es nach wie vor eine Besonderheit und verdient Erwähnung, dass die Band mit Ausnahme von Drummer Till Felden (und heute auch Live-Gitarrist Benjamin Reiter) nur aus Frauen besteht. Sie alleine darauf reduzieren zu wollen, wäre jedoch ziemlich unfair, denn schließlich möchten ARVEN auch über den unvermeidlichen Eye-Candy-Effekt hinaus mit ihrer Musik überzeugen. Mangelndes Engagement kann man ihnen dabei sicherlich nicht vorwerfen. Die junge Truppe rockt die Bühne überaus amtlich und heizt den Fans trotz der frühen Stunde mächtig ein. Da kommen dann auch die kollektiven Geburtstagsglückwünsche für Bassistin Lisa, die ihr Älterwerden heute lieber auf der Bühne als zuhause feiert, erkennbar von Herzen.
Was ARVEN allerdings noch merklich fehlt, ist die songschreiberische Brillanz. Zu oft verpuffen die zuckersüßen Melodien in vorhersehbaren Harmoniewechseln und bereits allzu oft gehörten Standard-Songstrukturen. Da kann der durchaus vorhandene Unterhaltungswert und die gute Live-Performance leider nicht darüber hinwegtäuschen, dass es der Band kompositorisch an Biss fehlt und man sich des Eindrucks nicht erwehren kann, das alles auf alten NIGHTWISH- oder AFTER-FOREVER-Platten schon besser gehört zu haben. Doch Schwamm drüber, blendet man die Parallelen zur heimischen Symphonic-Sammlung gedanklich aus, bietet die Show nicht nur angenehm kurzweilige Unterhaltung, sondern bringt den Laden auch auf die richtige Betriebstemperatur.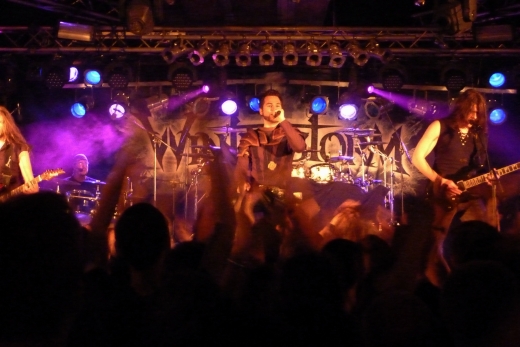 Nach einer angenehm kurzen Umbaupause sind dann die Franken WINTERSTORM dran, die ihre Chance nutzen wollen, sich endlich einem breiteren Publikum zu präsentieren. Dass es die Jungs aber schaffen, die bereits erfreulich hoch liegende Stimmungslatte noch einmal weiter gen Himmel zu befördern, ist eine angenehme Überraschung. Offensichtlich sind die Bayreuther für das Publikum keine völlig Unbekannten. Überall wird eifrig mitgeklatscht und vereinzelt gar die Texte mitgesungen. Das Erfolgsrezept ist gleichermaßen simpel wie effektiv: Eingängiger Power-Metal mit einer angenehmen Folk-Schlagseite, die das Ganze dennoch nie allzu weit ins Schunkelige abdriften lässt.
Obwohl wir immernoch bei den Vorbands sind, entwickelt sich der Abend bereits jetzt zum Triumphzug. Wenn der Wettergott in diesem Jahr schon nichts von derartigen Kapriolen wissen möchte, muss der Wintersturm eben drinnen auf der Bühne toben. Ohrwurmhymnen wie "Winterheart" oder "The Stormsons" funktionieren live ganz hervorragend und selbst das in der Konserven-Version noch etwas arg flach anmutende "Metalavial" zeigt live seine Zähne und hinterlässt bleibenden Eindruck. Wie gut WINTERSTORM beim Publikum ankommen zeigt sich an den lauten Zugabe-Rufen, denen die Jungs um Sänger Alexander Schirmer gerne nachkommen, um mit "Dragonriders" einem fantastischen Auftritt das i-Tüpfelchen zu verleihen.
Bilder von WINTERSTORMs Auftritt in München:
Galerie mit 12 Bildern: Winterstorm - München - Tour Of The Brave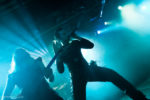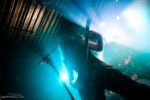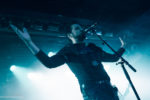 Seiten in diesem Artikel
1
2
Interessante Alben finden
Auf der Suche nach neuer Mucke? Durchsuche unser Review-Archiv mit aktuell 31129 Reviews und lass Dich inspirieren!
Van Canto und Winterstorm auf Tour
| | |
| --- | --- |
| 03.07. - 06.07.19 | metal.de präsentiertRockharz Open Air 2019 (Festival)Amon Amarth, Anvil, Apocalypse Orchestra, Bloodred Hourglass, BROTHERS OF METAL, Burning Witches, Caliban, Children Of Bodom, Combichrist, Coppelius, Cradle Of Filth, Dimmu Borgir, Dragonforce, Elvellon, Elvenking, Epica, Feuerschwanz, Follow The Cipher, Freedom Call, From North, Grand Magus, Grave, Hämatom, Hardline, Heidevolk, Hellboulevard, Hypocrisy, J.B.O., Kärbholz, Kissin' Dynamite, Korpiklaani, Lacrimas Profundere, Legion Of The Damned, Lordi, Milking The Goatmachine, Mono Inc., Mr. Irish Bastard, Nailed To Obscurity, Nervosa, Omnium Gatherum, Overkill, Russkaja, Saltatio Mortis, Soilwork, Stam1na, The Night Flight Orchestra, The O'Reillys & The Paddyhats, The Unguided, U.D.O., Vader, Van Canto, Visions Of Atlantis, Warkings, Wintersun und WittFlugplatz Ballenstedt, Ballenstedt |
| 14.08. - 17.08.19 | metal.de präsentiertSummer Breeze 2019 (Festival)Aborted, After The Burial, Ahab, Airbourne, All Hail The Yeti, Anaal Nathrakh, Anomalie, Avantasia, Avatar, Battle Beast, Beast In Black, Begging For Incest, Blasmusik Illenschwang, Brainstorm, Brymir, Bullet For My Valentine, Burning Witches, Bury Tomorrow, Carnal Decay, Caspian, Clawfinger, Code Orange, Cradle Of Filth, Crippled Black Phoenix, Cypecore, Death Angel, Decapitated, Décembre Noir, Deicide, Deluge, Deserted Fear, Dimmu Borgir, Dornenreich, Double Crush Syndrome, Downfall Of Gaia, Dragonforce, Dust Bolt, Dyscarnate, Eat The Gun, Eluveitie, Emperor, Endseeker, Enslaved, Equilibrium, Evergreen Terrace, Evil Invaders, Eyes Set To Kill, Fear Of Domination, Final Breath, Frosttide, Gaahls Wyrd, Get The Shot, Gost, Grand Magus, Gutalax, Hämatom, Hamferð, Hammerfall, Harpyie, Hate Squad, Higher Power, Hypocrisy, In Flames, INGESTED, Izegrim, Kambrium, King Apathy, King Diamond, Kissin' Dynamite, Knasterbart, Krisiun, Kvelertak, Legion Of The Damned, Letters From The Colony, Lik, Lionheart, Loathe, Lord Of The Lost, Meshuggah, Midnight, Morbid Alcoholica, Mr. Irish Bastard, Mustasch, Myrkur, Nailed To Obscurity, Napalm Death, Nasty, Oceans Of Slumber, Of Mice & Men, Orphalis, Parkway Drive, Pighead, Promethee, Queensrÿche, Randale, Rectal Smegma, Rise Of The Northstar, Rotting Christ, Skálmöld, Slaughter Messiah, Soilwork, Subway To Sally, Teethgrinder, Testament, The Contortionist, The Dogs, The Lazys, The New Death Cult, The Ocean, Thron, Thy Art Is Murder, Turbobier, Tragedy, Twilight Force, Une Misère, Unearth, Unleashed, Unprocessed, Van Canto, Versengold, Windhand, Winterstorm, Xenoblight und Zeal & ArdorSummer Breeze Open Air, Dinkelsbühl, Dinkelsbühl |