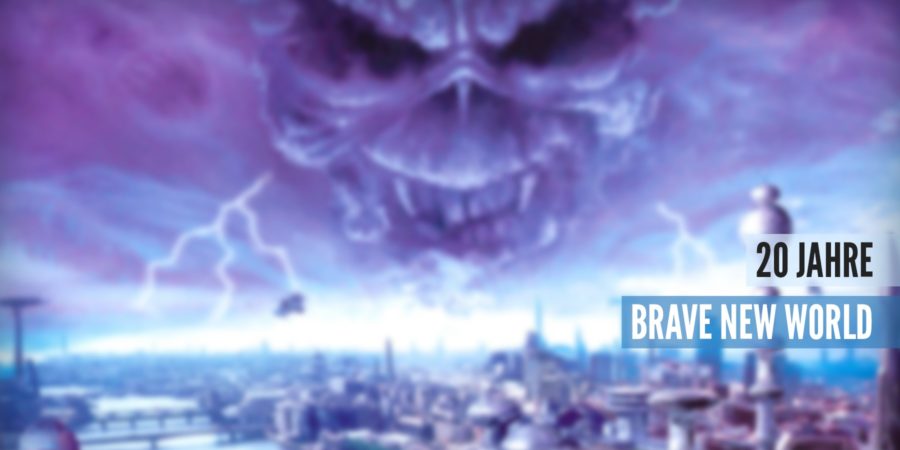 Iron Maiden
Der lange Weg zu "Brave New World"
Special
250.000 Menschen. 250.000 Menschen stehen vor der Bühne, jubelnd und feiernd, als IRON MAIDEN am 19. Januar 2001 ihre "Brave New World"-Tour beim Rock In Rio Festival beenden. Es ist der vielleicht größte Headlinerauftritt, den die Band in ihrer bisherigen Karriere bestritten hat. Diesem triumphalen Moment geht ein steiniger Weg voraus. Der lange Weg zu "Brave New World", dem vielleicht wichtigsten Album der Heavy-Metal-Veteranen seit dem Ende der 80er.
Zurück in die Vergangenheit
Dieser Weg beginnt fast ein ganzes Jahrzehnt zuvor. Nach dem allenfalls mittelmäßigen "No Prayer For The Dying" und dem etwas besseren "Fear Of The Dark" kündigt Frontmann Bruce Dickinson 1993 seinen Ausstieg bei IRON MAIDEN an. Er will sich fortan stärker auf seine Solokarriere konzentrieren und andere musikalische Genres erkunden. Bei seiner finalen Show verschwindet er – wie könnte es anders sein? – in einer Eisernen Jungfrau.
Dazu kommt, dass Bandleader Steve Harris in einer privaten Krise steckt, da ihm die Scheidung von seiner damaligen Ehefrau bevorsteht. Auf Grund der großen Belastung von allen Seiten sieht der kreative Kopf kaum eine Perspektive für seine Band. Der bis dahin unumstößliche Kahn IRON MAIDEN droht zu sinken.
Bei einem Treffen der verbleibenden Mitglieder steht das Ende der Band im Raum. Der sonst zurückhaltende Gitarrist Dave Murray aber sorgt für den entscheidenden Paukenschlag. Sein Motto ist "Scheiß auf Bruce". Murray sieht nicht ein, warum die gesamte Band den Kopf in den Sand stecken sollte, nur weil ihr Frontmann keine Lust mehr hat. Damit ist das Feuer wieder entfacht.
Die unendliche Suche
Anschließend sichtet die Band zahllose Demos von Sängern, die für den Posten als Dickinsons Nachfolger in Frage kommen. Die Wahl fällt schlussendlich auf Blaze Bayley von WOLFSBANE. Zwischen 1994 und 1998 nehmen IRON MAIDEN mit ihm "The X-Factor" und "Virtual XI" auf. Beide Alben bleiben kommerziell weit hinter früheren Erfolgen zurück. Auch die Hallen, in denen die Band auftritt, werden zunehmend kleiner – und sind trotzdem nicht ausverkauft.
Zudem kämpft Bayley häufig mit stimmlichen Problemen. Die anspruchsvollen Stücke aus dem Backkatalog der Band treiben ihn live an seine Grenzen. Immer öfter müssen IRON MAIDEN Shows absagen. Um ihre Karriere wieder auf Kurs zu bringen, fasst Manager Rod Smallwood einen Entschluss. Bruce Dickinson muss zurückkehren.
Der verlorene Sohn wiederum legt dafür das perfekte Timing an den Tag. Mit "Accident Of Birth" besinnt er sich 1997 auf seine Wurzeln und liefert klassischen Heavy Metal ab. Außerdem befindet sich im Line-up seiner Band Gitarrist Adrian Smith, der IRON MAIDEN schon 1990 verlassen hatte. Gemeinsam geben sie den Fans ihrer ex-Band auf "Accident Of Birth" das, was sie wollen. 1998 legen sie das nicht minder starke "The Chemical Wedding" nach.
Interessante Alben finden
Auf der Suche nach neuer Mucke? Durchsuche unser Review-Archiv mit aktuell 32368 Reviews und lass Dich inspirieren!