Children Of Bodom
All Hope Is Gone Tour 2008
Konzertbericht
Billing: Children Of Bodom, Machine Head und Slipknot
Konzert vom 2008-11-26 | Schleyerhalle, Stuttgart
---
Warum gehen SLIPKNOT mit CHILDREN OF BODOM und MACHINE HEAD auf Tour? Da hab ich wirklich schon passendere Bandkombinationen erlebt. Aber sie haben es getan und sind immer noch unterwegs, den kompletten November und den halben Dezember über war und ist man auf Reise quer durch Europa, bevor sich für die Headliner ab Anfang nächsten Jahres eine US-Tournee mit TRIVIUM und COHEED AND CAMBRIA anschließt. In Stuttgart gibt es das ungewöhnliche Paket in der Schleyerhalle zu sehen, und die ist auch ordentlich gefüllt, allerdings nicht wie in einigen anderen Städten ausverkauft. Da die Formalitäten mit dem Fotopass sich etwas hinziehen und ich auch mit Einlaß und nicht Beginn um 19 Uhr gerechnet hatte, bekomme ich von den finnischen CHILDREN OF BODOM so gut wie gar nichts mit.
Vom Seiteneingang aus beurteilt ist das Licht wie auch der Sound nicht gerade herausragend, und ich hab auch schon begeisterteres Publikum gesehen. Die 1993 gegründete, melodischen Heavy-/Death- oder was auch immer Metal zockende Truppe aus Espoo im hohen Norden wartet natürlich mit Songs von ihrem neuesten Machwerk "Blooddrunk" auf, aber auch nicht mehr ganz taufrische Stücke wie "Downfall" vom 1999er Output "Hatebreeder" kommen zu Gehör, aus meiner Sicht glücklicherweise. Nach dreißig Minuten ist der Auftritt dann auch schon vorbei, und das Publikum entläßt die fünf Jungs mit mäßigem Applaus, der irgendwie so klingt als hätte man mit CHILDREN OF BODOM nicht so richtig warm werden können – von ein paar Fans, die natürlich auch anwesend sind, einmal abgesehen. Aber allzu viele werden es nicht sein, die nur wegen der beiden Supports da sind, da diese jeweils mit etwa einer halben beziehungsweise dreiviertel Stunde Spielzeit nicht gerade lange auf der Bühne zu sehen sind und dafür Ticketpreise von über vierzig Euro dann vermutlich doch so einige abgeschreckt haben.
Weiter geht es mit MACHINE HEAD und besserem Licht sowie auch etwas gestiegener Soundqualität. Da steckt wohl Methode dahinter, und erst SLIPKNOT glänzen dann mit perfekter Show. Musikalisch stellen Robb Flynn und Kollegen für mich jedenfalls den Höhepunkt des Abends dar. Die vier Jungs aus Oakland in den Staaten zelebrieren ihre harte, schnörkellose Thrash-/Heavy Metal-Walze in gewohnt guter Manier, der Fronter glänzt durch Bühnenpräsenz, weniger durch ausdauerndes Spucken in die vorderen Reihen, aber das ist ja nichts Neues. Die Songs der Formation scheinen um einiges besser anzukommen beim Publikum als die ihrer Vorgänger, vielleicht musste man sich aber auch erstmal aufwärmen, jedenfalls gehen die Leute jetzt ordentlich mit, allerorten wird gegrölt und geklatscht und die Pommesgabel gen Bühne gereckt. Wie zu erwarten hat die Setlist so einiges vom im letzten Jahr veröffentlichten "The Blackening"-Album zu bieten, wie zum Beispiel "Halo" oder "Beautiful Mourning". Die Bühnenshow ist passend zum Songmaterial schön bodenständig – wozu braucht es auch ein riesiges
Aufgebot, wenn man auch so einfach wunderbar abrocken kann? Nach viel zu kurzen 45 Minuten müssen MACHINE HEAD dann auch leider die Bühne räumen, und auch die zahlreichen Zugabe-Rufe können sie nicht wieder zurücklocken.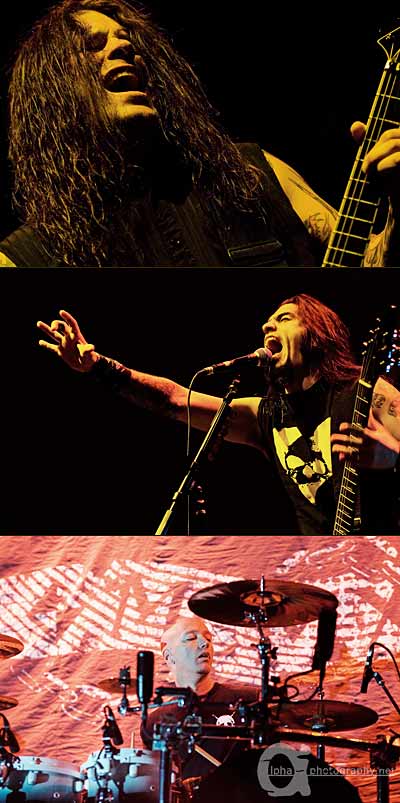 Seiten in diesem Artikel
1
2
Interessante Alben finden
Auf der Suche nach neuer Mucke? Durchsuche unser Review-Archiv mit aktuell 32264 Reviews und lass Dich inspirieren!
Children Of Bodom, Machine Head und Slipknot auf Tour
30.07. - 01.08.20
Wacken Open Air 2020 (Festival)Slipknot, Amon Amarth, Judas Priest, Mercyful Fate, Avantasia, In Extremo, Dropkick Murphys, Tribulation, Evergrey, Kadavar, Van Canto, Mad Max und Wolves In The Throne RoomWacken Open Air, Wacken
31.07.20
Slipknot - We Are Not Your Kind World Tour 2020 Open AirsSlipknotRheinenergiestadion, Köln
07.08.20
Slipknot - We Are Not Your Kind World Tour 2020 Open AirsSlipknotWaldbühne Berlin, Berlin
Alle Konzerte von Children Of Bodom, Machine Head und Slipknot anzeigen »