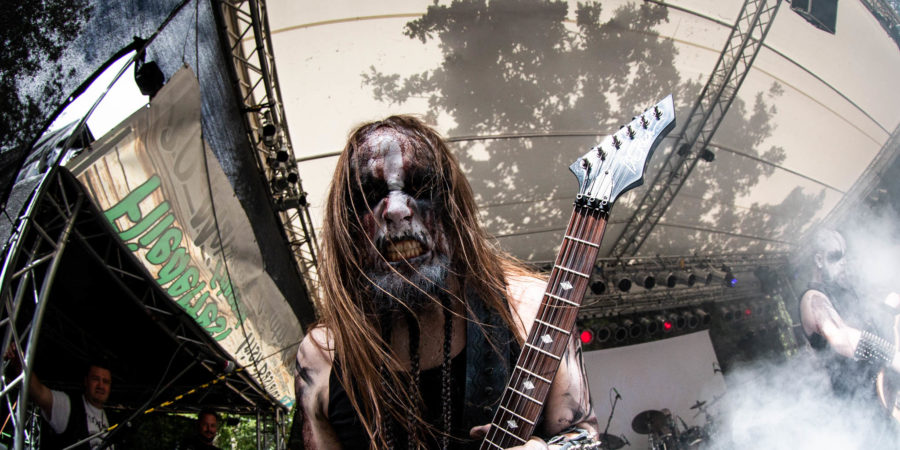 Under the Black Sun 2018
Welcome to Hell
Konzertbericht
Billing: 777, A Canorous Quintet, Anal Vomit, Arcturus, Author, Batushka, Blood Red Fog, Chaos Invocation, Cirith Gorgor, Délétère, Halphas, Horn, Master's Hammer, Mosaic, Nocturnal, Outre, Schrat, Shroud Of Satan, Sigh, Throneum, Utuk Xul, Wolves In The Throne Room, Steingrab und Hellfire Deathkult
Konzert vom 05.07.2018 | Freilichtbühne Friesack, Friesack
Nazi-Propaganda zum Einschlafen? – Ein Statement vom Veranstalter
Nach den Vorkommnissen der ersten Nacht auf dem "Under The Black Sun Festival" suchen wir nach Antworten. Jörg Schröder ist nicht nur Label-Chef von Folter Records, sondern auch der Veranstalter des Festivals.
Seit 1998 stellt er das kleine Event auf die Beine und nimmt sich dabei auch Flüchtlingen und anderer Menschen an, die es auf dem Arbeitsmarkt nicht immer leicht haben. Es ist sicherlich für einige vorstellbar, dass ein Festival, das zu Deutsch "Unter der schwarzen Sonne" heißt, unter Umständen ein Magnet für Idioten mit faschistischem Gedankengut sein kann.
Was sagst du zu den Geschehnissen der letzten Nacht?
Ja, also mit Musik hat das natürlich nichts zu tun. Wir haben hier vor einer Weile auch schon eine Reichskriegsflagge einkassiert, die uns auch bereitwillig ausgehändigt wurde – Ohje, das hätte ich besser nicht sagen sollen. (lacht)
Doch, klar! Es ist erschreckend, dass so etwas vorkommt.
Das auf jeden Fall. Grundsätzlich läuft hier alles friedlich ab, aber da hast du natürlich auch mal ein paar Idioten dabei, die mit ihrem Verhalten letztendlich dem Image des Festivals schaden. Ich persönlich positioniere mich ganz klar gegen derartige Ausschreitungen und rechtes Gedankengut.
Auf dem Campingplatz gibt es keine Security-Kräfte. Auch auf dem Festivalgelände arbeiten die Ordner nur bis zum Konzertende. Woran liegt das?
Mehr Security bedeutet auch mehr Kosten. In den letzten Jahren ist die Besucheranzahl deutlich zurückgegangen, da müssen unsere Einnahmen dann auch stimmen. Auch zusätzliche Schichten müssen vergütet werden. Das gibt unser Budget momentan nicht her.
Was würdest du den Festivalbesuchern raten, wenn es noch einmal zu einer ähnlichen Situation kommt?
Schnappt euch fünf, sechs Mann, die sich ebenfalls daran stören und geht direkt zu den Unruhestiftern hin. Bittet sie entweder selbst um Unterlassung oder sagt den Ordnern am nächsten Tag Bescheid. Ich werde die Security-Kräfte direkt auch noch einmal anweisen, vor Feierabend Patrouille zu laufen.
Inzwischen hat der Veranstalter auch ein offizielles Statement dazu abgegeben. Darin heißt es:
"(…) We feel outright disrespected by the actions displayed by some of the attendees. We work very hard to provide something truly special to attendees from all around the world. To hear that right arm salutes or illegal music were showed and played at the camp ground on Thursday night, was disgusting. As far as we are concerned, all attendees are brothers & sisters and to do such things is completely unacceptable for us. It is a disrespect to us and to the other attendees. The complete year we work to make something truly special, something that has withheld its respectability for 21 years. Furthermore, our bands and guests come from all over the world and our crew is multicultural. Please note: We don't accept racism or extreme ideologies at UTBS. It is something we stand against, because Black Metal is more than stupid political ideals. This year, this went way too far and will have consequences for the next year. (…) UTBS is not an open space for that kind of shit. If you can't handle it, fuck off and stay at home. We will never allow people who aren't using their brains to destroy what we have worked so hard for… So in conclusion, thank you to everyone for a successful weekend despite a few circumstances, and see you next year at the 22nd edition!"
Interessante Alben finden
Auf der Suche nach neuer Mucke? Durchsuche unser Review-Archiv mit aktuell 31629 Reviews und lass Dich inspirieren!
Batushka, Halphas, Horn, Sigh und Wolves In The Throne Room auf Tour
07.12.19
Wintermelodei 2019 (Festival)Winterfylleth, Numenorean, Horn, Laster, Gaerea, Beltez und ÄeraSputnikhalle, Münster
07.12.19
Streams Of Blood - 10 Years Of Blood And Chaos 2019Streams Of Blood, Halphas und SkōhslaPub Nachtfalter, Wörth am Main
13.12. - 14.12.19
metal.de präsentiertDe Mortem Et Diabolum 2019 (Festival)ALMYRKVI, Arroganz, Ascension, Blaze Of Perdition, Bölzer, Crimson Moon, Dødheimsgard, Enisum, Evohe, Groza, Halphas, Matterhorn, Membaris, Mgła und SinmaraJugendhaus Paulinenaue, Paulinenaue
Alle Konzerte von Batushka, Halphas, Horn, Sigh und Wolves In The Throne Room anzeigen »