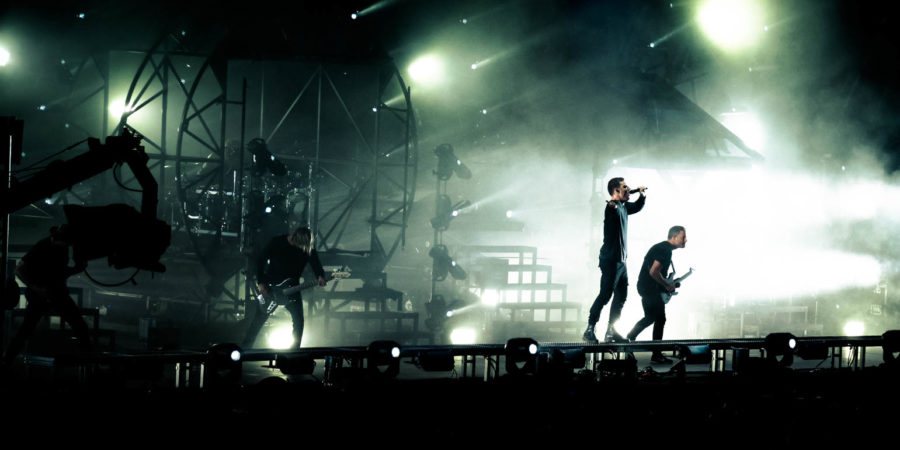 Kataklysm, Body Count, Caliban, Bullet For My Valentine, Belphegor, Unleashed, Ektomorf, Eskimo Callboy, Hatebreed, We Butter The Bread With Butter, Judas Priest, Cradle of Filth, Life Of Agony und Parkway Drive
With Full Force 2018
Konzertbericht
Billing: Kataklysm, Body Count, Caliban, Bullet For My Valentine, Belphegor, Unleashed, Ektomorf, Eskimo Callboy, Hatebreed, We Butter The Bread With Butter, Judas Priest, Cradle of Filth, Life Of Agony und Parkway Drive
Konzert vom 14.06.2018 | Ferropolis, Gräfenhainichen
JUDAS PRIEST
Über den Einfluss, den JUDAS PRIEST in ihrer langen Schaffenszeit auf andere Bands sowie den Metal insgesamt (gehabt) haben, braucht man wohl kaum noch Worte verlieren. Umso besser, dass die Veranstalter zum 25. Jubiläum diese Urgesteine engagieren konnten; wo passen sie besser hin, als in die Stadt aus Eisen?
Die Vorfreude wird ein wenig dadurch getrübt, dass die Show einfach nicht losgeht, geschlagene 45 Minuten dauert es, bis "technische Probleme" überwunden sind und die britische Heavy-Metal-Legende mit "Firepower" loslegt. Erleichterung: Der Sound stimmt und Rob Halford scheint gut drauf zu sein!
Dennoch kann man sich des Eindruckes nicht erwehren, das schon hier nicht alle Screams "live" sind… Aber egal, weiter geht's mit "Grinder", "Sinner", "The Ripper", "Lightning Strike", "Bloodstone", "Saints In Hell", "Turbo Lover", "Tyrant" und "Night Comes Down". Besonders bei "Freewheel Burning" bekommt man einen sehr guten Eindruck, was noch in den Jungs steckt. Wenn man bedenkt, dass die Briten (mit Ausnahme von Richie Faulkner) inzwischen Alter zwischen Ende 50 und Anfang 70 erreicht haben – Wahnsinn!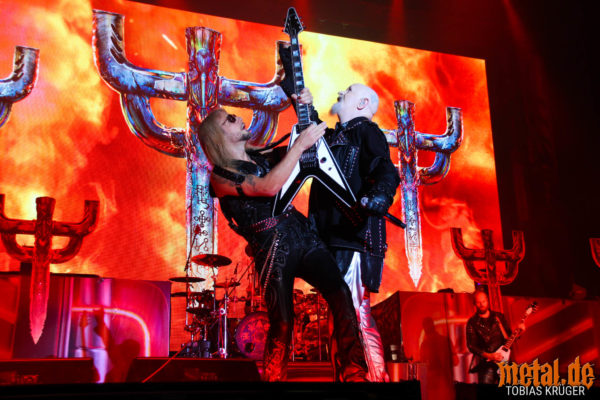 Ruhepause gibt's heute keine, zumindest für die reichlich versammelten Fans vor der Ferox Stage: "You've Got Another Thing Comin'", "Hell Bent For Leather" und natürlich "Painkiller" beenden den ersten Teil. Die Zugabe mit "Rising From Ruins", "Metal Gods" und dem obligatorischen "Breaking The Law" machen die Setlist komplett und hinterlassen ein breites Grinsen auf den Gesichtern der meisten Anwesenden! Sie können's noch!
CRADLE OF FILTH
Den zweiten Teil der Knüppelnacht eröffnen kurz nach dem Verstummen der Klampfen von JUDAS PRIEST die Briten von CRADLE OF FILTH. Angeführt von Schrei- und Springzwerg Dani wird gewohnt hochwertige Kost geboten. Der Sound stimmt, Gitarrist James springt wie ein Derwisch umher, Martin trommelt wie ein Uhrwerk und bei Dani sitzt jeder Schrei. Sie ballern Songs wie "Guilded Cunt", "Dusk And Her Embrace", "Born In A Burial Gown" sowie "Her Ghost In The Fog" besonders erfreulich. Den Rausschmeißer macht nach dem leider viel zu kurzen Set heute From "The Cradle To Enslave". Starke Show!
SEPTICFLESH
Auch SEPTICFLESH machen auf ihrer europäischen Festival-Tour einen Stopp beim With Full Force 2018. Mit ihrem starken 2017er Album "Codex Omega" im Gepäck ballern sie ihren melodischen Death Metal, angehaucht mit Gothic-Einflüssen, in die Crowd. Wer nach Nummern wie "Martyr", "Protoype" und "Dark Art" keinen schmerzenden Nacken hat, ist selber schuld. Feiner Abriss!
Interessante Alben finden
Auf der Suche nach neuer Mucke? Durchsuche unser Review-Archiv mit aktuell 30536 Reviews und lass Dich inspirieren!
Kataklysm, Caliban, Bullet For My Valentine, Belphegor, Ektomorf, Eskimo Callboy, Hatebreed, Judas Priest, Cradle of Filth, Life Of Agony und Parkway Drive auf Tour
30.11.18
metal.de präsentiertThe European Apocalypse - Co-Headlining TourKreator, Dimmu Borgir, Hatebreed und Bloodbath013, Tilburg
01.12.18
metal.de präsentiertThe European Apocalypse - Co-Headlining TourKreator, Dimmu Borgir, Hatebreed und BloodbathSporthalle Hamburg, Hamburg
02.12.18
metal.de präsentiertThe European Apocalypse - Co-Headlining TourKreator, Dimmu Borgir, Hatebreed und BloodbathJahrhunderthalle, Frankfurt
Alle Konzerte von Kataklysm, Caliban, Bullet For My Valentine, Belphegor, Ektomorf, Eskimo Callboy, Hatebreed, Judas Priest, Cradle of Filth, Life Of Agony und Parkway Drive anzeigen »