Ragnarök Festival
Der große Festivalbericht 2010
Konzertbericht
Billing: Arkona, Belphegor, Carach Angren, Ensiferum, Gorgoroth, Grailknights, Hellsaw, Helrunar, Hollenthon, Obscurity, Ragnarok, Riger, Sarke, Skyforger, Sólstafir, Suidakra, The Vision Bleak, Van Canto, Vreid und Wolves In The Throne Room
Konzert vom 2010-05-01 | Ostbayernhalle, Rieden/Kreuth
---
Und es ist mal wieder soweit: Nach dem Winter beginnt langsam endlich die Festival-Saison und eines der ersten Feste in jedem Jahr ist das Ragnarök Festival, Deutschlands erstes und größtes Pagan Metal Festival, dass jährlich tausende Fans heidnischer und schwarzmetallerner Klänge ins schöne Bayern pilgern lässt. Doch hat sich in diesem Jahr so einiges geändert, zum Einen findet das Ragnarök in diesem Jahr nicht mehr Ende März, sondern Anfang Mai statt, kein Wunder, in Anbetracht des Wetter-Dramas im letzten Jahr. Zum anderen ist das Festival umgezogen: Nach zwei Jahren in Hollfeld und vieren in Lichtenfels findet das Festival 2010 erstmalig in Rieden/Kreuth in der Oberpfalz statt und zwar auf dem Gelände des Guts Mathehof, wo das Festival nun ein langfristiges Zu Hause gefunden haben soll (doch bereits kurz nach dem Festival wurde publik, dass das Ragnarök Festival im nächsten Jahr wieder nach Lichtenfels zurück kehren wird). Auch wird sich das Fest erstmalig über volle drei Tage erstrecken.
Besonders das breite Spektrum an Genres in der Bandauswahl hat das Ragnarök in den letzten Jahren ausgezeichnet und zu dem gemacht, was es heute ist. Und auch dieses Mal haben die Veranstalter großen Wert darauf gelegt, die optimale Mischung aus sowohl gestandenen, als auch aufstrebenden Bands jedes passenden Genres und verschiedenster Herkunft nach Rieden/Kreuth einzuladen. Mit dabei waren in diesem Jahr z.B. ENSIFERUM aus Finnland und GORGOROTH aus Norwegen als Headliner, SOLSTAFIR aus Island, SKYFORGER aus Lettland, ARKONA aus Russland, WOLVES IN THE THRONE ROOM aus den USA, CARACH ANGREN aus den Niederlanden, doch auch deutschsprachige Formationen waren zur Genüge vertreten, so z.B. AGATHODAIMON, BELPHEGOR, EQUILIBRIUM, FJOERGYN, RIGER, HELRUNAR oder THE VISION BLEAK. Einige der Bands haben das Ragnarök Festival zwar schon einige Male beehrt, sind jedoch stets wieder gern gesehen Gäste beim Publikum.
Doch auch um das ein oder andere Special haben sich die Ragnarök-Veranstalter natürlich bemüht, so spielen SKYFORGER gleich zwei Mal auf dem Festival, zum Einen die Release-Show ihres neuen Albums "Kurbads", als auch ein Special Folk Set und VREID präsentieren zusätzlich zu ihrem eigenen Set eine Special WINDIR-Show mit dem Bruder von Valfar als Gastsänger.
Doch leider kann das diesjährige Ragnarök Festival nicht auf ganzer Linie überzeugen. Die Ostbayernhalle ist zwar eine recht angenehme Location, doch das lichtdurchlässige Dach lässt tagsüber kaum Atmosphäre entstehen, womit besonders die Black Metal-Bands zu kämpfen haben. Zudem ist die Halle eigentlich viel zu groß und musste in der Mitte abgeteilt werden, was der Stimmung als auch dem Sound ebenso wenig zuträglich ist. Weiterhin zerren andauernde technische Probleme, besonders auf der linken der erstmalig zwei Bühnen, an den nerven der Bands und Zuschauer. Ein weiterer Minus-Punkt ist der in einer Halle abseits gelegene und schlecht ausgeschilderte Metal-Markt, den viele der Besucher gar nicht wahr genommen haben, das war in Lichtenfels einfach viel besser gelöst. Doch Schluss mit den negativen Aspekten, und kommen wir zu den Bands: Am Donnerstag, den 29.04.2010, beginnt das diesjährige Ragnarök Festival.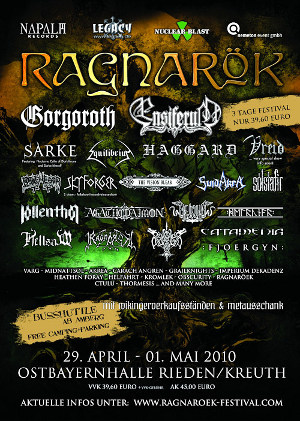 Interessante Alben finden
Auf der Suche nach neuer Mucke? Durchsuche unser Review-Archiv mit aktuell 33354 Reviews und lass Dich inspirieren!
Arkona, Belphegor, Carach Angren, Ensiferum, Gorgoroth, Grailknights, Obscurity, Ragnarok, Sólstafir, Van Canto, Vreid und Wolves In The Throne Room auf Tour
07.07. - 10.07.21
metal.de präsentiertRockharz 2021 (Festival)Accept, Asenblut, ASP, Attic, At The Gates, Beast In Black, Betontod, Burden Of Grief, Dark Funeral, Dark Tranquillity, Deserted Fear, Eluveitie, Ektomorf, Ensiferum, Evil Invaders, Gernotshagen, Goitzsche Front, Grave Digger, In Extremo, Insomnium, Jinjer, Kambrium, Kataklysm, Knasterbart, Knorkator, Lord Of The Lost, Lucifer, Moonsorrow, Mutz & The Blackeyed Banditz, Nothnegal, Obscurity, Oomph!, Ost+Front, Paddy And The Rats, Powerwolf, Running Wild, Sepultura, Sibiir, Steel Panther, Storm Seeker, Subway To Sally, Suicidal Tendencies, Tankard, Tarja, Testament, The 69 Eyes, Thomsen, Thundermother, Turisas, Twilight Force, Uncured, Unleashed, Unzucht und Unleash The ArchersFlugplatz Ballenstedt, Ballenstedt
12.08. - 14.08.21
metal.de präsentiertParty.San Metal Open Air 2021 (Festival)Dismember, Carcass, Mayhem, 1914, Alcest, Anomalie, Asphyx, Benediction, Beyond Creation, Blockheads, Blood Incantation, Borknagar, Bound To Prevail, Bütcher, Carnation (BE), Crom Dubh, Fleshcrawl, Graceless, Heidevolk, High Spirits, Impaled Nazarene, Kadaverficker, Katatonia, Lunar Shadow, Malevolent Creation, Månegarm, Motorowl, Nocturnus AD, Nornír, Nyktophobia, Obscurity, Onslaught, Origin, Razor, Revel In Flesh, Sacred Reich, Saor, Scalpture, Shape Of Despair, Sinners Bleed, Space Chaser, Thron, Total Hate, Uada, Visigoth, Whoredome Rife und Wolves In The Throne RoomParty.San Open Air, Obermehler
18.08. - 21.08.21
metal.de präsentiertSummer Breeze 2021 (Festival)Alestorm, Amon Amarth, Any Given Day, Benighted, Blind Guardian, Brothers Of Metal, Bury Tomorrow, Dark Tranquillity, Debauchery, Eisbrecher, Eisregen, Ensiferum, Fiddler's Green, Finntroll, Frog Leap, Gloryhammer, Gutalax, Haggefugg, I Prevail, Insomnium, Jinjer, Lord Of The Lost, Mr. Hurley & Die Pulveraffen, Nekrogoblikon, Nytt Land, Saltatio Mortis, Shadow of Intent, Thundermother, Unleash The Archers, Wardruna, Warkings, While She Sleeps und Within TemptationSummer Breeze Open Air, Dinkelsbühl, Dinkelsbühl
Alle Konzerte von Arkona, Belphegor, Carach Angren, Ensiferum, Gorgoroth, Grailknights, Obscurity, Ragnarok, Sólstafir, Van Canto, Vreid und Wolves In The Throne Room anzeigen »