Rockharz Open Air
der große Festivalbericht 2011
Konzertbericht
Billing: Amorphis, Caliban, Dark Tranquillity, Eisregen, Ektomorf, Fiddler's Green, Grand Magus, Hackneyed, Hail Of Bullets, Hammerfall, Hypocrisy, In Extremo, Månegarm, Neaera, Powerwolf, Pro-Pain, Saltatio Mortis, Stratovarius, Tarja, Tyr und Vreid
Konzert vom 1970-01-01 | Flugplatz, Ballenstedt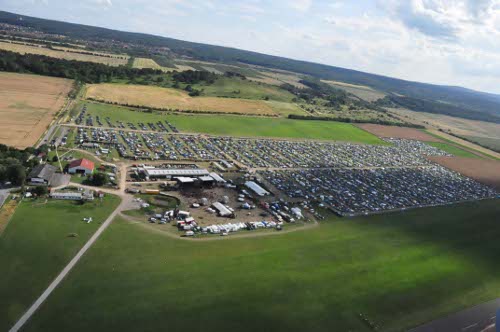 Offiziell feiert das Rockharz 2013 das zwanzigjährige Jubiläum! Auch wenn das Festival mit Konzerten auf einem LKW-Trailer und knapp vierstelligen Besucherzahlen angefangen hat, haben die Veranstalter es geschafft, ihre Popularität Jahr für Jahr zu steigern und das Event für immer größere Bands attraktiv zu machen. Das zeigt sich auch 2011: Nicht nur ist das Rockharz mittlerweile auf einem ansehnlich großen Areal, dem Flughafen Ballenstedt, angekommen. Die Organisation ist zudem mitgereift und mitgewachsen, und das ist auch notwendig: Schätzungsweise  7500 Besucher sind wegen einer Vielzahl interessanter Bands und vor allem wegen einer relaxten und angenehmen Festivalatmosphäre gekommen. Den Besucheransturm packt das Team allerdings mit einem Lächeln und einer entwaffnenden Freundlichkeit, die der auch ansonsten bestechenden Professionalität der Organisation entspricht. Da macht's Spaß, das Zelt aufzuschlagen (dummerweise direkt hinterm Partyzelt, was sich noch rächen wird…) und ein paar Tagen voll mit guter Livemusik, kaltem Bier und der Aussicht auf die Arbeit am metal.de-Autogrammstand entgegen zu sehen. Das ist so interessant, dass in diesem Jahr sogar das ZDF ein Kamerateam geschickt hat.
Das diesjährige Billing hält für die meisten Geschmäcker etwas bereit – von klassischem Heavy Rock über Power, Death, Pagan und Dark Metal bis hin zu Mittelalter-Rock und Core in verschiedenen Variationen ist so ziemlich alles dabei. Nur Black Metal kommt, was allerdings nur für mich schade zu sein scheint, etwas zu kurz – was allerdings angesichts von Temperaturen an die 30° Celsius auch verständlich ist. Der mit viel Kalkül gewählte stilistische Schwerpunkt des Festivals liegt dabei allerdings auf gut abzufeiernden Genres: FEUERSCHWANZ, SALTATIO MORTIS und IN EXTREMO auf der einen, WE BUTTER THE BREAD WITH BUTTER, THE SORROW, CALIBAN oder NEAERA auf der anderen Seite sprechen da eine ganz deutliche Sprache.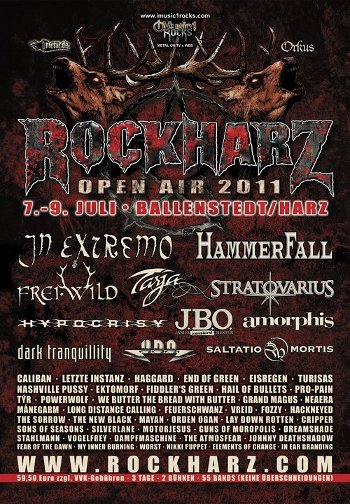 Bevor's richtig losgeht, ist allerdings eine kleine Schlenderei über das Festivalgelände angesagt. Auf der Suche nach ein paar Wühlkistenschnäppchen-CDs werden wir leider nicht fündig. Generell ist außer dem Napalm Records-Stand und ein paar Zelten mit absurd teuren LP-Sammlerstücken in Tonträgerhinsicht nicht viel zu holen. Dafür ist das Gelände voll mit Merchverkäufern, Schmuckschmieden, Metal-Babyklamotten-Ständen (!) oder Live-Pierching-Angeboten – neben den obligatorischen Fressangeboten, die von mediterranen Köstlichkeiten (also Dönerbuden) über ein schwäbisches Backhäusle bis zu schnöder Currywurst alles an Fastfood-Verbrechern auffahren, was man sich vorstellen kann. Mein Highlight allerdings war der Laden, wo man sich Plastikmotorradhelme mit Stierhörnern zulegen konnte. Sagenhaft. Wenden wir uns also der Bühne zu… (Florian Dammasch)
Interessante Alben finden
Auf der Suche nach neuer Mucke? Durchsuche unser Review-Archiv mit aktuell 32455 Reviews und lass Dich inspirieren!
Amorphis, Caliban, Dark Tranquillity, Eisregen, Ektomorf, Fiddler's Green, Grand Magus, Hammerfall, Hypocrisy, In Extremo, Månegarm, Neaera, Powerwolf, Pro-Pain, Saltatio Mortis, Stratovarius, Tarja, Tyr und Vreid auf Tour
06.08. - 08.08.20
Party.San Metal Open Air 2020 (Festival)Dismember, Carcass, Mayhem, Katatonia, Sacred Reich, Alcest, Asphyx, 1914, Anomalie, Benediction, Beyond Creation, Blood Incantation, Borknagar, Bound To Prevail, Bütcher, Carnation (BE), Caroozer, Crom Dubh, Fleshcrawl, Graceless, Heidevolk, High Spirits, Hirax, Idle Hands, Impaled Nazarene, Infernäl Mäjesty, Kadaverficker, Lunar Shadow, Månegarm, Malevolent Creation, Moonsorrow, Motorowl, Nocturnus AD, Nornír, Nyktophobia, Obscurity, Onslaught, Origin, Razor, Revel In Flesh, Saor, Scalpture, Shape Of Despair, Sinners Bleed, Space Chaser, Suffocation, Thron, Total Hate, Uada, Visigoth, Whoredome Rife, Wolves In The Throne Room und WormrotParty.San Open Air, Obermehler
12.08. - 15.08.20
metal.de präsentiertSummer Breeze 2020 (Festival)1914, Agrypnie, Alestorm, Amenra, Amon Amarth, Amorphis, Angelus Apatrida, Any Given Day, Architects, Avatarium, Belzebubs, Benediction, Benighted, Blasmusik Illenschwang, Bloodywood, Bodom After Midnight, Carbon Killer, Cattle Decapitation, Clutch, Combichrist, Conjurer, Cytotoxin, Dark Funeral, Dark Tranquillity, Dawn Of Disease, Debauchery, Despised Icon, Devin Townsend, Djerv, Dwaal, Eisregen, Emil Bulls, Ensiferum, Fiddler's Green, Fight The Fight, Finntroll, Fleshcrawl, Fleshgod Apocalypse, Frog Leap, Gatecreeper, Gloryhammer, God Is An Astronaut, Gost, Gutalax, Haggefugg, Hatebreed, Havok, Idle Hands, Implore, Insomnium, I Prevail, Igorrr, Infected Rain, Jinjer, Kadavar, Kraanium, Leaves' Eyes, Lüt, Mass Hysteria, Mr. Hurley & Die Pulveraffen, Myrkur, Neaera, Necrophobic, Nekrogoblikon, Nytt Land, Opeth, Paradise Lost, Pipes And Pints, Primal Fear, Resolve, Russkaja, Sacred Reich, Saltatio Mortis, Shadow of Intent, Shiraz Lane, Siamese, Sonata Arctica, Slope, Static-X, Stray From The Path, Striker, Suffocation, Svalbard, Swallow The Sun, tAKiDA, Terror, The New Roses, The Night Flight Orchestra, The Oklahoma Kid, The Prophecy 23, The Vintage Caravan, The Wildhearts, Thundermother, Tides From Nebula, Triddana, Uada, Vitriol, Vulture, Wardruna, Warkings, While She Sleeps, Within Temptation und Wolves In The Throne RoomFlugplatz Dinkelsbühl, Dinkelsbühl
05.09.20
Impericon Festivals 2020 - 10th Anniversary TourAs I Lay Dying, Eskimo Callboy, Bury Tomorrow, Neaera, Lionheart, Your Demise, Jinjer, The Plot in You, Annisokay, Our Hollow Our Home, Kaiba, Landmvrks, Watch Out Stampede, Une Misère, Thousand Below und Orbit CultureTurbinenhalle, Oberhausen
Alle Konzerte von Amorphis, Caliban, Dark Tranquillity, Eisregen, Ektomorf, Fiddler's Green, Grand Magus, Hammerfall, Hypocrisy, In Extremo, Månegarm, Neaera, Powerwolf, Pro-Pain, Saltatio Mortis, Stratovarius, Tarja, Tyr und Vreid anzeigen »