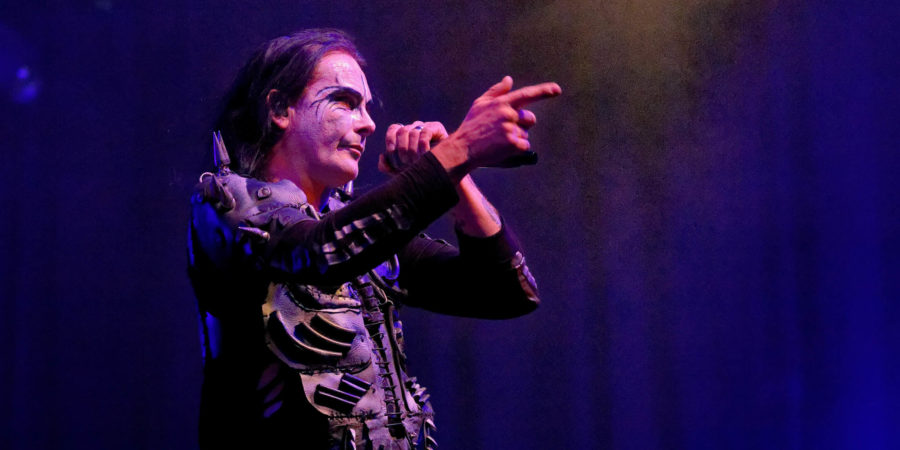 Cryptoriana World Tour
Alte Pracht in neuem Glanz
Konzertbericht
Billing: Cradle Of Filth und Moonspell
Konzert vom 06.02.2018 | Zeche, Bochum
Verglichen mit dem, was CRADLE OF FILTH vor 15 bis 20 Jahren an Zuschauerzahlen erreichten, ist an diesem Abend wenig in der altehrwürdigen Zeche in Bochum los. Gut, es ist Dienstag und an den beiden Vortagen wurden mit Köln und Osnabrück zwei Orte in relativ kurzer Entfernung bespielt. Außerdem ist die Kapelle um Dani Filth wahrscheinlich nicht mehr so angesagt wie früher, was sich auch am recht hohen Altersdurchschnitt und dem geringen Frauenanteil – wir haben diese Statistik (geheime Verschlusssache!) ja schon einmal erwähnt – bemerkbar macht. Schade eigentlich, denn CRADLE OF FILTH bieten dem geneigten Zuhörer auf der Cryptoriana World Tour inzwischen viel mehr als um 2000 herum, aber dazu später mehr. Nur so viel: "Exquisite Torments await"! (MT)
MOONSPELL
Den Abend eröffnen die Portugiesen MOONSPELL, deren Bühnenbild sich heute ganz am Thema ihres aktuellen Langspielers "1755" orientiert. Ruinen schmücken das Backdrop und erinnern an eines der verheerendsten Erdbeben der europäischen Geschichte, das mehrere zehntausend Bewohner Lissabons das Leben kostete und zahllose Christen in ihrem Glauben an einen gütigen Gott erschütterte. Diese Dramatik kommt live zwar nicht so ganz rüber, aber vor allem Frontmann Fernando Ribeiro bietet ein solides Stageacting, Laserstrahlen schießendes Kruzifix inklusive.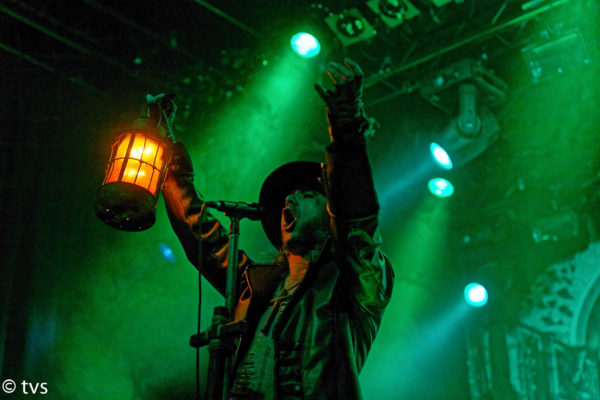 Auch die Setlist bietet zwar in erster Linie aus Songs von "1755", hat aber auch ein paar alte Schmankerl im Angebot. Der Geruch von "Opium" steigt schon im Mittelfeld auf, als Rausschmeißer dürfen "Alma Mater" und "Full Moon Madness" ran. Unterm Strich ein solider Auftritt einer Band, die ihre Aufgabe als Opener pflichtbewusst und akzeptabel erfüllt, sich damit aber auch genügt. (MT)
CRADLE OF FILTH
Dennoch, so richtig haben MOONSPELL die darbende Masse noch nicht zum Kochen gebracht. Da auch der Alkoholpegel eher im unteren Bereich ausschlägt, braucht es schon musikalische Raserei um das gesetzte Bochumer Publikum unter Feuer zu setzen.
Stimmgewaltig, quirlig und ohne einen Funken Peinlichkeit eröffnen Dani Filth und Band mit dem aggressiven "Gilded Cunt" vom 2004er Machwerk "Nymphetamine". Auch anschließend bekommt der geneigte Hörer mit "Beneath The Howling Stars" und "Blackest Magick In Practice" wenig Zeit zum Durchatmen. Das neue und starke Album "Cryptoriana" wird ab dem vierten Stück mit "Heartbreak and Seance" gewürdigt. Etwas überraschend kommen anschließend mit dem etwas lahmen "You Will Know The Lion By His Claw" und dem dafür umso stärkeren "Achingly Beautiful" nur zwei weitere Stücke des neusten Machwerks zum Zuge. Die Geschichte des Songs "Achingly Beautiful" verriet uns Dani übrigens in unserem Interview – kein Wunder, dass der Song so gut geworden ist! Dennoch, wir hätten gerne mehr von "Cryptoriana" gehört. Aber kein Grund sich zu Grämen, da die Setlist gespickt mit Klassikern der CRADLE OF FILTH-Historie genug Futter für den ganzen Abend enthält.
Und gerade bei Stücken der Marke "Her Ghost In The Fog" oder auch "Nymphetamine Fix" wird deutlich, dass das aktuelle Line Up das musikalisch stärkste in der Geschichte von CRADLE OF FILTH ist. Diese Band ist technisch auf ihrem Zenit, tight wie der tiefste Hades und eingespielt wie die höllischen Putten des Gehörnten persönlich. Dabei kommen die Musiker mit wenig Show aus und konzentrieren sich vollständig auf den musikalischen Eindruck, der an diesem Abend wie glühendes Pech kübelweise über die sympathischste Stadt in Westfalen gegossen wird. Es sollte uns nicht wundern, wenn dies der Höhepunkt der filthschen Karriere ist und man einst stolz verkünden kann – "ich habe CRADLE 2018 live gesehen". Ansonsten freuen wir uns natürlich auch über viele weitere Jahre auf diesem Niveau – weitermachen! (SW)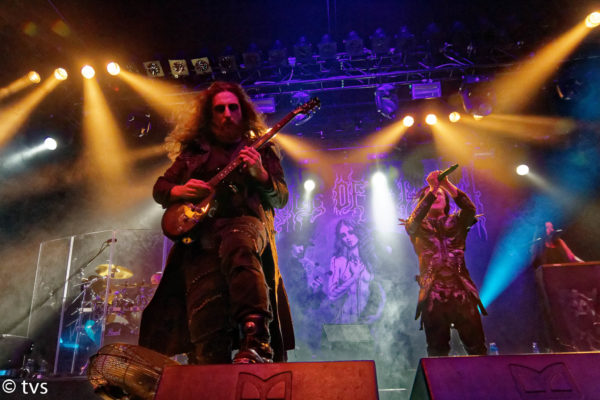 Zugegeben, nicht jeder Zuschauer bricht in Euphorie aus. Da sind auch noch die üblichen Verdächtigen, die aus Prinzip nur die Songs von den ersten vier Alben abfeiern und dem neuen Zeug nichts abgewinnen können. Vielleicht brauchen CRADLE OF FILTH neben dem neuen Line-Up auch einfach einen kompletten Neustart – mit Kapuzen, anonymen Mitgliedern und Weihrauch und so.
Die Halle leert sich jedenfalls relativ schnell, denn Mitternacht ist schon gefährlich nahe und neben finsteren Geisterwesen droht jedem, der um diese Uhrzeit noch unterwegs ist, die Rache der Frühschicht. Um dieser zu entgehen verlassen wir die Zeche auf dem schnellsten Wege, nehmen aber so manche bleibende Erinnerung an einen Konzertabend mit, der "Achingly Beautiful" war. (MT)
Bericht von Marc Thorbrügge (MT) und Stefan Wolfsbrunn (SW)/Bochum, Bilder von Thomas von Schaewen/Frankfurt
Interessante Alben finden
Auf der Suche nach neuer Mucke? Durchsuche unser Review-Archiv mit aktuell 30902 Reviews und lass Dich inspirieren!
Cradle Of Filth und Moonspell auf Tour
03.07. - 06.07.19
metal.de präsentiertRockharz Open Air 2019 (Festival)Amon Amarth, Anvil, Burning Witches, Children Of Bodom, Combichrist, Coppelius, Cradle Of Filth, Dimmu Borgir, Dragonforce, Elvellon, Elvenking, Epica, Feuerschwanz, Freedom Call, Grand Magus, Grave, Hämatom, Hardline, Hellboulevard, Hypocrisy, J.B.O., Kärbholz, Korpiklaani, Lacrimas Profundere, Legion Of The Damned, Lordi, Milking The Goatmachine, Mono Inc., Mr. Irish Bastard, Nailed To Obscurity, Nervosa, Omnium Gatherum, Overkill, Russkaja, Saltatio Mortis, Soilwork, The Night Flight Orchestra, The O'Reillys & The Paddyhats, The Unguided, U.D.O., Van Canto, Visions Of Atlantis, Warkings, Wintersun und WittFlugplatz Ballenstedt, Ballenstedt
14.08. - 17.08.19
metal.de präsentiertSummer Breeze 2019 (Festival)Aborted, After The Burial, Ahab, Airbourne, Anaal Nathrakh, Avantasia, Avatar, Battle Beast, Beast In Black, Blasmusik Illenschwang, Brainstorm, Bullet For My Valentine, Burning Witches, Bury Tomorrow, Caspian, Clawfinger, Code Orange, Cradle Of Filth, Crippled Black Phoenix, Cypecore, Death Angel, Decapitated, Deicide, Deluge, Deserted Fear, Dimmu Borgir, Dornenreich, Downfall Of Gaia, Dragonforce, Dust Bolt, Dyscarnate, Eluveitie, Emperor, Endseeker, Enslaved, Equilibrium, Evergreen Terrace, Evil Invaders, Final Breath, Gaahls Wyrd, Get The Shot, Grand Magus, Gutalax, Hämatom, Hamferð, Hammerfall, Harpyie, Higher Power, Hypocrisy, INGESTED, Izegrim, Kambrium, King Diamond, Kissin' Dynamite, Knasterbart, Krisiun, Kvelertak, Legion Of The Damned, Letters From The Colony, Lik, Lionheart, Loathe, Lord Of The Lost, Meshuggah, Midnight, Mr. Irish Bastard, Mustasch, Myrkur, Nailed To Obscurity, Napalm Death, Nasty, Oceans Of Slumber, Of Mice & Men, Parkway Drive, Queensrÿche, Randale, Rectal Smegma, Rise Of The Northstar, Rotting Christ, Skálmöld, Slaughter Messiah, Soilwork, Subway To Sally, Testament, The Contortionist, The Dogs, The Lazys, The Ocean, Thy Art Is Murder, Turbobier, Twilight Force, Une Misère, Unearth, Unleashed, Unprocessed, Van Canto, Versengold, Windhand, Winterstorm und Zeal & ArdorSummer Breeze Open Air, Dinkelsbühl, Dinkelsbühl
24.10.19
metal.de präsentiertMoonspell & Rotting Christ - Europa Tour 2019Moonspell und Rotting ChristMarkthalle, Hamburg
Alle Konzerte von Cradle Of Filth und Moonspell anzeigen »