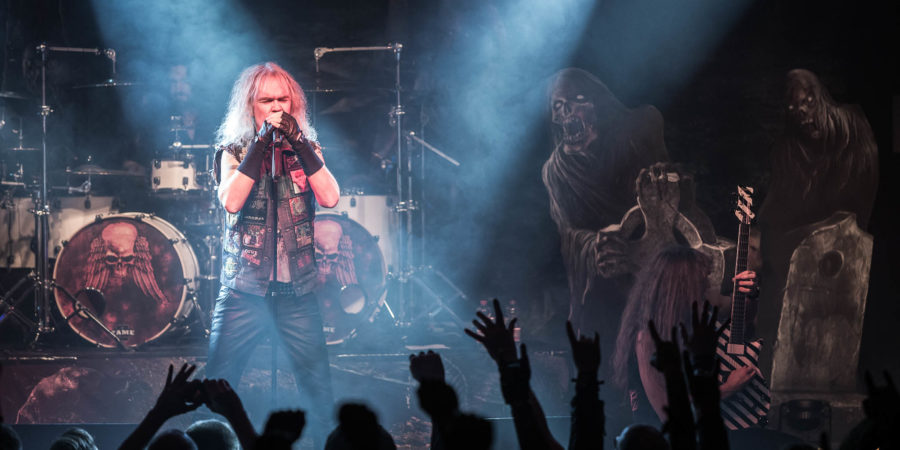 Grave Digger
Brennende Hexen und wandelnde Tote
Konzertbericht
Billing: Grave Digger und Burning Witches
Konzert vom 17.01.2019 | Zeche, Bochum
Kalt ist es, an diesem Januarabend. Dennoch läuft der Betrieb in der Zeche Bochum auf Hochtouren. Kohle wird hier keine mehr gefördert, dafür ackern die Menschen hinterm Thresen und hinter der Bühne, um einigen Hundert Metal-Fans einen guten Abend zu bescheren. Selbst der Grill im Biergarten wird von einem Mitarbeiter betrieben, der den eisigen Temperaturen trotzt und dem hungrigen Publikum heiße Würste zum Abendessen serviert.
Wofür der ganze Aufwand? GRAVE DIGGER? Die Typen, die alle zwei Jahre hier in dieser Halle aufschlagen? Die schon seit Neunzehnhundertblumenkohl dieses Heavy-Metal-Ding durchziehen? Ja, genau die. Das ist auch gut so, denn das Universum braucht nun einmal verlässliche Konstanten. Ein bisschen frischer Wind ist aber auch nicht verkehrt. Mit BURNING WITCHES haben GRAVE DIGGER eine junge Band im Vorprogramm, die erst zwei Alben im Gepäck hat und nicht derer achtzehn mit sich herumschleppt.
BURNING WITCHES – Verdammt viel Potenzial
BURNING WITCHES eröffnen ihr Set mit "Executed", dem Opener ihres neuen Albums "Hexenhammer". Auf Platte konnte der Song den Autor dieser Zeilen nicht mitreißen und daran ändert sich auch live nichts. Der Sound klingt zudem zunächst etwas flach und stumpf. Also alles Käse? Zum Glück nicht. Sound und Songs werden mit jeder Minute besser, sodass am Ende eine äußerst gelungene Metal-Show in Erinnerung bleibt, die gut auf den Headliner einstimmt.
Der Fokus der Setlist liegt auf dem Debüt-Album "Burning Witches", während der aktuelle Langspieler "Hexenhammer" überraschenderweise nur mit drei Songs bedacht wird. Den Fans, die vom ersten Takt an mitjubeln, ist dies aber offenbar egal. Auch der Rest des Publikums fällt nach und nach unter den Bann der brennenden Hexen.
Zwar wirken die Schweizerinnen manchmal noch etwas zurückhaltend, tauen mit der Zeit aber auf und demonstrieren musikalisches Können. Vor allem die Gitarrenarbeit von Romana Kalkuhl und Sonia Nusselder kann überzeugen, ebenso wie die charismatische Frontfrau Seraina Telli, die souverän durch das Vorprogramm führt. Gegen Ende sorgt schließlich ein Cover des DIO-Songs "Holy Diver" noch einmal kollektiv für gute Laune.
Dass aber auch die eigene Hitdichte noch steigen wird, wenn BURNING WITCHES am Ball bleiben, ist bereits zu erahnen. Was Kollege Kollege Rothe in seiner Rezension zu Hexenhammer feststellt, lässt sich auch live bestätigen: "In dieser Band steckt verdammt viel Potenzial".
BURNING WITCHES-Setlist:
1. Executed
2. Metal Demons
3. We Eat Your Children
4. Hexenhammer
5. Bloody Rose
6. Save Me
7. Black Widow
8. Open Your Mind
9. Holy Diver (DIO-Cover)
10. Burning Witches
Galerie mit 23 Bildern: Burning Witches - Tour Of The Living Dead 2019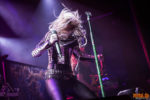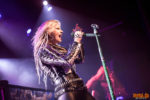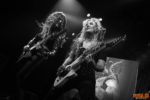 Seiten in diesem Artikel
1
2
Interessante Alben finden
Auf der Suche nach neuer Mucke? Durchsuche unser Review-Archiv mit aktuell 31129 Reviews und lass Dich inspirieren!
Grave Digger und Burning Witches auf Tour
03.07. - 06.07.19
metal.de präsentiertRockharz Open Air 2019 (Festival)Amon Amarth, Anvil, Apocalypse Orchestra, Bloodred Hourglass, BROTHERS OF METAL, Burning Witches, Caliban, Children Of Bodom, Combichrist, Coppelius, Cradle Of Filth, Dimmu Borgir, Dragonforce, Elvellon, Elvenking, Epica, Feuerschwanz, Follow The Cipher, Freedom Call, From North, Grand Magus, Grave, Hämatom, Hardline, Heidevolk, Hellboulevard, Hypocrisy, J.B.O., Kärbholz, Kissin' Dynamite, Korpiklaani, Lacrimas Profundere, Legion Of The Damned, Lordi, Milking The Goatmachine, Mono Inc., Mr. Irish Bastard, Nailed To Obscurity, Nervosa, Omnium Gatherum, Overkill, Russkaja, Saltatio Mortis, Soilwork, Stam1na, The Night Flight Orchestra, The O'Reillys & The Paddyhats, The Unguided, U.D.O., Vader, Van Canto, Visions Of Atlantis, Warkings, Wintersun und WittFlugplatz Ballenstedt, Ballenstedt
14.08. - 17.08.19
metal.de präsentiertSummer Breeze 2019 (Festival)Aborted, After The Burial, Ahab, Airbourne, All Hail The Yeti, Anaal Nathrakh, Anomalie, Avantasia, Avatar, Battle Beast, Beast In Black, Begging For Incest, Blasmusik Illenschwang, Brainstorm, Brymir, Bullet For My Valentine, Burning Witches, Bury Tomorrow, Carnal Decay, Caspian, Clawfinger, Code Orange, Cradle Of Filth, Crippled Black Phoenix, Cypecore, Death Angel, Decapitated, Décembre Noir, Deicide, Deluge, Deserted Fear, Dimmu Borgir, Dornenreich, Double Crush Syndrome, Downfall Of Gaia, Dragonforce, Dust Bolt, Dyscarnate, Eat The Gun, Eluveitie, Emperor, Endseeker, Enslaved, Equilibrium, Evergreen Terrace, Evil Invaders, Eyes Set To Kill, Fear Of Domination, Final Breath, Frosttide, Gaahls Wyrd, Get The Shot, Gost, Grand Magus, Gutalax, Hämatom, Hamferð, Hammerfall, Harpyie, Hate Squad, Higher Power, Hypocrisy, In Flames, INGESTED, Izegrim, Kambrium, King Apathy, King Diamond, Kissin' Dynamite, Knasterbart, Krisiun, Kvelertak, Legion Of The Damned, Letters From The Colony, Lik, Lionheart, Loathe, Lord Of The Lost, Meshuggah, Midnight, Morbid Alcoholica, Mr. Irish Bastard, Mustasch, Myrkur, Nailed To Obscurity, Napalm Death, Nasty, Oceans Of Slumber, Of Mice & Men, Orphalis, Parkway Drive, Pighead, Promethee, Queensrÿche, Randale, Rectal Smegma, Rise Of The Northstar, Rotting Christ, Skálmöld, Slaughter Messiah, Soilwork, Subway To Sally, Teethgrinder, Testament, The Contortionist, The Dogs, The Lazys, The New Death Cult, The Ocean, Thron, Thy Art Is Murder, Turbobier, Tragedy, Twilight Force, Une Misère, Unearth, Unleashed, Unprocessed, Van Canto, Versengold, Windhand, Winterstorm, Xenoblight und Zeal & ArdorSummer Breeze Open Air, Dinkelsbühl, Dinkelsbühl
14.12.19
metal.de präsentiertKnock Out Festival 2019 - Schwarzwaldhalle, Karlsruhe (Festival)Avantasia, Axxis und Grave DiggerKnock Out Festival, Karlsruhe
Alle Konzerte von Grave Digger und Burning Witches anzeigen »