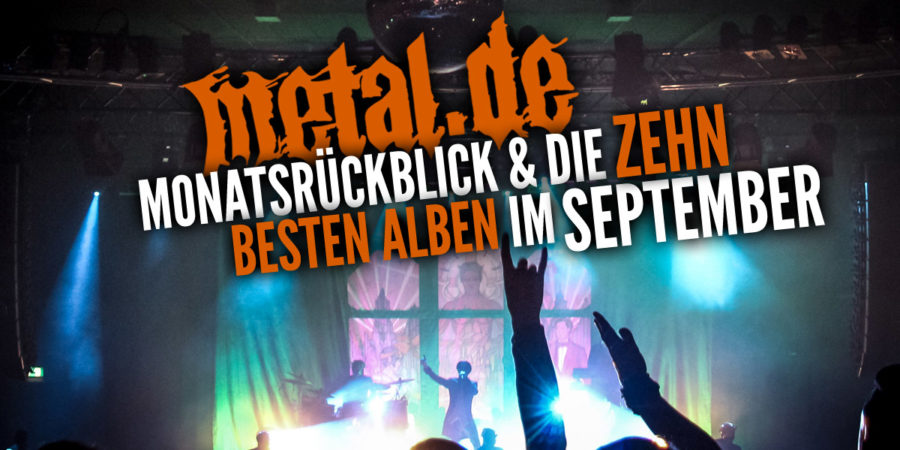 Der große Monatsrückblick
Die zehn besten Alben im September 2016 – Monatsrückblick, Highlights und Gurken
Special
2016 = Partyjahr!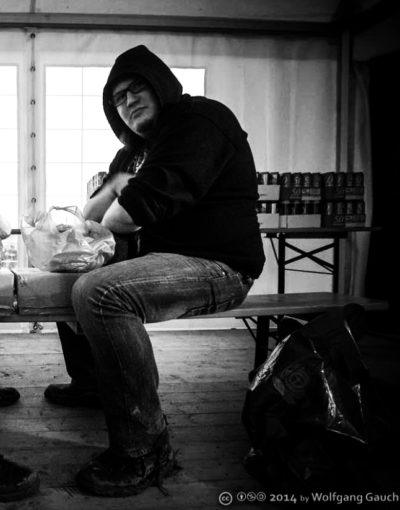 Liebe Metallergemeinde,
ja, richtig – es ist mittlerweile hinlänglich bekannt: metal.de feiert in diesem Jahr seinen 20. Geburtstag. In nächster Zeit werdet ihr diesbezüglich einiges an Interviews, Specials, Verlosungen, Gratulationen und und und … von uns serviert bekommen. Den Anfang haben wir schon gemacht: Hier erklärt Chefredakteur Eckart das Jahr 2016 zum metal.de-Partyjahr, und hier haben wir nochmal unsere skurrilsten und bizarrsten Interviews in 20 Jahren metal.de herausgekramt.
Aber 1996 wurde nicht nur der erste Vorläufer von metal.de aus der Taufe gehoben, nein. 1996 war auch musikalisch ein extrem starkes Jahr für unser aller Lieblingsgenre. Auch das wollen wir natürlich feiern – und tun das auch schon seit Anfang des Jahres, nämlich mit unserer Specialreihe "Turn Back Time to 1996". Hier alle bisher erschienenen acht Folgen im Überblick:
Weitere Folgen sind natürlich in Planung – was genau, das verraten wir natürlich noch nicht, aber man hat munkeln hören, dass es was mit Skorpionen und dunklen Künsten zu tun hat … wer raten möchte, kann das in den Kommentaren tun, dem Gewinner winkt ein Bier wann immer er auf einem Festival/Konzert ist, auf dem auch wir sind. Prost schon mal!
Natürlich werden 2016 nicht nur Jubiläen gefeiert. Gerade der September schien vollgestopft mit großen Themen, die wir natürlich für euch unter die Lupe genommen haben. Da wäre das neue SONATA ARCTICA-Album "The Ninth Hour", das von mir höchstpersönlich rezensiert und im Interview näher beleuchtet wurde. Und weils das zehnte SONATA ARCTICA-Album ist, haben wir Bandkopf Tony Kakko noch gebeten, doch bitte einmal seinen eigenen Backkatalog zu kommentieren: SONATA ARCTICA – Diskografie-Check mal anders!
Nachdem sich die Crossover-Asis KANZLER & SÖHNE im August bereits einen fetten Verriss abgeholt hatten, hat sich darüber hinaus unser Cheffchen nochmal mit den Maskenmännern hingesetzt und ihnen ein paar, ähm, Fragen gestellt. Sagen wir mal so, das Interview ist lesenswert. Mainly for shits and giggles. Außerdem im September im Interview mit metal.de: Simone von EPICA, Ryan O'Keefe von AIRBOURNE, BLOOD RED THRONE, Martin van Drunen von ASPHYX, die Höchstwertungsabgreifer VINDLAND, Fredrik Åkesson von OPETH, Charlotte Wessels von DELAIN und viele mehr. Und ein besonderes Schmankerl: HEAVEN SHALL BURN haben sich unseren Fragen zu "Wanderer" im Video-Interview mit dem Klugster-Kollegen Alex gestellt.
Uuuuuuuund dann hätten wir da noch ein paar Schbeschälls für euch: Der Klugster-Alex, der Milch Klaas, Chefchen Eckart, Specialchefin Nadine und meiner Einer haben uns zum Beispiel zusammengesetzt, um mal ein bisschen Niveau an den Stammtisch zu bringen. Und der Kollege Lattemann hat einen Teil seiner wertvollen Freizeit den großen Alten gewidmet und H.P. Lovecrafts Einfluss auf die Metalszene untersucht. Hier geht's zum ersten Teil "H.P. Lovecrafts Encyclopaedia Necronomica – ein Überblick über seine gesammelten Werke", hier zum zweiten Teil (von drei), "Die zehn hingebungsvollsten H.P. Lovecraft-Projekte: Teil 1". Der dritte Teil mit fünf weiteren hingebungsvollen Lovecraft-Projekten folgt übrigens bald.
Nu aber genug gelabert: Auf den nächsten paar Seiten präsentieren wir euch die zeh… ähm, zwölf besten Platten des Monats September (sorry, die Auswahl war diesen Monat wirklich, wirklich schwer), die schlimmsten Gurken sowie unsere höchstpersönlichen, in nächtelanger empirischer Auswertung ermittelten Playlists des Monats. Viel Spaß beim Klicken, Stöbern, Lesen, Lachen, Aufregen wünschen euch
Textchef Stephan & metal.de
Mehr zu ...
| | |
| --- | --- |
| Bands | |
| Stile | Black Metal, Death Metal, Doom Metal, Gothic / Darkwave, Gothic Metal / Mittelalter, Hardcore / Grindcore, Heavy Metal, Industrial / Electronic, Modern Metal, Pagan / Viking Metal, Post-Rock/Metal, Progressive Rock/Metal, Punk, Rock, Sonstige, Thrash Metal |
Interessante Alben finden
Auf der Suche nach neuer Mucke? Durchsuche unser Review-Archiv mit aktuell 31134 Reviews und lass Dich inspirieren!
Insomnium, Winterfylleth, Breakdown Of Sanity, Skálmöld, In The Woods..., Epica, Lordi, Heaven Shall Burn, Opeth, Operation: Mindcrime, Asenblut, Alcest und Pain auf Tour
28.06. - 30.06.19
metal.de präsentiertFull Force Festival 2019 (Festival)Parkway Drive, Arch Enemy, Limp Bizkit, Behemoth, Flogging Molly, Lamb Of God, Amorphis, Beartooth, Cannibal Corpse, Kadavar, Knorkator, Our Last Night, Sick Of It All, Terror, The Amity Affliction, Zeal & Ardor, Alcest, Animals As Leaders, Annisokay, Any Given Day, At The Gates, Bad Omens, Batushka, Billybio, Black Peaks, Bleeding Through, Bury Tomorrow, Cane Hill, Carach Angren, Crystal Lake, Harakiri For The Sky, Harms Way, Ignite, Infected Rain, Jinjer, Landmvrks, Malevolence, Mambo Kurt, Mantar, Massendefekt, Municipal Waste, Orange Goblin, Polaris, Power Trip, Sondaschule, Tesseract, The Ocean, Turnstile, Walking Dead On Broadway, While She Sleeps, Whitechapel, Wolfheart, Amenra, To The Rats And Wolves, Ultha, Napalm Death, Gutalax, Crowbar, Perturbator, Smoke Blow und Drug ChurchFerropolis, Gräfenhainichen
03.07. - 06.07.19
metal.de präsentiertRockharz Open Air 2019 (Festival)Amon Amarth, Anvil, Apocalypse Orchestra, Bloodred Hourglass, BROTHERS OF METAL, Burning Witches, Caliban, Children Of Bodom, Combichrist, Coppelius, Cradle Of Filth, Dimmu Borgir, Dragonforce, Elvellon, Elvenking, Epica, Feuerschwanz, Follow The Cipher, Freedom Call, From North, Grand Magus, Grave, Hämatom, Hardline, Heidevolk, Hellboulevard, Hypocrisy, J.B.O., Kärbholz, Kissin' Dynamite, Korpiklaani, Lacrimas Profundere, Legion Of The Damned, Lordi, Milking The Goatmachine, Mono Inc., Mr. Irish Bastard, Nailed To Obscurity, Nervosa, Omnium Gatherum, Overkill, Russkaja, Saltatio Mortis, Soilwork, Stam1na, The Night Flight Orchestra, The O'Reillys & The Paddyhats, The Unguided, U.D.O., Vader, Van Canto, Visions Of Atlantis, Warkings, Wintersun und WittFlugplatz Ballenstedt, Ballenstedt
14.08. - 17.08.19
metal.de präsentiertSummer Breeze 2019 (Festival)Aborted, After The Burial, Ahab, Airbourne, All Hail The Yeti, Anaal Nathrakh, Anomalie, Avantasia, Avatar, Battle Beast, Beast In Black, Begging For Incest, Blasmusik Illenschwang, Brainstorm, Brymir, Bullet For My Valentine, Burning Witches, Bury Tomorrow, Carnal Decay, Caspian, Clawfinger, Code Orange, Cradle Of Filth, Crippled Black Phoenix, Cypecore, Death Angel, Decapitated, Décembre Noir, Deicide, Deluge, Deserted Fear, Dimmu Borgir, Dornenreich, Double Crush Syndrome, Downfall Of Gaia, Dragonforce, Dust Bolt, Dyscarnate, Eat The Gun, Eluveitie, Emperor, Endseeker, Enslaved, Equilibrium, Evergreen Terrace, Evil Invaders, Eyes Set To Kill, Fear Of Domination, Final Breath, Frosttide, Gaahls Wyrd, Get The Shot, Gost, Grand Magus, Gutalax, Hämatom, Hamferð, Hammerfall, Harpyie, Hate Squad, Higher Power, Hypocrisy, In Flames, INGESTED, Izegrim, Kambrium, King Apathy, King Diamond, Kissin' Dynamite, Knasterbart, Krisiun, Kvelertak, Legion Of The Damned, Letters From The Colony, Lik, Lionheart, Loathe, Lord Of The Lost, Meshuggah, Midnight, Morbid Alcoholica, Mr. Irish Bastard, Mustasch, Myrkur, Nailed To Obscurity, Napalm Death, Nasty, Oceans Of Slumber, Of Mice & Men, Orphalis, Parkway Drive, Pighead, Promethee, Queensrÿche, Randale, Rectal Smegma, Rise Of The Northstar, Rotting Christ, Skálmöld, Slaughter Messiah, Soilwork, Subway To Sally, Teethgrinder, Testament, The Contortionist, The Dogs, The Lazys, The New Death Cult, The Ocean, Thron, Thy Art Is Murder, Turbobier, Tragedy, Twilight Force, Une Misère, Unearth, Unleashed, Unprocessed, Van Canto, Versengold, Windhand, Winterstorm, Xenoblight und Zeal & ArdorSummer Breeze Open Air, Dinkelsbühl, Dinkelsbühl
Alle Konzerte von Insomnium, Winterfylleth, Breakdown Of Sanity, Skálmöld, In The Woods..., Epica, Lordi, Heaven Shall Burn, Opeth, Operation: Mindcrime, Asenblut, Alcest und Pain anzeigen »