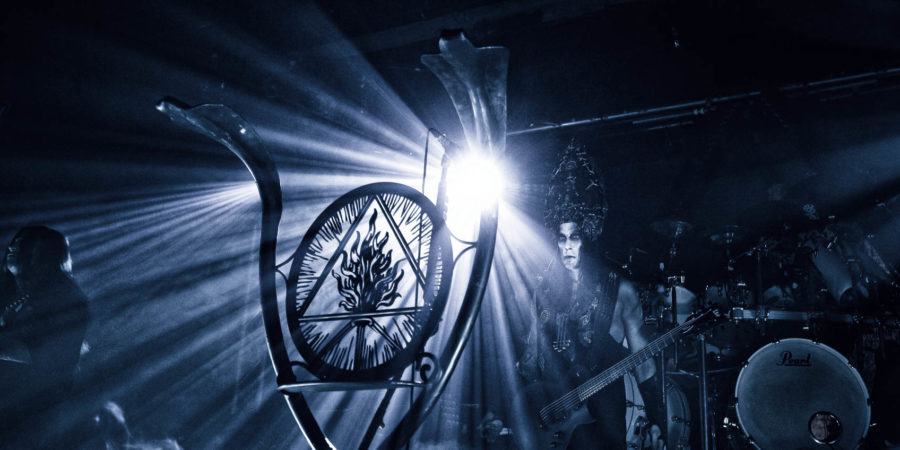 Behemoth - "Ecclesia Diabolica Evropa 2019 e.v."-Tour

Konzertbericht
Billing: Behemoth, At The Gates und Wolves In The Throne Room
Konzert vom 01.02.2019 | Dock's, Hamburg
Nicht nur eine Woche zuvor in Berlin hieß es SOLD OUT: auch in Hamburg ist die "Ecclesia Diabolica Evropa 2019 e.v ."-Tour restlos ausverkauft – so wie übrigens auch mehr als die Hälfte der gesamten Tour. Kein Wunder, denn mit BEHEMOTH, AT THE GATES und WOLVES IN THE THRONE ROOM hat sich eine äußerst schlagkräftige Truppe zusammengefunden. Wir haben uns das Triumvirat in der Hansestadt angeschaut.
Text: Peter Mildner
Fotos: Birger Treimer Photographics
WOLVES IN THE THRONE ROOM trotzen den Bedingungen
Das dritte Mal in Hamburg in nicht mal zwei Jahren, dazu der Support-Slot und das für die Große Freiheit 36 übliche Ärgernis eines Frühkonzerts, das sogar noch 15 Minuten früher als geplant beginnt: eigentlich gäbe es genug Gründe für mäßiges Interesse an WOLVES IN THE THRONE ROOM aber der Saal ist bereits mehr als zur Hälfte gefüllt, als die Black Metaller in ihr Set einsteigen. Großartig Zeit haben die Wölfe, die wie gewohnt ohne Live-Basser aber mit drei Sechssaitern auftreten, nicht, um ihren Thronsaal mit der üblicherweise in Zeitlupe zelebrierten Räucherkerzen-Show zu vernebeln. Knapp 30 Minuten sind gerade mal genug, um das aktuelle Album "Thrice Woven" ein letztes Mal im Rahmen einer Tour zu bespielen, bevor es wieder ins Studio für das dann erste Album auf ihrem neuen Label Century Media geht. Älteres Material kommt leider nicht zum Zuge, dafür reift wieder die Erkenntnis, dass WOLVES IN THE THRONE ROOM am besten im Rahmen einer eigenen Headliner-Tour genossen werden: zu dünn der Sound und zu inadäquat die Atmospähre, um die wie immer mit Hingabe aufspielende Band ausreichend zu würdigen.
Setlist Wolves In The Throne Room:
Angrboda
The Old Ones Are With Us
Born From the Serpent's Eye
Galerie mit 7 Bildern: Wolves In The Throne Room – Ecclesia Diabolica Evropa 2019 e.v. Tour in Hamburg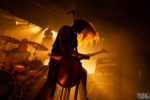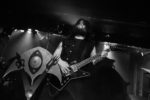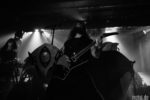 AT THE GATES – nicht nur modisch vorn dabei
Fehlende Atmosphäre war für Schwedentod à la AT THE GATES noch nie ein K.O.-Kriterium und auch klanglich können sich die Göteborger heute nicht beschweren. Bei durchschlagendem Sound könnte es aber schon etwas voller sein, immerhin kann man selbst zu Beginn des Sets die vorderen Reihen bequem von links nach rechts durchschreiten, ohne allzu sehr anzuecken. AT THE GATES haben sich aber, um nicht von Kanonenfutter zu sprechen, wohl damit arrangiert, nicht mehr die große erste Geige im Metal-Zirkus zu spielen und nehmen nicht zum ersten Mal die Rolle des Supports für eine historisch gefühlt weniger gewichtige Band an. Dennoch (oder gerade deswegen) legen Tompa & Co., die übrigens mit Shirts von BOLT THROWER, dem Dario Argento-Kultstreifen "Susperia" oder "You Can Only Trust Yourself And The First Six Black Sabbath Albums" bekleidet modeseitig heute eh ganz vorne sind, unbekümmert eine Leistung aufs Parkett, wie man sie seit dem Reunion-Gig auf dem 2008er Wacken von AT THE GATES gewohnt ist: irgendwie routiniert aber immer noch mit merklich Spaß an der Sache. Perlen wie "The Swarm", "Kingdome Gone" oder Drum-Support von BEHEMOTH's Inferno bei "Blinded By Fear" wie auf anderen Terminen der Tour gibt es heute zwar nicht aber wer so eine sonstige Hitdichte in der Setlist sein Eigen nennen kann, der muss auch nur noch genügend Rock'n'Roll durch seine Poren ausschwitzen, um zu begeistern.
Setlist At The Gates:
Intro (Der Widerstand)
To Drink From the Night Itself
Slaughter of the Soul
At War With Reality
A Stare Bound in Stone
Cold
Daggers of Black Haze
Death and the Labyrinth
Heroes and Tombs
Suicide Nation
The Book of Sand (The Abomination)
Blinded By Fear
The Night Eternal
Galerie mit 19 Bildern: At The Gates – Ecclesia Diabolica Evropa 2019 e.v. Tour in Hamburg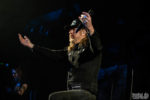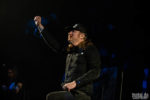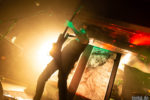 BEHEMOTH bieten Hochglanz-Black/Death
Dass auch BEHEMOTH den Rock'n'Roll immer noch im Blut haben, dürfte wohl kaum einer bezweifeln. Nichtsdestotrotz ist das, was die Polen heute auf der Bühne bieten, ein krasses Kontrastprogramm zu ihren zwei Support-Bands. Mit jedem Album und mit jeder dazugehörigen Tour werden die Shows noch ein bisschen aufwändiger, noch in bisschen durchchoreographierter und, oh Schreck, irgendwie auch noch ein bisschen glamouröser. Spontaneität? Fehlanzeige. Der einzige Fehltritt, den sich Band und Crew heute Abend leisten, ist der partout nicht hängenbleiben wollende, schwarze Vorhang, der zwischen Bühne und Fans drapiert wird und zu Beginn des Konzerts die Leinwand für die Projektion eines umgedrehten Kreuzes inmitten der Umrisse einer Deutschlandkarte bietet. Ansonsten bekommt das Hamburger Publikum heute Abend eine Hochglanz-Show geboten, der zwar jegliches Überraschungsmoment abgeht, die aber auch in Punkto Professionalität zumindest in der Größe einer Band wie BEHEMOTH wahrscheinlich ihresgleichen sucht.
Denn mit Feuerfontänen (selbst bei der kleinen Decke der Großen Freiheit 36), umgedrehten Kreuzen aus der Nebelmaschine, Blutgespucke, Trommeleinlagen mit allen vier Bandmitgliedern oder auch glänzend-schwarzem Konfettiregen am Ende bieten BEHEMOTH einen Unterhaltungswert, bei dem zwar längst nicht mehr nur die Musik im Vordergrund steht, Kurzweil aber garantiert ist. Und zöge man all den Kostüm-Firlefanz und das Masken-Brimborium ab (als wären Nergal und Orion zwei gigantische, schwarze Pfaue auf dem Kopf verstorben), stünden im heutigen Reportiore wohl immer noch mehrheitlich Songs, die mit zum Besten gehören, was im Black/Death geboten werden kann. Neben einer Auswahl des aktuellen Albums "I Loved You At Your Darkest", die live noch ein wenig reifen müssen, werden insbesondere die Klassiker und Pflichtnummern wie "Slaves Shall Serve", "Conquer All" oder das unvermeidliche "Chant For Eschaton 2000" abgefeiert. Ganz alte Schinken bleiben leider aussen vor aber erfreulicherweise halten wieder vermehrt Songs aus der "Evangelion"-Ära Einzug in die Setlist. Selbst wenn BEHEMOTH heuer mehr von einer perfekt abgestimmten Marketing-Maschinerie haben: live gibt es in diesem Sektor immer noch wenige Bands, die ihnen auf diesem Level das Wasser reichen können.
Setlist Behemoth:
Intro (Solve)
Wolves ov Siberia
Daimonos
Ora Pro Nobis Lucifer
Bartzabel
Ov Fire and the Void
God = Dog
Conquer All
Ecclesia Diabolica Catholica
Decade of Therion
Blow Your Trumpets Gabriel
Slaves Shall Serve
Chant For Eschaton 2000
Lucifer
We Are The Next 1000 Years
Coagvla
Galerie mit 43 Bildern: Behemoth – Ecclesia Diabolica Evropa 2019 e.v. Tour in Hamburg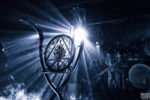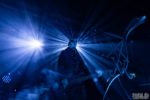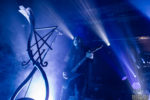 Interessante Alben finden
Auf der Suche nach neuer Mucke? Durchsuche unser Review-Archiv mit aktuell 32393 Reviews und lass Dich inspirieren!
Behemoth, At The Gates und Wolves In The Throne Room auf Tour
30.07. - 01.08.20
Wacken Open Air 2020 (Festival)Slipknot, Amon Amarth, Judas Priest, Mercyful Fate, Avantasia, In Extremo, Dropkick Murphys, Tribulation, Evergrey, Kadavar, Van Canto, Mad Max und Wolves In The Throne RoomWacken Open Air, Wacken
06.08. - 08.08.20
Party.San Metal Open Air 2020 (Festival)Dismember, Carcass, Mayhem, Katatonia, Sacred Reich, Alcest, Asphyx, 1914, Anomalie, Benediction, Beyond Creation, Blood Incantation, Borknagar, Bound To Prevail, Bütcher, Carnation (BE), Caroozer, Crom Dubh, Fleshcrawl, Graceless, Heidevolk, High Spirits, Hirax, Idle Hands, Impaled Nazarene, Infernäl Mäjesty, Kadaverficker, Lunar Shadow, Månegarm, Malevolent Creation, Moonsorrow, Motorowl, Nocturnus AD, Nornír, Nyktophobia, Obscurity, Onslaught, Origin, Razor, Revel In Flesh, Saor, Scalpture, Shape Of Despair, Sinners Bleed, Space Chaser, Suffocation, Thron, Total Hate, Uada, Visigoth, Whoredome Rife, Wolves In The Throne Room und WormrotParty.San Open Air, Obermehler
12.08. - 15.08.20
metal.de präsentiertSummer Breeze 2020 (Festival)1914, Agrypnie, Alestorm, Amenra, Amon Amarth, Amorphis, Angelus Apatrida, Any Given Day, Architects, Avatarium, Belzebubs, Benediction, Benighted, Blasmusik Illenschwang, Bloodywood, Bodom After Midnight, Carbon Killer, Cattle Decapitation, Clutch, Combichrist, Conjurer, Cytotoxin, Dark Funeral, Dark Tranquillity, Dawn Of Disease, Debauchery, Despised Icon, Devin Townsend, Djerv, Dwaal, Eisregen, Emil Bulls, Ensiferum, Fiddler's Green, Fight The Fight, Finntroll, Fleshcrawl, Fleshgod Apocalypse, Frog Leap, Gatecreeper, Gloryhammer, God Is An Astronaut, Gost, Gutalax, Haggefugg, Hatebreed, Havok, Idle Hands, Implore, Insomnium, I Prevail, Igorrr, Infected Rain, Jinjer, Kadavar, Kraanium, Leaves' Eyes, Lüt, Mass Hysteria, Mr. Hurley & Die Pulveraffen, Myrkur, Neaera, Necrophobic, Nekrogoblikon, Nytt Land, Opeth, Paradise Lost, Pipes And Pints, Primal Fear, Resolve, Russkaja, Sacred Reich, Saltatio Mortis, Shadow of Intent, Shiraz Lane, Siamese, Sonata Arctica, Slope, Static-X, Stray From The Path, Striker, Suffocation, Svalbard, Swallow The Sun, tAKiDA, Terror, The New Roses, The Night Flight Orchestra, The Oklahoma Kid, The Prophecy 23, The Vintage Caravan, The Wildhearts, Thundermother, Tides From Nebula, Triddana, Uada, Vitriol, Vulture, Wardruna, Warkings, While She Sleeps, Within Temptation und Wolves In The Throne RoomFlugplatz Dinkelsbühl, Dinkelsbühl
Alle Konzerte von Behemoth, At The Gates und Wolves In The Throne Room anzeigen »