Katatonia
Katatonia
Konzertbericht
Billing: Katatonia, Novembre und Opeth
Konzert vom 2001-11-30 | Logo, Hamburg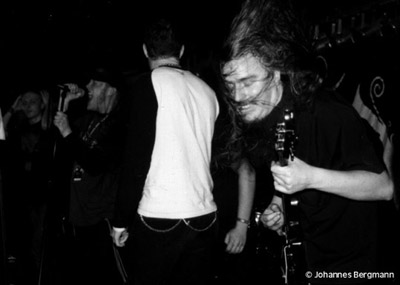 Zehn Minuten später also enterte das Quartett betont gelassen die Bühne, Gitarrist und Zwei-Meter-Titan Peter Lindgren entschuldigte sich in kurzer Förmlichkeit für den Ausfall Åkerfeldts, welcher übrigens fortan in der Tat kein Sterbenswörtchen von sich gab. Und dann: Feuer Frei! "Leper Affinity" vom aktuellen Machwerk setzte den kolossalen Auftakt zu einem zunächst instrumentalen Feuerwerk, das im Verlaufe der nächsten 75 Minuten sämtliche fünf Alben behandelte und somit, wie schon einige Monate zuvor in Wacken, die Jünger der ersten Stunde ebenso begeistern vermochte wie diejenigen, die erst mit "Blackwater Park" in diese unendliche Welt der heißkalten Gefühlsregungen Opeths eintauchten. Und was wohl kaum jemand zuvor erwartet hätte: Opeth funktionieren auch rein instrumental! Auch wenn gerade das zeitweise mächtige, hin und wieder fragile und dann wieder schlammig donnernde Organ Åkerfeldts ein unverzichtbares Segment des Klangozeans der Band darstellt, so reißen einen Saiten- und Schlagwerkarbeit dennoch derart aus den Tretern, dass man sich hin und wieder fragt, ob an dieser Stelle nun eigentlich Gesang vorgesehen war oder ob das als Gitarrensolo durchging. Auf dieser winzigen Bühne von vielleicht 40 cm Höhe und eine Armlänge von der vordersten Reihe entfernt gaben sich die vier Musiker derart natürlich, dass man darüber ihre musikalische Unnahbarkeit beinahe vergessen mochte. Der seines Mikros beraubte Åkerfeldt nun animierte via Mimik das Publikum zum Ersetzen seiner Vocals, was auch gerade in ruhigen Momenten wie dem alles überragenden "The Drapery Falls" durchaus zum Erfolg führte. Und dennoch musste das Publikum nicht gänzlich auf Gesang verzichten: So gaben sich denn von Lied zu Lied die Gastsänger das Mikro in die Hand: Zu "Credence" präsentierte Katatonia-Sänger Renske eine pässliche, aber etwas unsichere Version der Gesangslinien (man bedenke die wirklich kurze Vorbereitungszeit von vielleicht einem Tag!), desweiteren Katatonias Saitenmeister und zweite Hauptfigur Blakkheim alias Anders Nyström, Carmelo von Novembre (u.a. das überwältigende "Advent") wie auch deren Gitarrist Massimiliano Pagliuso ("Demon Of The Fall"), die jeweils am vokalen Geschehen eines Songs teilhaben durften. Krönung jedoch dieser Reihe war gegen Ende das unbehelligte Entern der Bühne durch einen jungen Blondschopf aus dem Publikum, der sich von den Worten Lindgrens als Auftakt zu "Demon Of The Fall" (und wohl durch einen tüchtigen Humpen Met) dazu beflügelt sah, das Steuer an sich zu reißen und ebenso engagiert wie ohrenbetäubend falsch in die Membrane zu seiern. Seine Textunkenntnis suchte er schließlich durch tumbes Gegrunze zu tarnen, was aber aufgrund der exzellenten Arbeit des Mixers (leider) auch nicht gelingen wollte. Schließlich, bei der Titel gebenden Textphrase von "Demon Of The Fall", wurde den Worten des Gitarristen Folge geleistet und das Publikum "went completly crazy" – ebenso wie die Bühnenakteure, die sich mit einem Mal dupliziert zu haben schienen und sich mit Ausnahme der ursprünglichen Besetzung nun um das Frontmikro scharten und zu trümmerndem Takte der Schlagmaschine namens Lopez abwechselnd Lippen und Haare über den Mikrofonkorb rotieren ließen. Und so erfuhr eine furiose Steigerung, was furios schon begonnen hatte. Leider, und eigentlich sehr zu aller Verwunderung und Enttäuschung, blieben sogar nach flehenden "We want more!"-Rufen die Zugabe aus. Retrospektiv ist anzumerken, dass die diversen "Gastsänger" keinen wirklichen Ersatz boten für den Verlust der Åkerfeldtschen Emotion, aber dennoch ihre Daseinsberechtigung erfuhren. Boten sie doch oft eine gewisse Orientierung in den bis zu 12 Minuten langen Stücken – von dem Exoten-Bonus ganz zu schweigen, wer kann schon von sich sagen, Opeth & Katatonia (wenn auch nur den Sänger) zusammen spielen gesehen zu haben… hehe… Darüber hinaus hat dieser Gig in einzigartiger Stärke bewiesen, dass Opeth die beispiellose Eigenschaft besitzen, diese Musik allein mit "herkömmlichen" Instrumenten zu leben, einmal mehr gänzlich ohne Synthie- geschweige denn Showeffekte. Und auch jene "Pflichtwahrnehmung" den erwartungsvollen Fans gegenüber, die die Band ihren Gig nicht einfach absagen ließ und die sie auch nach vollbrachtem Werk jedem Einzelnen der vordersten Reihen mit kräftigem Händedruck ihre Dankbarkeit für die Unterstützung audrücken ließ, ist ein Merkmal für die angenehme Bodenständigkeit der Musiker. – Wie schon nach dem Gastspiel in Wacken verließ ich auch diesmal restlos erfüllt den letzten Endes bis auf den letzten Stehplatz gefüllten Raum.
Interessante Alben finden
Auf der Suche nach neuer Mucke? Durchsuche unser Review-Archiv mit aktuell 32245 Reviews und lass Dich inspirieren!
Katatonia und Opeth auf Tour
06.08. - 08.08.20
Party.San Metal Open Air 2020 (Festival)Dismember, Carcass, Mayhem, Katatonia, Sacred Reich, Alcest, Asphyx, 1914, Anomalie, Benediction, Beyond Creation, Blood Incantation, Borknagar, Bound To Prevail, Bütcher, Carnation (BE), Caroozer, Crom Dubh, Fleshcrawl, Graceless, Heidevolk, High Spirits, Hirax, Idle Hands, Impaled Nazarene, Infernäl Mäjesty, Kadaverficker, Lunar Shadow, Månegarm, Malevolent Creation, Moonsorrow, Motorowl, Nocturnus AD, Nornír, Nyktophobia, Obscurity, Onslaught, Origin, Razor, Revel In Flesh, Saor, Scalpture, Shape Of Despair, Sinners Bleed, Space Chaser, Suffocation, Thron, Total Hate, Uada, Visigoth, Whoredome Rife, Wolves In The Throne Room und WormrotParty.San Open Air, Obermehler
12.08. - 15.08.20
metal.de präsentiertSummer Breeze 2020 (Festival)1914, Agrypnie, Alestorm, Amenra, Amon Amarth, Amorphis, Angelus Apatrida, Any Given Day, Architects, Avatarium, Belzebubs, Benediction, Benighted, Blasmusik Illenschwang, Bloodywood, Bodom After Midnight, Carbon Killer, Cattle Decapitation, Clutch, Combichrist, Conjurer, Cytotoxin, Dark Funeral, Dark Tranquillity, Dawn Of Disease, Debauchery, Despised Icon, Devin Townsend, Djerv, Dwaal, Eisregen, Emil Bulls, Ensiferum, Fiddler's Green, Fight The Fight, Finntroll, Fleshcrawl, Fleshgod Apocalypse, Frog Leap, Gatecreeper, Gloryhammer, God Is An Astronaut, Gost, Gutalax, Haggefugg, Hatebreed, Havok, Idle Hands, Implore, Insomnium, I Prevail, Igorrr, Infected Rain, Jinjer, Kadavar, Kraanium, Leaves' Eyes, Lüt, Mass Hysteria, Mr. Hurley & Die Pulveraffen, Myrkur, Neaera, Necrophobic, Nekrogoblikon, Nytt Land, Opeth, Paradise Lost, Pipes And Pints, Primal Fear, Resolve, Russkaja, Sacred Reich, Saltatio Mortis, Shadow of Intent, Shiraz Lane, Siamese, Sonata Arctica, Slope, Static-X, Stray From The Path, Striker, Suffocation, Svalbard, Swallow The Sun, tAKiDA, Terror, The New Roses, The Night Flight Orchestra, The Oklahoma Kid, The Prophecy 23, The Vintage Caravan, The Wildhearts, Thundermother, Tides From Nebula, Triddana, Uada, Vitriol, Vulture, Wardruna, Warkings, While She Sleeps, Within Temptation und Wolves In The Throne RoomFlugplatz Dinkelsbühl, Dinkelsbühl
12.08. - 14.08.21
metal.de präsentiertParty.San Metal Open Air 2021 (Festival)Dismember, Carcass, Mayhem, 1914, Anomalie, Asphyx, Benediction, Beyond Creation, Blood Incantation, Borknagar, Bound To Prevail, Bütcher, Carnation (BE), Crom Dubh, Fleshcrawl, Graceless, Heidevolk, High Spirits, Impaled Nazarene, Kadaverficker, Katatonia, Lunar Shadow, Månegarm, Motorowl, Nocturnus AD, Nornír, Nyktophobia, Obscurity, Onslaught, Origin, Razor, Revel In Flesh, Sacred Reich, Saor, Scalpture, Shape Of Despair, Sinners Bleed, Space Chaser, Thron, Total Hate, Uada, Visigoth, Whoredome Rife, Wolves In The Throne Room und WormrotParty.San Open Air, Obermehler
Alle Konzerte von Katatonia und Opeth anzeigen »