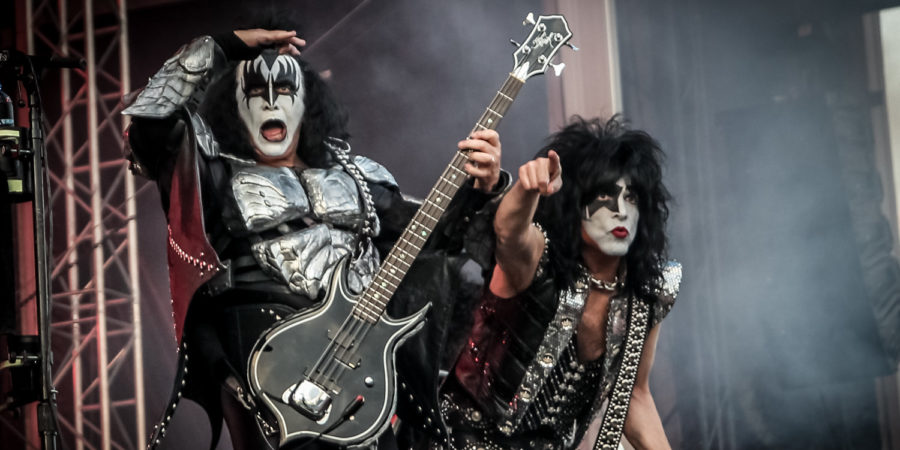 Tons Of Rock 2019
Der große Festivalbericht
Konzertbericht
Billing: Kiss, Def Leppard, Volbeat, Slayer, Dropkick Murphys, In Flames, Behemoth, Wolfmother, Dream Theater, Satyricon, Mayhem, Ulver, Vreid, Kalmah, The Hu, Possessed, Conception, Vltimas, Testament, Carcass, Accept und Djerv
Konzert vom 27.06.2019 | Ekebergsletten, Oslo
Letztes Jahr hatten wir noch die famose Lage des Festivals auf der Festung Halden gepriesen, jetzt ist das Tons Of Rock nach Oslo umgezogen. Trotzdem hat das Open Air einiges zu bieten: Mit fetten Headlinern wie KISS, DEF LEPPARD und VOLBEAT, einem unverhofft tollen Abschied und dazu ein paar norwegischen Leckerbissen. metal.de hat sich die Chose für Euch angeguckt.
Bevor aber das Festival an sich auf dem weiträumigen Rund oberhalb von Oslo eingeläutet wird, beginnt der Vorabend mit einem Paukenschlag. Oder mehreren. Denn die Teutonen-Metaller ACCEPT spielen in der Oper mitten in Oslo City auf. Mit Orchester.
Mittwoch, 26.06.2019
Man muss kein Freund von Opern sein, um sich für Opernhäuser zu begeistern: Die große Opernbühne, der riesige Zuschauerraum, die übereinandergestapelten Logen. Zuschauer so weit das Auge sehen kann. Ausverkauft. Und die Mannen um Gitarrist Wolf Hoffmann haben sich offensichtlich vom Opernflair inspirieren lassen. Denn sie teilen sich nicht nur die Bühne mit einem Orchester (schön aufgeteilt: rechts auf der Bühne die Band, links das Orchester), sondern haben auch ihr Musikprogramm angepasst. Neben den eigenen Klassikern zitieren ACCEPT Edvard Grieg, daneben auch Beethoven und Tschaikowski.
Galerie mit 19 Bildern: Accept - Tons Of Rock 2019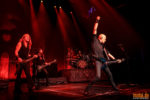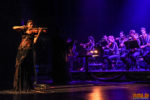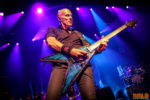 Es ist jedenfalls gut zu sehen, wieviel Spaß ihnen die Sache macht: Wolf Hoffmann grinst wie ein Honigkuchenpferd, wenn er die altbekannten und beliebten Riffs von "Balls To The Walls" und "Fast As A Shark" spielt, und lässt dabei keine Rockstarpose aus. Von seinen Mitstreitern trumpft vor allem Drummer Christopher Williams auf, der sogar ein Schlagzeugsolo spielen darf. Den einzigen Aussetzer erlaubt sich somit Sänger Mark Tornillo, dem bei der Bandvorstellung der Name der eigenen Geigerin partout nicht einfallen will: Mark, sie heißt Ava-Rebekah Rahman.
ACCEPT spielen "Stalingrad", auf dem Festivalgelände geht die Welt unter
Die Bestuhlung des Opernrundes lässt bei den Besuchern allerdings keine Ekstase zu: Moshpit und Crowdsurfing bleiben – wen wundert's – aus, und auch mit Headbanging tun sich die Fans etwas schwer. Trotzdem geht das, was danach zu hören ist, als Begeisterung durch. Abgerundet wird das Ganze mit einem kleinen Feuerwerk auf dem Operndach. So kann es gerne weitergehen.
Was die Fans allerdings nicht mitbekommen haben: Während ACCEPT im geschützten Raum der Oper "Stalingrad", "Shadow Soldiers" und "Teutonic Terror" intonieren, geht auf dem Festivalgelände zwei Kilometer weiter östlich ein Unwetter nieder. Welt unter in Oslo-Ekeberg. Dabei hat der Sturm ein paar Verankerungen gelöst, passiert ist aber – außer einem verzögerten Aufbau – glücklicherweise nichts.
Interessante Alben finden
Auf der Suche nach neuer Mucke? Durchsuche unser Review-Archiv mit aktuell 32398 Reviews und lass Dich inspirieren!
Kiss, Volbeat, Slayer, Dropkick Murphys, In Flames, Behemoth, Wolfmother, Dream Theater, Satyricon, Mayhem, Vreid, Kalmah, The Hu, Vltimas, Testament, Carcass, Accept und Djerv auf Tour
30.07. - 01.08.20
Wacken Open Air 2020 (Festival)Slipknot, Amon Amarth, Judas Priest, Mercyful Fate, Avantasia, In Extremo, Dropkick Murphys, Tribulation, Evergrey, Kadavar, Van Canto, Mad Max und Wolves In The Throne RoomWacken Open Air, Wacken
06.08. - 08.08.20
Party.San Metal Open Air 2020 (Festival)Dismember, Carcass, Mayhem, Katatonia, Sacred Reich, Alcest, Asphyx, 1914, Anomalie, Benediction, Beyond Creation, Blood Incantation, Borknagar, Bound To Prevail, Bütcher, Carnation (BE), Caroozer, Crom Dubh, Fleshcrawl, Graceless, Heidevolk, High Spirits, Hirax, Idle Hands, Impaled Nazarene, Infernäl Mäjesty, Kadaverficker, Lunar Shadow, Månegarm, Malevolent Creation, Moonsorrow, Motorowl, Nocturnus AD, Nornír, Nyktophobia, Obscurity, Onslaught, Origin, Razor, Revel In Flesh, Saor, Scalpture, Shape Of Despair, Sinners Bleed, Space Chaser, Suffocation, Thron, Total Hate, Uada, Visigoth, Whoredome Rife, Wolves In The Throne Room und WormrotParty.San Open Air, Obermehler
12.08. - 15.08.20
metal.de präsentiertSummer Breeze 2020 (Festival)1914, Agrypnie, Alestorm, Amenra, Amon Amarth, Amorphis, Angelus Apatrida, Any Given Day, Architects, Avatarium, Belzebubs, Benediction, Benighted, Blasmusik Illenschwang, Bloodywood, Bodom After Midnight, Carbon Killer, Cattle Decapitation, Clutch, Combichrist, Conjurer, Cytotoxin, Dark Funeral, Dark Tranquillity, Dawn Of Disease, Debauchery, Despised Icon, Devin Townsend, Djerv, Dwaal, Eisregen, Emil Bulls, Ensiferum, Fiddler's Green, Fight The Fight, Finntroll, Fleshcrawl, Fleshgod Apocalypse, Frog Leap, Gatecreeper, Gloryhammer, God Is An Astronaut, Gost, Gutalax, Haggefugg, Hatebreed, Havok, Idle Hands, Implore, Insomnium, I Prevail, Igorrr, Infected Rain, Jinjer, Kadavar, Kraanium, Leaves' Eyes, Lüt, Mass Hysteria, Mr. Hurley & Die Pulveraffen, Myrkur, Neaera, Necrophobic, Nekrogoblikon, Nytt Land, Opeth, Paradise Lost, Pipes And Pints, Primal Fear, Resolve, Russkaja, Sacred Reich, Saltatio Mortis, Shadow of Intent, Shiraz Lane, Siamese, Sonata Arctica, Slope, Static-X, Stray From The Path, Striker, Suffocation, Svalbard, Swallow The Sun, tAKiDA, Terror, The New Roses, The Night Flight Orchestra, The Oklahoma Kid, The Prophecy 23, The Vintage Caravan, The Wildhearts, Thundermother, Tides From Nebula, Triddana, Uada, Vitriol, Vulture, Wardruna, Warkings, While She Sleeps, Within Temptation und Wolves In The Throne RoomFlugplatz Dinkelsbühl, Dinkelsbühl
Alle Konzerte von Kiss, Volbeat, Slayer, Dropkick Murphys, In Flames, Behemoth, Wolfmother, Dream Theater, Satyricon, Mayhem, Vreid, Kalmah, The Hu, Vltimas, Testament, Carcass, Accept und Djerv anzeigen »