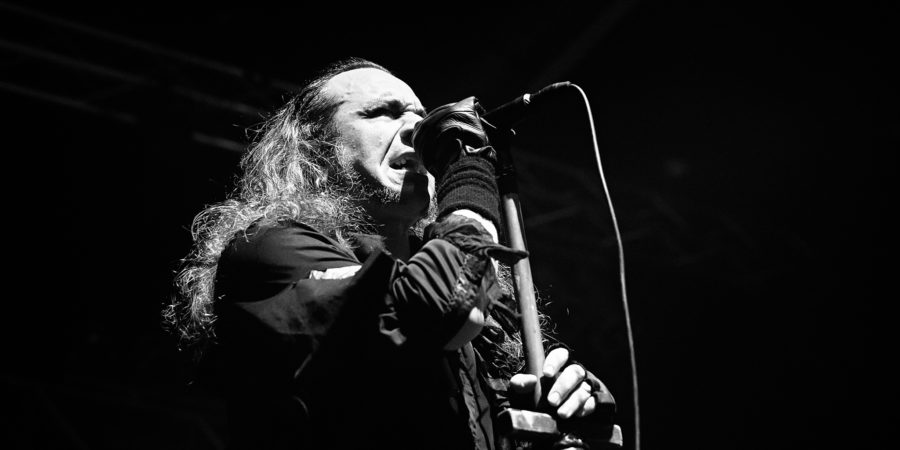 Moonspell
Dark-Metal in Hochform: MOONSPELL mit einem Heimspiel in Luxemburg
Konzertbericht
Billing: Moonspell, Rotting Christ und Silver Dust
Konzert vom 10.12.2019 | Kulturfabrik, Esch sur Alzette (Luxemburg)
MOONSPELL und ROTTING CHRIST sind gemeinsam auf Tour und das, obwohl keine der beiden Bands momentan ein neues Album am Start hat. Die Tour ist also wohl auch als Flucht vor dem Studio zu sehen. Wie dem auch sei, auf jeden Fall sollte sich niemand dieses Paket mit herausragenden und traditionsreichen Bands entgehen lassen. Wir waren für euch in Luxemburg, genauer gesagt in Esch sur Alzette nahe der französischen Grenze.
Nicht Fisch, nicht Fleisch: SILVER DUST suchen ihren Stil noch
Beim Betreten der Kulturfabrik ist die Halle fast leer. Wir rechneten zwar nicht mit dem ganz großen Ansturm, aber eine leere Halle ist kein guter Start für SILVER DUST aus der Schweiz, die rein optisch erst einmal eine gute Figur machen. Gothik-Schick trifft auf viel Brimborium und gut gelaunte Musiker. Einzig die Songs der Band sind nicht für größere Ambitionen geschaffen. Die Schweizer wissen noch nicht, wohin sie gehen wollen musikalisch. Ein wenig Gothik, ein wenig Deathcore, ein wenig Horrorshow, ein wenig SYSTEM OF A DOWN…wir finden's doof, die Anwesenden mögen es, was auch an den französischen Ansagen von Fronter Lord Campbell liegt.
Hellas-Black-Metal vom Feinsten: ROTTING CHRIST sind eine der besten Live-Bands überhaupt
Ganz anders ROTTING CHRIST! Plötzlich ist die Halle voll und die Menge hat sichtlich ihren Spaß. Die Griechen sind die großen Gewinner des Abends. Dies liegt neben den genialen Songs der Männer um Sakis Tolis vor allem an der unglaublich authentischen Sympathie, die die Griechen auszeichnet. Und an der kraftvollen Performance, die jedes Konzert von ROTTING CHRIST auszeichnet, die heute eine gute Mischung aus alten Platten und dem aktuellen Longplayer "The Heretics" zum Besten geben. Dabei ist der erstenhafte Satanismus der Griechen ein Aushängeschild der Band und lässt sie zu einer besten Live-Bands des Genres werden. Eine Stunde spielen ROTTING CHRIST heute Abend. Geiles Konzert wieder einmal!
Galerie mit 28 Bildern: Rotting Christ - Europa Tour 2019 in Berlin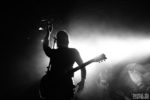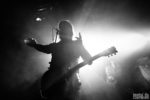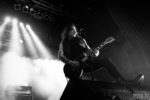 Setlist ROTTING CHRIST:
1. 666
2. dub-sag-ta-ke
3. Fire, God and Fear
4. Kata Ton Daimona Eaytoy
5. Apage Satana
6. Dies Irae
7. The Forest of N'Gai
8. Societas Satanas
9. King of a Stellar War
10. In Yumen-Xibalba
11. Grandis Spiritus Diavolos
12. Non Serviam
Ein Heimspiel für MOONSPELL in Esch sur Alzette
MOONSPELL lassen es heute Abend sehr entspannt angehen. Die Portugiesen haben eine tolle Bühnendeko mitgebracht und sind engagiert. Und dennoch springt der Funke anfangs nicht auf das Publikum über. Die Songs des aktuellen Albums "1755" lassen den Jubel noch etwas verhalten ausfallen. Spätestens bei Songs der "Sin/Pcado"- und "Night Eternal"-Ära wird die Stimmung wesentlich besser, was auch daran liegt, dass Sänger Fernando Ribeiro neben gutem Französisch auch Ansagen auf Portugiesisch macht, was in der Tatsache begründet liegt, dass die Portugiesen nach den Luxemburgern die größte Bevölkerungsgruppe stellen in Luxemburg. Der Mutikulti-Abend geht mit den gefeierten "Vampiria" und "Full Moon Madness" zu Ende nach guten anderthalb Stunden Spielzeit, was völlig in Odnung ist bei rund 35 Euro Eintrittspreis, auch wenn der Gewinner des Abends ROTTING CHRIST heißt. Gutes, entspanntes Konzert.
Galerie mit 29 Bildern: Moonspell - Europa Tour 2019 in Berlin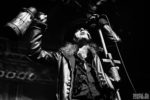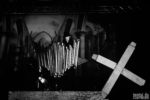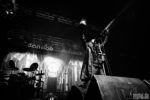 Setlist MOONSPELL:
1. Em Nome Do Medo
2. 1755
3. In Tremor Dei
4. Opium
5. Awake!
6. Night Eternal
7. Abysmo
8. Breathe (Until We Are No More)
9. Everything Invaded
10. Evento
11. Mephisto
12. Vampiria
13. Alma Mater
14. Todos Os Santos
15. Full Moon Madness
Bericht: Paul/Krishna Ghosh, Esch sur Alzette
Fotos: Andrea Friedrich, Berlin
Interessante Alben finden
Auf der Suche nach neuer Mucke? Durchsuche unser Review-Archiv mit aktuell 34022 Reviews und lass Dich inspirieren!
Moonspell und Rotting Christ auf Tour
| | |
| --- | --- |
| 24.06. - 26.06.22 | Full Force Festival 2022 (Festival)Heaven Shall Burn, The Ghost Inside, Killswitch Engage, Stick To Your Guns, Bleed From Within, Boston Manor, Boysetsfire, Counterparts, Creeper, Emil Bulls, Frog Leap, Imminence, Knocked Loose, Konvent, Mental Cruelty, Neck Deep, Oceans, Raised Fist, Silverstein, Swiss & Die Anderen, The Rumjacks, Venom Prison, Anti-Flag, August Burns Red, Gatecreeper, Get The Shot und Rotting ChristFerropolis, Gräfenhainichen |