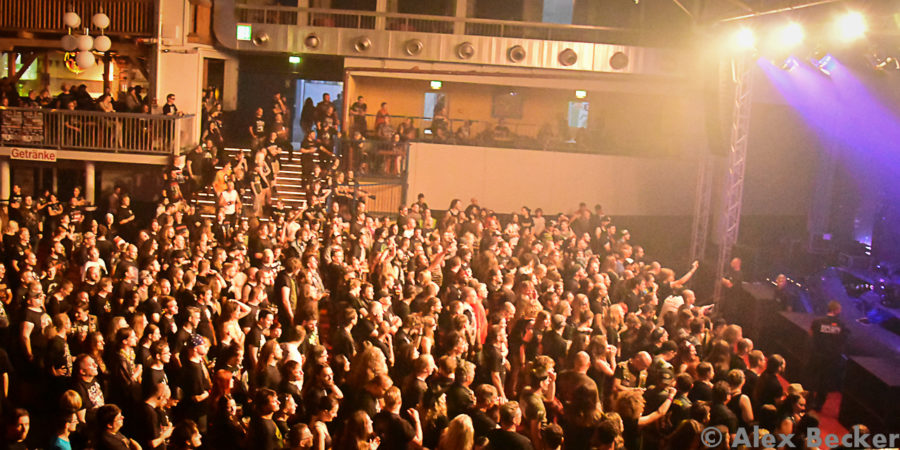 Out & Loud Festival 2016
Der kleine Festivalbericht
Konzertbericht
Billing: Pain, Antipeewee, Dvalin, Kataklysm, Powerwolf, Dust Bolt, Nervosa, Dawn Of Disease, Deadlock, Gloryhammer, Walls Of Jericho, Delain, Aeonblack, Soulbound, Arcturon, Incordia, Excrementory Grindfuckers, Kissin' Dynamite, Rage, Epica, Hatebreed, Kreator, Stallion, Black Messiah, Mantar, Eisregen, Annihilator, Korpiklaani, Disinfect, Trinity Site, Scarnival, Sundown, Suicidal Angels, Finntroll, Caliban, Sonata Arctica, Behemoth, Within Temptation, Dying Gorgeous Lies, Sergeant Steel, Pripjat, Secrets Of The Moon, Brainstorm, Dark Tranquillity, Unbound, Amplified Memory und Mortal Strike
Konzert vom 08.07.2016 | Strohofer Eventzentrum, Geiselwind
Geiselwind in Bayern hat nicht nur einen wahnsinnig malerischen Namen, sondern auch eine Autobahnkirche.
"Das schreit doch nach Metal!", dachte man sich und startete einst im Jahr 2003 auf dem Gelände mit dem Earthshaker Festival. Nach dem Wegzug der Veranstaltung probierte man sich unter dem Titel Battle Of Metal, ehe es nach einer Pause im Jahr 2013 mit dem Beastival weiter ging, das seit 2014 unter dem Namen OUT & LOUD stattfindet. Auch in diesem Jahr durften vom Freitag, 08.07.2016 bis Sonntag, 10.07.2016 die Mähnen wippen – unter durchaus erschwerten Bedingungen, findet unsere Autorin. Dass sich die Fahrt nach Geiselwind auch in diesem Jahr gelohnt hat, soll in einem kleinen Erfahrungsbericht gewürdigt werden.
Text: Saskia Becker
Fotos: Frank Schwalm (frank-schwalm.de) & Alex Becker

---
Das Out & Loud 2016 – Klein, aber Oho!
ANNIHILATOR, GAMMA RAY, SAXON, SOILWORK, KNORKATOR, AVANTASIA, SALTATIO MORTIS, CHILDREN OF BODOM, POWERWOLF – um nur eine Auswahl aus dem Headliner-Billing zu listen: Klingt doch nach einem Hammerfestival! Das dachten sich viele Metaljünger und fuhren nach Ballenstedt zum Rockharz. Zirka 350 km entfernt findet fast zeitgleich das Out & Loud Festival statt und muss nicht nur mit dem großen Festivalbruder, sondern auch noch mit der Fußball-EM inklusive Endspiel konkurrieren. Die Entscheidung, den Termin nicht wie sonst auf ein Feiertagswochenende mit Brückentag zu legen, mag vielen Berufstätigen entgegen gekommen sein. Schließlich bietet sich so die Option, am Freitag erst nach Dienstschluss anzureisen und am Montag pünktlich wieder auf der Arbeit zu erscheinen. Die richtige Festivalstimmung kommt allerdings nicht unbedingt auf, wenn zur Spielzeit des ersten Headliners noch reger Anreiseverkehr herrscht.
Interessante Alben finden
Auf der Suche nach neuer Mucke? Durchsuche unser Review-Archiv mit aktuell 36109 Reviews und lass Dich inspirieren!
Pain, Kataklysm, Powerwolf, Dust Bolt, Nervosa, Dawn Of Disease, Gloryhammer, Delain, Soulbound, Kissin' Dynamite, Rage, Epica, Hatebreed, Kreator, Stallion, Black Messiah, Mantar, Eisregen, Annihilator, Korpiklaani, Scarnival, Suicidal Angels, Finntroll, Caliban, Sonata Arctica, Behemoth, Within Temptation, Pripjat, Secrets Of The Moon, Brainstorm und Dark Tranquillity auf Tour
05.10.23
Pain - I am Tour 2023Pain, Ensiferum, Eleine und RyujinEssigfabrik, Köln
06.10. - 07.10.23
Keep It Low Festival (Festival)Zeal & Ardor, Mantar, Colour Haze, Eyehategod, The Obsessed, King Buffalo und ThronehammerBackstage München, München
07.10.23
Mantar - Pain Is Forever And This Is The End Tour 2023Mantar und SlopeBackstage München, München
Alle Konzerte von Pain, Kataklysm, Powerwolf, Dust Bolt, Nervosa, Dawn Of Disease, Gloryhammer, Delain, Soulbound, Kissin' Dynamite, Rage, Epica, Hatebreed, Kreator, Stallion, Black Messiah, Mantar, Eisregen, Annihilator, Korpiklaani, Scarnival, Suicidal Angels, Finntroll, Caliban, Sonata Arctica, Behemoth, Within Temptation, Pripjat, Secrets Of The Moon, Brainstorm und Dark Tranquillity anzeigen »