Wacken Open Air
Der große Festivalbericht 2019
Konzertbericht
Billing: The Sisters Of Mercy, Acres, Bloodywood, Acranius, Wiegedood, Krokus, Testament, Nordjevel, Necrophobic, Hammerfall, Airbourne, Grave, Sabaton, Dark Funeral, Hellhammer, Skáld, Sibiir, Equilibrium, Downfall Of Gaia, Eluveitie, Body Count, Venom Inc., Anthrax, Within Temptation, Demons & Wizards, Meshuggah, Slayer, The Crown, Thy Art Is Murder, Opeth, Legion Of The Damned, Subway To Sally, Battle Beast, Kvelertak, The Vintage Caravan, Of Mice & Men, Prophets of Rage, Uriah Heep, Primordial, Septic Flesh, Bullet For My Valentine, Powerwolf, Parkway Drive, Crematory, Eisbrecher, Saxon, Deathstars, Rage, Critical Mess, Damnation Defaced und Saor
Konzert vom 01.08.2019 | Wacken, Wacken
Texte: André Gabriel, Jan Wischkowski, Ricarda Noeres, Richard Mertens
Fotos: Andrea Friedrich, Chris Plath, Thomas von Schaewen
Standesgemäß bereits kurz nach Vorverkaufsstart ausverkauft, geht das Wacken Open Air ins große Jubiläum. Im Vorfeld wurde bereits hitzig über das Billing diskutiert – sind die Bands einem 30. Geburtstag wirklich würdig? Eine Frage, die bleiben wird. Doch ein zweiter Blick ins Billing offeriert einige Besonderheiten. SLAYER spielen ihr letztes Open Air, SABATON kündigen eine gigantische Special Show an und auch in der zweiten und dritten Reihe finden sich Bands wie PROPHETS OF RAGE oder BODY COUNT, letztere spielten gerade Mal eine von zwei Shows auf deutschen Open Air-Bühnen.
Und sonst? Viel Zirkus, der die Besucher auch neben dem Bühnenprogramm unterhalten kann, wenn trotz der vollen Running Order noch Langeweile aufkomme sollte. Ein Abstecher ins Full Metal Gaming Village lohnt quasi immer und auch die World Of Tanks ist einen Besuch wert. Passend dazu hat die Bundeswehr kurz vor dem Infield-Eingang ein Infostand aufgebaut – auch das gehört heuer zum Wacken. Fairer und nahezu großartig ist dagegen das hingezimmerte Kaufland. Camper können sich hier zu Ladenpreisen alles besorgen, was sie benötigen, ohne nach dem Festival am Hungertuch zu nagen. Auch um mal eben ein schnelles Bier vor dem Konzertgelände zu zischen, bietet sich der Supermarkt an, solange einen die langen Schlangen nicht abschrecken. Doch im Kern ist das Wacken Open Air trotz seiner Größe auch 30. Jahre nach dem ersten Event eines: Ein Musik-Festival und daher tauchen wir, wie 75.000 andere Festivalbesucher in den Konzert-Betrieb, der lediglich zwei Mal wegen Unwetters unterbrochen werden muss.
Mittwoch 31.07.2019
THE SISTERS OF MERCY
Als Headliner für die W:E:T Stage gehen heute THE SISTERS OF MERCY ins Rennen. Als Institution im Gothic-Genre fest verankert, erfreuen sich die Briten um Bandchef Andrew Eldritch auch auf dem Wacken eines großen Zuspruchs. Bevor es aber losgeht, wird die Bühne – noch durch einen großen Vorhang verdeckt – standesgemäß bis zur Oberkante zugenebelt. Zu den ersten Takten vom ebenfalls traditionellen Opener "More" fällt der Sichtschutz dann und erster Jubel bricht aus. Die mitunter etwas divenhaft anmutenden Szene-Veteranen haben einen verhältnismäßig guten Tag erwischt. Nichtsdestotrotz scheint ein Teil des Publikums nicht ganz gewusst zu haben, worauf es sich bei den SISTERS eingelassen hat, und sucht nach einigen Songs den Weg zum Ausgang vom Bullhead-City-Circus-Zelt.
Große Ansagen und besondere Showelemente bleiben aus, vielmehr lässt das Klassiker-Set in alten Zeiten schwelgen. Zu jedem Song wird in vielen Bereichen vor der Bühne das Tanzbein geschwungen und abschließend reichlich Applaus gespendet. "Crash & Burn", "Arms" und "We Are The Same, Susanne" bilden da keine Ausnahme, obwohl sie nie offiziell veröffentlicht wurden, allerdings schon seit vielen Jahren live gespielt werden. Anders verhält es sich mit dem weitläufig bekannten Doppelschlag zum Abschluss: "This Corrosion" und "Temple Of Love" vollenden zumindest ein kleines Ausrufezeichen hinter einem überraschend positiven und auch verhältnismäßig wenig nebligem Auftritt der SISTERS OF MERCY.
Galerie mit 14 Bildern: The Sisters Of Mercy - Wacken Open Air 2019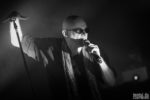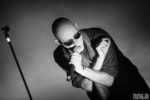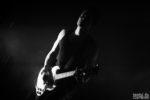 Interessante Alben finden
Auf der Suche nach neuer Mucke? Durchsuche unser Review-Archiv mit aktuell 34990 Reviews und lass Dich inspirieren!
The Sisters Of Mercy, Acres, Bloodywood, Acranius, Wiegedood, Testament, Nordjevel, Hammerfall, Airbourne, Sabaton, Dark Funeral, Skáld, Sibiir, Equilibrium, Downfall Of Gaia, Eluveitie, Body Count, Venom Inc., Anthrax, Within Temptation, Demons & Wizards, Slayer, The Crown, Thy Art Is Murder, Opeth, Legion Of The Damned, Subway To Sally, Battle Beast, Kvelertak, The Vintage Caravan, Of Mice & Men, Uriah Heep, Primordial, Bullet For My Valentine, Powerwolf, Parkway Drive, Crematory, Eisbrecher, Saxon, Deathstars, Rage, Critical Mess und Saor auf Tour
30.09. - 02.10.22
Keep It True Rising 2022 (Festival)Saxon, Diamond Head, Venom Inc., Satan, Tyrant, Tygers Of Pan Tang, Cloven Hoof, Blitzkrieg, Wytch Hazel, Riot City, Iron Fate, Tentation, Saracen, Holocaust, Konquest, Gravestone, Torch, Riot V, Quartz, Tytan, Kev Riddles Baphomet, Demon Pact, Jaguar, Paul Di'Anno, Avenger, Mythra, Witch Cross und Steve Grimmett's Grim ReaperPosthalle, Würzburg
30.09.22
Eisbrecher - Tour 2022Eisbrecher und SchattenmannHaus Auensee, Leipzig
01.10.22
Eisbrecher - Tour 2022Eisbrecher und SchattenmannSchlachthof, Wiesbaden
Alle Konzerte von The Sisters Of Mercy, Acres, Bloodywood, Acranius, Wiegedood, Testament, Nordjevel, Hammerfall, Airbourne, Sabaton, Dark Funeral, Skáld, Sibiir, Equilibrium, Downfall Of Gaia, Eluveitie, Body Count, Venom Inc., Anthrax, Within Temptation, Demons & Wizards, Slayer, The Crown, Thy Art Is Murder, Opeth, Legion Of The Damned, Subway To Sally, Battle Beast, Kvelertak, The Vintage Caravan, Of Mice & Men, Uriah Heep, Primordial, Bullet For My Valentine, Powerwolf, Parkway Drive, Crematory, Eisbrecher, Saxon, Deathstars, Rage, Critical Mess und Saor anzeigen »