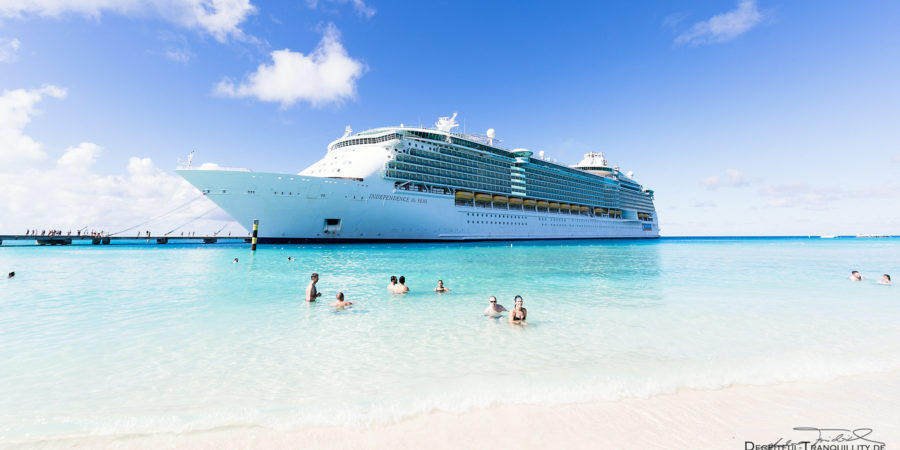 70000 Tons Of Metal 2018
Der große Nachbericht
Konzertbericht
Billing: Aborted, Aeternam, Alestorm, Amberian Dawn, Battle Beast, Belphegor, Benediction, Benighted, Beyond Creation, Cannibal Corpse, Dark Tranquillity, Destruction, Diablo Blvd., Die Apokalyptischen Reiter, Enslaved, Evergrey, Evertale, Exciter, Exhumed, Exodus, Freedom Call, Goatwhore, Gyze, In Extremo, In Mourning, Insomnium, Internal Bleeding, Kataklysm, Korpiklaani, Kreator, Leaves' Eyes, Majestic Downfall, Masterplan, Meshuggah, Metal Church, Metsatöll, Naglfar, Necrophobic, Obscura, October Tide, Primal Fear, Psychostick, Revenge (CO), Rhapsody, Sabaton, Samael, Septicflesh, Sepultura, Seven Kingdoms, Seven Spires, Sinister, Sirenia, Sonata Arctica, Swallow The Sun, Threshold, Triosphere, Voivod, Witchery, Witherfall, Wolfchant und Wolfheart
Konzert vom 01.02.2018 | Independence of the Seas, Ft. Lauderdale - Grand Turk
Nachwort
Um 8:30 morgens müssen die Kabinen geräumt sein. Relativ unspektakulär geht es dann von Bord. Interessant ist das nicht, also möchten wir an dieser Stelle stattdessen ein paar Ship Facts der diesjährigen 70000 Tons mit euch teilen.
75 Nationen tummelten sich auf der 70000 Tons. Die Top 10 davon belegen (in dieser Reihenfolge) die USA, Deutschland, Kanada, die Schweiz, Schweden, Finnland, Mexiko, Australien, Kolumbien und Belgien.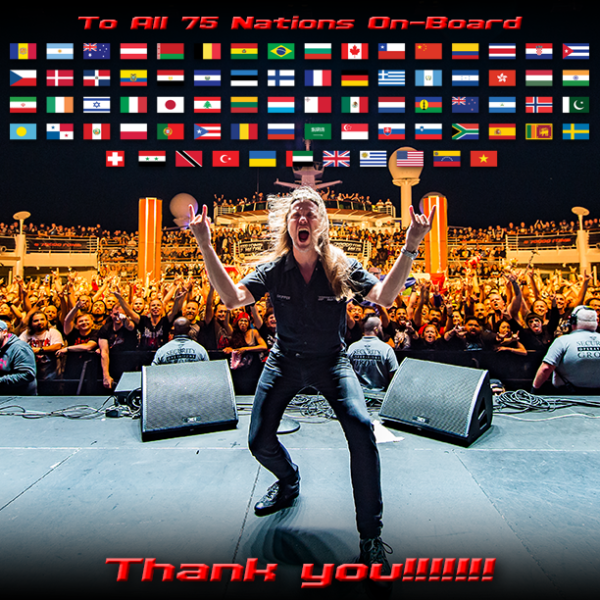 3.087 Besucher, 1.032 Musiker und Festival-Crewmitglieder und 1.448 Besatzungsmitglieder befanden sich an Bord. Das sind insgesamt 5.567 Personen. Bei den Besuchern betrug die Altersspanne 1-79 Jahre. Dabei nahmen 37,8 % Frauen und 62,2 % Männer teil. Das dürfte ein ausgeglicheneres Verhältnis sein als auf den meisten anderen Metalveranstaltungen. Da gibt es aber meist nicht so genaue Statistiken.
Und noch ein Fun Fact zum Abschluss: Das frühere Schiff, das dem Festival mit seinen 70000 Tonnen Gewicht den Namen gab, ist schon längst zu klein. Das aktuelle Schiff, die Independence of the Seas, wiegt mal eben mehr als doppelt so viel, nämlich 154.407 Tonnen.
Und nächstes Jahr auf der 70000 Tons
Uns war die 70000 Tons of Metal 2018 ein inneres Blumenpflücken. Wir kommen natürlich auch gerne wieder. Ein kleiner Blick in die Zukunft wurde uns bereits gewährt. Das karibische Ziel nächstes Jahr wird Labadee auf Haiti sein. Es wird wieder die Independence of the Seas zum Einsatz kommen, vielleicht zum letzten Mal. Es ist absehbar, dass über kurz oder lang ein größeres Schiff her muss. Royal Caribbean hat aber zum Glück noch eine größere Klasse parat. Man darf also gespannt sein.
Interessante Alben finden
Auf der Suche nach neuer Mucke? Durchsuche unser Review-Archiv mit aktuell 32381 Reviews und lass Dich inspirieren!
Aborted, Alestorm, Amberian Dawn, Battle Beast, Belphegor, Benediction, Benighted, Beyond Creation, Cannibal Corpse, Dark Tranquillity, Destruction, Diablo Blvd., Die Apokalyptischen Reiter, Enslaved, Evergrey, Evertale, Exciter, Exhumed, Exodus, Freedom Call, Goatwhore, Gyze, In Extremo, In Mourning, Insomnium, Internal Bleeding, Kataklysm, Korpiklaani, Kreator, Leaves' Eyes, Meshuggah, Metal Church, Naglfar, Necrophobic, Obscura, October Tide, Primal Fear, Rhapsody, Sabaton, Samael, Septicflesh, Sepultura, Sirenia, Sonata Arctica, Swallow The Sun, Threshold, Triosphere, Voivod, Witherfall, Wolfchant und Wolfheart auf Tour
17.07. - 18.07.20
metal.de präsentiertRUDE 2020 - Rock unter den Eichen (Festival)Sepultura, Napalm Death, Malevolent Creation, Memoriam, Asphyx, Bullet, Heathen Foray, Lik, Macbeth (DE), Elvellon, Clitcommander, Archaic, Fleshless, Wormrot, Bound To Prevail, Drill Star Autopsy, Hookline, In Demoni, Streams Of Blood, Hexadar, Trail Of Blood und PowerslaveFestivalgelände Bertingen, Bertingen
25.07.20
In Extremo - Carpe Noctem Burgentour 2020In Extremo, Firkin, Skáld, Hämatom, Russkaja, Fiddler's Green und FaunBurg Esslingen, Esslingen am Neckar
30.07. - 01.08.20
Wacken Open Air 2020 (Festival)Slipknot, Amon Amarth, Judas Priest, Mercyful Fate, Avantasia, In Extremo, Dropkick Murphys, Tribulation, Evergrey, Kadavar, Van Canto, Mad Max und Wolves In The Throne RoomWacken Open Air, Wacken
Alle Konzerte von Aborted, Alestorm, Amberian Dawn, Battle Beast, Belphegor, Benediction, Benighted, Beyond Creation, Cannibal Corpse, Dark Tranquillity, Destruction, Diablo Blvd., Die Apokalyptischen Reiter, Enslaved, Evergrey, Evertale, Exciter, Exhumed, Exodus, Freedom Call, Goatwhore, Gyze, In Extremo, In Mourning, Insomnium, Internal Bleeding, Kataklysm, Korpiklaani, Kreator, Leaves' Eyes, Meshuggah, Metal Church, Naglfar, Necrophobic, Obscura, October Tide, Primal Fear, Rhapsody, Sabaton, Samael, Septicflesh, Sepultura, Sirenia, Sonata Arctica, Swallow The Sun, Threshold, Triosphere, Voivod, Witherfall, Wolfchant und Wolfheart anzeigen »