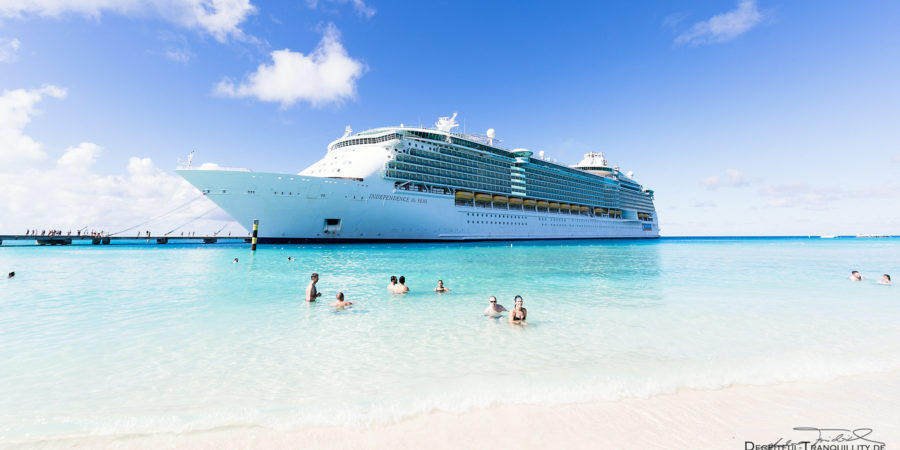 70000 Tons Of Metal 2018
Der große Nachbericht
Konzertbericht
Billing: Aborted, Aeternam, Alestorm, Amberian Dawn, Battle Beast, Belphegor, Benediction, Benighted, Beyond Creation, Cannibal Corpse, Dark Tranquillity, Destruction, Diablo Blvd., Die Apokalyptischen Reiter, Enslaved, Evergrey, Evertale, Exciter, Exhumed, Exodus, Freedom Call, Goatwhore, Gyze, In Extremo, In Mourning, Insomnium, Internal Bleeding, Kataklysm, Korpiklaani, Kreator, Leaves' Eyes, Majestic Downfall, Masterplan, Meshuggah, Metal Church, Metsatöll, Naglfar, Necrophobic, Obscura, October Tide, Primal Fear, Psychostick, Revenge (CO), Rhapsody, Sabaton, Samael, Septicflesh, Sepultura, Seven Kingdoms, Seven Spires, Sinister, Sirenia, Sonata Arctica, Swallow The Sun, Threshold, Triosphere, Voivod, Witchery, Witherfall, Wolfchant und Wolfheart
Konzert vom 01.02.2018 | Independence of the Seas, Ft. Lauderdale - Grand Turk
Bereits in die achte Runde ging Anfang Februar die 70000 Tons of Metal Cruise. Was laut der Betreiber als buchstäbliche Schnapsidee begann, hat sich mittlerweile zu einem der begehrtesten Metal-Festivals der Welt gemausert. Längst musste auf ein größeres Schiff umgestiegen werden, und selbst das wird in absehbarer Zeit zu klein sein, denn die auf rund 3000 Stück limitierten Tickets waren dieses Jahr so früh wie bisher nie ausverkauft. Bei dem Lineup und Rahmenprogramm muss man sich darüber nicht wundern. Von Fort Lauderdale im sonnigen Florida geht es dieses Jahr nach Grand Turk auf den Turks and Caicos Islands in der Karibik und zurück.

Welcome to Miami
Wer einige Tage vor der 70000 Tons anreist, der nimmt den Jetlag nicht mit aufs Schiff. Dass das eine gute Idee war, merken wir, als er uns auf dieser Reise voll erwischt. Für mich zum ersten Mal in meinem Leben, und das trotz zahlreicher Nordamerikareisen in den vergangenen Jahren. Aber ab 30 geht es ja bekanntlich abwärts. Zur nicht ganz offiziellen Beachparty am Vortag der Cruise sind wir aber wieder fit und finden uns am Nachmittag am Strand vor dem Partyhotel Clevelander ein, um die anstehende 70000 Tons gebührend einzuleiten.
Es scheint ein bisschen "sehen und gesehen werden" zu sein, denn schon jetzt sind viele mit ihren Landesflaggen oder in Kostümen erschienen. Wusstet ihr zum Beispiel, dass man auch einen Lendenschurz zur Kutte machen kann? Wir bis dato auch nicht. Die Dinge, die wir sehen mussten… Doch dafür wurde Alkohol ja bekanntlich erfunden. Mit zunehmendem Pegel macht einem dann auch der Metal-Ballermann nichts mehr aus und man post fröhlich für das Beachparty-Gruppenfoto.
Fotos von Andrea Friedrich
Interessante Alben finden
Auf der Suche nach neuer Mucke? Durchsuche unser Review-Archiv mit aktuell 36282 Reviews und lass Dich inspirieren!
Aborted, Alestorm, Amberian Dawn, Battle Beast, Belphegor, Benediction, Benighted, Beyond Creation, Cannibal Corpse, Dark Tranquillity, Destruction, Die Apokalyptischen Reiter, Enslaved, Evergrey, Exciter, Exodus, Freedom Call, Goatwhore, In Extremo, In Mourning, Insomnium, Internal Bleeding, Kataklysm, Korpiklaani, Kreator, Leaves' Eyes, Masterplan, Meshuggah, Metsatöll, Necrophobic, Obscura, October Tide, Primal Fear, Sabaton, Samael, Septicflesh, Sepultura, Seven Kingdoms, Seven Spires, Sinister, Sirenia, Sonata Arctica, Swallow The Sun, Threshold, Voivod, Witherfall, Wolfchant und Wolfheart auf Tour
01.12.23
Saltatio Mortis - Taugenichts-Tour 2023Saltatio Mortis und AlestormSwiss Life Hall, Hannover
03.12.23
Insomnium -European Tour 2023Insomnium, Kvaen und In MourningMusic Hall, Geiselwind
04.12.23
Insomnium -European Tour 2023Insomnium, Kvaen und In MourningSzene, Wien
Alle Konzerte von Aborted, Alestorm, Amberian Dawn, Battle Beast, Belphegor, Benediction, Benighted, Beyond Creation, Cannibal Corpse, Dark Tranquillity, Destruction, Die Apokalyptischen Reiter, Enslaved, Evergrey, Exciter, Exodus, Freedom Call, Goatwhore, In Extremo, In Mourning, Insomnium, Internal Bleeding, Kataklysm, Korpiklaani, Kreator, Leaves' Eyes, Masterplan, Meshuggah, Metsatöll, Necrophobic, Obscura, October Tide, Primal Fear, Sabaton, Samael, Septicflesh, Sepultura, Seven Kingdoms, Seven Spires, Sinister, Sirenia, Sonata Arctica, Swallow The Sun, Threshold, Voivod, Witherfall, Wolfchant und Wolfheart anzeigen »