Various Artists
Redakteure des Rock Hard über die besten, lustigsten und auch schlechtesten Plattencover der Rock- und Metalgeschichte
Special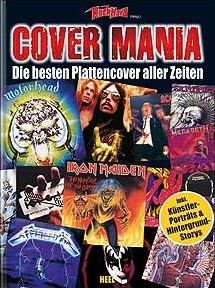 Langeweile, nostalgische Anfälle oder einfach Bock auf ein paar nette Cover hatten scheinbar die Kollegen vom Rock Hard: in dem weit über 200 Seiten starken "Cover Mania – Die besten Plattencover aller Zeiten" lassen sich Götz Kühnemund und Gefolgschaft in unnachahmlicher Rock-Hard-Schreibe über die ihrer Ansicht nach denkwürdigsten Plattencover der Rock- und Metalszene aus. Natürlich ist hierbei der persönliche Geschmack das Maß aller Dinge – aber ich denke, wenn man aus schätzungsweise viertausend Milliarden Plattencovern die tausend besten heraussuchen soll, bleibt einem nicht viel anderes übrig.
Herausgekommen ist ein schwerer Klotz, in einer slowenenischen Druckerei mit satten Farben auf Kunstdruckpapier verewigt, der unmissverständlich klar macht, dass es hier natürlich nicht um tiefgehenden textlichen Gehalt geht, sondern um große, schön anzuschauende Abbildungen. Um der Schwemme an Covern Herr zu werden, ist der Schinken in Subabteilungen eingeteilt, die quer durch alle Genres und Jahrzehnte die jeweils herausragendsten Artworks enthalten: Fantasy und Science Fiction, Photo Shots, Design/Grafik, Comic, Band-Porträts & Live-Fotos, Gemälde, Kopien & Parodien und – ganz wichtig! – Geschmacksverbrechen. Letzteres Kapitel ist übrigens nicht, was das Seltsamste an dem ganzen Buch ist, vollständig von MANOWAR-Covern gefüllt, sondern enthält neben allerlei Underground-Augenkrebserregern beispielsweise die Cover von JUDAS PRIESTs C64-"Jugulator", FATES WARNINGs Märchenstunde "Night On Bröcken", WITHIN TEMPTATIONs Lockenwickler-Platte "Mother Earth" oder FLOTSAM AND JETSAMs "Doomsday For The Deceiver". Da wird auch schnell klar, dass musikalischer und optischer Gehalt extrem differieren können, denn vor allem letztere Platte sieht zwar grauenhaft aus, ist aber trotzdem ein sträflich unterbewerteter Klassiker.
Die anderen Kapitel sind insofern interessant, als dass sie neben unglaublich gehaltvollen Kommentaren wie "Stuntman-Power pur!" (zu GIANTs "Time To Burn") oder "Eines der stimmungsvollsten Werke von Travis Smith" (zu OPETHs "Ghost Reveries" – stimmt ja durchaus, aber dafür muss ich das Buch nicht lesen…) auch einige wirklich interessante oder sogar wissenswerte Hintergrundinformationen liefern. Nicht selten musste ich mir tatsächlich die jeweilige Platte zur Hand nehmen und staunend fest stellen, dass sich darauf so viel mehr verbirgt, als mir jemals aufgefallen ist. So wunderbar TIAMATs "Wildhoney" auch klingt, ich habe leider nie realisiert, dass das Coverartwork noch viel schöner ist.
Hier und da spürt man Ermüdungserscheinungen, denn bei aller Liebe zu tollen Verpackungen lässt sich nicht zu jeder davon etwas Wertvolles oder Intelligentes schreiben. Dafür gibt es im Gegenzug noch einige andere Kapitel in diesem Buch, die lesenswert sind: knapp, aber informativ gehaltene Artikel zur Geschichte des Plattencovers (von Elvis bis DIMMU BORGIR), über Wandlungen im Anspruch an Platten-Verpackungen, über die Hintergründe der Arbeit an einer Artworkproduktion (am Beispiel von SPOCK'S BEARD bzw. Thomas Ewerhard), dazu ein Dutzend Künstlerportraits, von H.R. Giger über Andreas Marshall bis Travis Smith. Das ist etwas, das man allerdings nicht überall bekommt!
Nicht zuletzt verschonen uns die Kollegen Redakteure natürlich auch nicht mit ihren persönlichen Favoriten. Nach dem vollständigen Genuss des Buches weiß man also, dass Wolf-Rüdiger Mühlmann auf ENTOMBEDs "Clandestine" und Jan Jaedike auf das brutale "Beat The Bastards" von EXPLOITED steht. Nun ja, das sind zugegeben Informationen, ohne die man nicht schlechter lebt. Für mich war die wieder einmal mit voller Wucht eingeschlagene Erkenntnis wichtiger, dass Kunst genreübergreifend ist und nicht jede Platte das hält, was sie beim Anschauen verspricht. Und: früher war natürlich alles besser, denn wo hat man in den letzten Jahren der billigen Renderartworks und Plattenschwemmen ein Meisterwerk wie SEPULTURAs "Arise", JETHRO TULLs "Thick As A Brick" (mit eigener Zeitung!), NIRVANAs "Nevermind" oder die ersten OZZY-Cover gesehen? Ich musste jedenfalls erstmal in den Plattenladen rennen und LPs nachkaufen. So viel kultiges Zeug findet man selten auf einem Haufen. Hach, Metal ist einfach eine geile Sache!
Das Buch ist für 19.95 im Buchhandel oder beim Verlag HEEL (www.heel-verlag.de) erhältlich.
Interessante Alben finden
Auf der Suche nach neuer Mucke? Durchsuche unser Review-Archiv mit aktuell 35013 Reviews und lass Dich inspirieren!